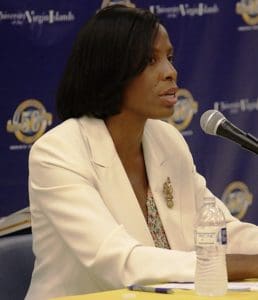 The Office of Management and Budget sent down its third supplemental budget request Friday, asking Congress to appropriate $44 billion for all U.S. jurisdictions, from Texas to the Virgin Islands, impacted by this year's hurricanes, but without funding for rebuilding.
"This supplemental request of $44 billion is woefully inadequate for all the areas effected by hurricanes, especially, the U.S. Virgin Islands who were hit by not ONE but TWO Category Five hurricanes – the only place in the United States for that to have happened this year," Del. Stacey Plaskett (D-VI) said in a statement Friday.
She said it was her understanding that while this funding request from the White House will allow the Virgin Islands to continue to receive funds for recovery, it does not address the rebuilding for the USVI or Puerto Rico. A fourth supplement will be requested before the end of the year to address the rebuilding of our infrastructure. Unlike the previous two aid requests, the White House is now asking Congress to offset portions of the funding of this and other disaster funding by cuts to other federal programs, according to Plaskett's office.
"This package provides some but far from all that is needed in critical disaster relief, and flood insurance aid among other areas. More must be done to provide medium and long-term investments, including rebuilding ports, coastlines, airports, roads, bridges, repairing the electrical grid and other infrastructure, and ensuring the health needs of American citizens are met," Plaskett said.
She said they have received assurances a fourth package will be requested but she is concerned whether the amount or structure of the funding will be adequate.
"The request by the White House for offsets, this Congress' reticence to take responsibility for equitable territorial funding, and the timing of any a fourth supplemental at the end of the year during a legislative crunch means we must be vigilant," Plaskett said.
She said she has been speaking with Gov. Kenneth Mapp (I-VI) and members of the V.I. Legislature and everyone has pledged support for one another.
"The federal government has in this moment both an opportunity and a responsibility to ensure that the greatest good emerges from this calamity to the US Virgin Islands. This is an opportunity to not just rebuild but to create an exponentially better U.S. Virgin Islands," Plaskett said.