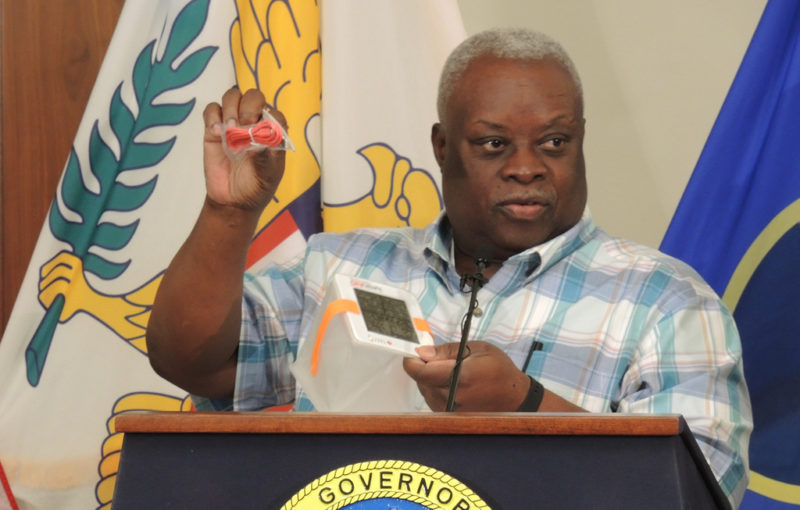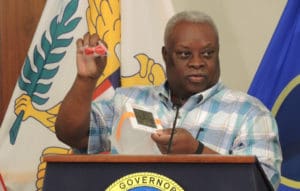 The cruise ship Norwegian Dawn has canceled its call on Frederiksted, which was scheduled for Saturday, Gov. Kenneth Mapp announced at a Government House news conference Friday.
Mapp said the reason for the cancellation was not known, although concern about "on-ground excursions," were mentioned.
While the government will look into the cause of the cancellation, Mapp said, at this point all future calls for the Norwegian Dawn to visit also have been canceled.
The governor said the town of Frederiksted is energized and ready to receive cruise ships while the port in Christiansted is undergoing dredging that might allow smaller cruise ships to dock there.
In other news from Friday's event:
– Mapp said the owners of the Frenchman's Reef & Morning Star Marriott Beach Resort have vowed to rebuild the facility, though the projected cost the project has climbed to $400 million, a much higher figure than had been thought.
The "government will be a full partner to ensure their success in the reconstruction," Mapp said, referring to Marriott's ability to efficiently secure permits and to abide by other government regulations.
– Mapp is calling the legislature into special session on Nov. 21 to act on the Community Disaster loan. The loan has been approved by the Federal Emergency Management Agency but the legislature has to pledge government revenues against the loan. The approval has been given for the first set of draws which include loan money for the following:
Schneider Regional Medical Center, as much as $24 million
Gov. Juan F. Luis Memorial Hospital, as much as $22 million
Water and Power Authority, $75 million ($31 million of which will be released immediately.)
Central Government (General Fund) – As much as $300 million.
The Waste Management Authority and the Port Authority will receive loan money as well. WAPA will pledge its own revenues for the loan and not government revenues.
– St. Croix's annual Crucian Christmas Festival will take place Dec. 22 through Jan. 6, Mapp said, adding that this year the festivities will spread to the other islands.
"We will do something a little different this year," Mapp said. There will also be music events on St. Thomas and St. John including a Christmas festival night where free food will be served and $2 drinks will be offered.
– Mapp will leave the territory Sunday for a two-week visit to Washington D.C., where he will meet with federal lawmakers about the Virgin Island's request for what is now $7.49 billion needed in aid for the recovery from the hurricanes. He will be joined with members of the V.I. legislature, both hospitals, WAPA, and the Department of Education.
– Water Island should be energized next week, Mapp said. Individuals who do not have transfer switches attached to their power boxes limiting generator power to their houses, will not receive power until they stop energizing the power lines around their homes. Otherwise it creates dangerous situation for linemen restoring power to an area. , Mapp said. Thus, if linemen detect power coming from a residence into the surrounding power lines, they will cut that line and move onto a different house to energize.
– The Coral Bay Fire Station on St. John will be closed temporarily due to mold issues.
– The V.I. Humanitarian Relief Fund has donated solar lights to Virgin Islands residents. As Mapp demonstrated, the lights have to be inflated and they stand up. The sun energizes them throughout the day and they provide enough energy to light up a whole room. In addition, while the solar lights are being charged by the sun they also can be used simultaneously to charger phones and other devices through an attached USB port.
The supply is limited and they will be handed out – one per household – first to senior communities that still lack power.