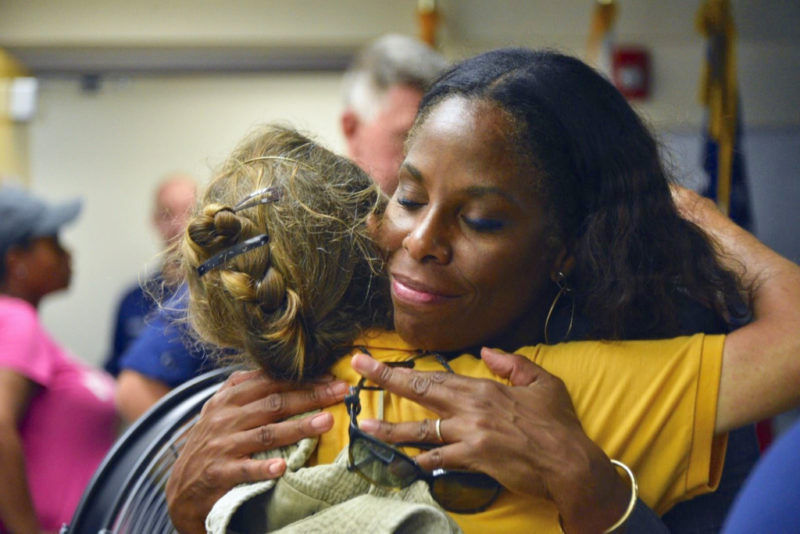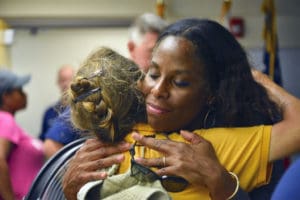 This year's emergency congressional appropriations for hurricane recovery are the territory's best opportunity for substantial federal help. After the year ends, new funding will be harder to come by, Delegate Stacey Plaskett (D-VI) said Thursday afternoon.
Plaskett held a series of meetings with elected officials to get input for legislation she plans to submit to Congress next week. Tuesday, she met with St. Thomas legislators. Wednesday she met with Gov. Kenneth Mapp (I-VI) and Thursday she met with St. Croix legislators.
Earlier this week she said she wanted the legislation to "encompass the totality of the needs of the Virgin Islands for rebuilding."
"I believe that is a time for all branches of our government to come together and ensure our requests not only covers what is needed for the Virgin Islands but allows the Virgin Islands to be innovative in the rebuilding effort," she said.
Mapp sent members of Congress a letter Oct. 12 putting the cost of rebuilding at $5.5 billion. He asserted the USVI economy had "ground to a near standstill" and that the loss of revenue will cause unsustainable cash shortfalls for the government, pulling around $450 million from expected tax revenues. Economic losses to key industries such as tourism may amount to another $2 billion and damage to commercial facilities more than $500 million, he said.
Mapp addressed his appeal to U.S. Sens. Mitch McConnell (R-KY) and Charles Schumer (D-NY), Reps. Paul Ryan (R-WI), Nancy Pelosi (D-CA) and Delegate Stacey Plaskett (D-VI).
Plaskett said Thursday she had reached out to the governor a couple of times.
"I spoke about what legislation we were going to be requesting for rebuilding and what support we are getting from FEMA and the Department of Defense, was he satisfied with that and how I could be helpful," Plaskett said in a phone call Thursday.
Before the meeting, she wrote and told him she was getting calls from members of the Appropriations Committee requesting validation of the numbers and saying her office would be proposing legislation.
Mapp did not have the data to support his numbers "but said he was very comfortable with them and that they were the right amount," Plaskett said.
They spoke about what Congress could do, from tax credits for developers to support for Medicaid in the territory.
Plaskett said she told Mapp this was a huge opportunity and that Congress would not be receptive if it was given a wish list. Mapp agreed, she said.
But this is could be an opportunity for strategic changes too, she said. For example on St. John, the Julius Sprauve School has never been the best facility in the best location, she said.
"Maybe this is an opportunity to build the school in a different location that can serve both Coral Bay and Cruz Bay," Plaskett suggested.
Getting the request right, right away, is important, according to Plaskett.
"I also told (Mapp) I felt this funding coming up at the end of December would be our biggest opportunity," because the Republican-led Congress is very likely to request offsetting cuts somewhere else in any future funding requests. If somewhere else has to be cut, it will be much harder to persuade members of Congress to support new funding, she said.
"This December they are not asking for an offset. So there will not be a fight with other jurisdictions," she said.
Even matters such as tax issues or changes to Medicaid should be considered immediately, she said, because she is not confident Congress will pass either tax bills or health care bills during the upcoming election year.
"After (Hurricane) Katrina, Louisiana was able to get the federal government to pay 100 percent of Medicaid costs for a period of time," she said.
"We need all hands on deck and speaking on the same page," she said.
"$36 billion in disaster relief assistance was approved by the House of Representatives and was forwarded to the Senate to be voted on this week in Washington D.C.," Plaskett told senators Tuesday, according to a statement from the Legislature.
There is $16 billion allocated for debt forgiveness and flood insurance from the National Flood Program, $18.7 billion from the Federal Emergency Management Agency and out of that $4.9 billion is allocated for operating expenses and loss of revenues specific to the U.S. Virgin Islands and Puerto Rico, she said.
V.I. Senators pointed to a number of priorities.
"In addition to operating expenses, funding should also be set aside for the rebuilding of roads and highways, hospitals, port infrastructure, waste management, education, utilities, and mold remediation," Sen. Tregenza Roach (D-STT) said.
Sen. Janelle Sarauw said she would like to see ferry transportation, Sports Tourism, and the Tourism Industry included as well.
Senate President Myron Jackson said the Department of Property and Procurement sent a representative to do mold remediation at several government facilities but the government had not yet signed contracts for mold remediation.
The Legislature also needs help, Jackson said.
"There were storm damages to the Legislature of the Virgin Islands in the St. Thomas-St. John District. Both buildings should be checked for mold, especially behind the walls. The Fritz E. Lawaetz Building on St. Croix was also affected, and employees must relocate due to environmental and health concerns," Jackson reportedly said.
Senators are also concerned that unemployment checks are being distributed faster on St. Croix but "only a few were released in the St. Thomas-St. John District," Jackson said.
During the phone interview Thursday, Plaskett emphasized the need for senators and executive branch officials and her office to come together with a single, consensus-driven set of requests, because Congress may be less receptive if members are hearing that Virgin Islands officials do not agree on what is needed.