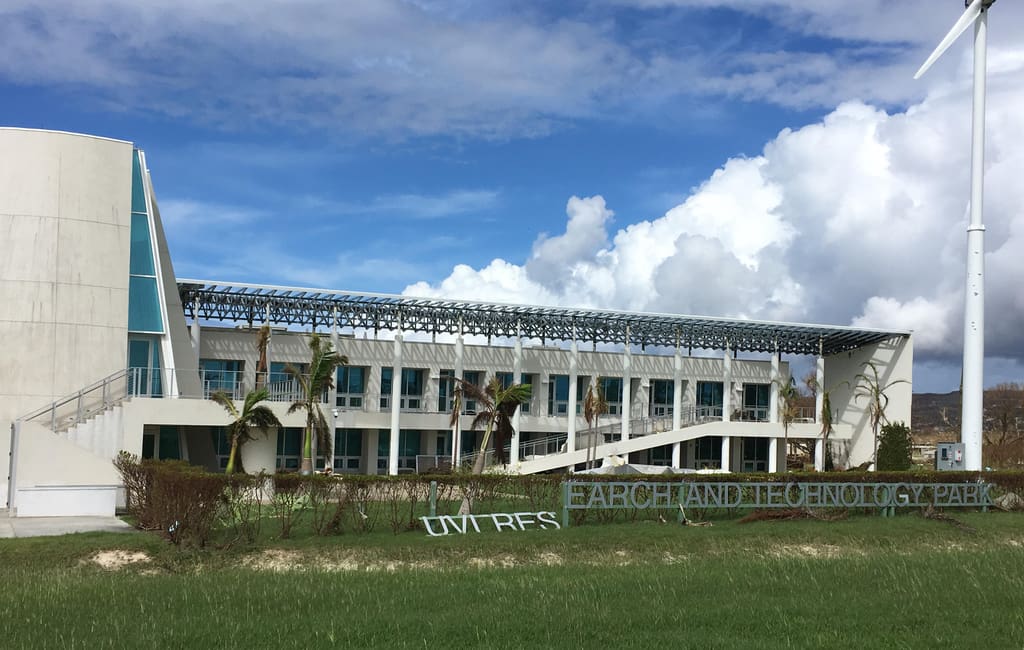 The Research and Technology Park building on St. Croix was the multimillion dollar jewel of the University of the Virgin Islands St. Croix campus. It won the "LEED Silver Certification" from the Green Building Certification Institute for being energy efficient and environmentally friendly. But even that distinction did not protect the building from the wrath of Hurricane Maria on Sept. 20.
The building suffered interior and exterior damage, including damage to the winged roof, and it looks very different today from the innovative building that all visitors are used to viewing on UVI's campus.
The building was designed to have sustainable site development, water savings and energy efficiency. The goal was to be as efficient as possible in areas of human of and environmental health. The "green" certification the building received from the Leadership in Energy and Environmental Design overseen by the U.S. Green Building Counsel, however, did not protect it from high utility bills, which was only one of the issues with the innovative construction.
Thursday, the staff of the RTPark issued a press release saying that it would conduct a structural and safety assessment to determine the impact of Hurricane Maria on the building.
In the meantime, RTPark staff will continue to promote their economic development program. Many of their tenants and clients are telecommunication companies that do not physically reside in the building but remain paying tenants and clients, and they receive tax breaks based on the economic development program.
A spokesperson for the RTPark said the clients are "not dependent on a brick and mortar building."
According to the spoksperson, not one client of RTPark plans to leave due to the damage done to the building, and even more prospective clients are proceeding with their applications.
RTPark will soon launch RTPark Rebuilding the USVI, a campaign to support the Fund for the Virgin Islands.
In addition, the UVI College of Science and Mathematics used the building for science and math classes, and the university, led by President David Hall, will determine when those classes can resume.