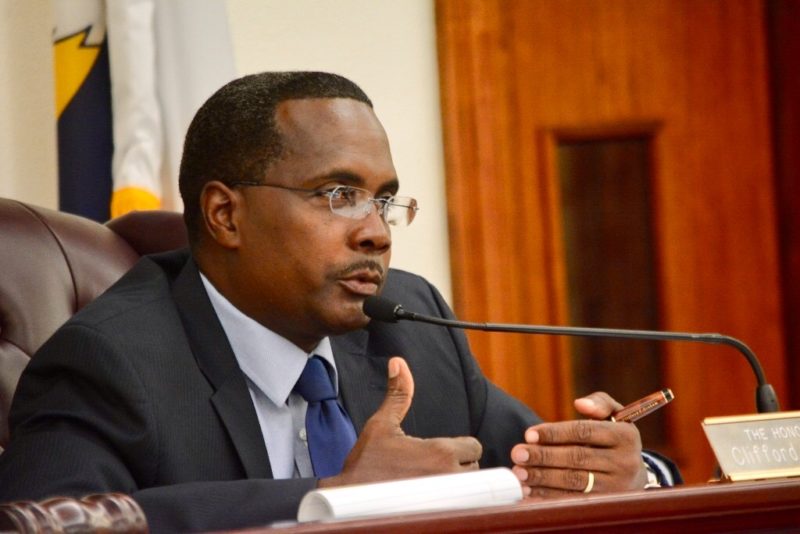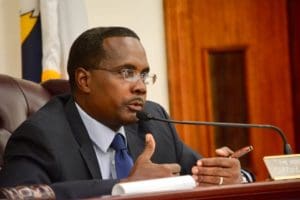 Work on the West Indian Company's inner berth is complete and the WICO facility can safely berth three super Mega ships simultaneously, WICO Executive Director Clifford Graham and his senior executive staff reported to the board at its August 22 meeting, WICO reports.
WICO operates and maintains the territory's largest cruise ship port, the WICO dock, and also manages the adjacent Havensight Mall, which is owned by the Government Employee Retirement System. Set up in the form of a corporation, WICO is wholly owned by the Public Finance Authority, a V.I. government agency. Hence, it and all of its assets are ultimately owned by the government.
WICO does not publicize its meeting dates nor opens its meetings to the public or media. Other newspapers, including the V.I. Daily News have argued this is a violation of the V.I. Open Records Act and V.I. Supreme Court and U.S. appellate court opinions (See: WICO appellate order). WICO officials disagree and WICO has ignored open records act requests for its records. It does issue statements after its meetings, however.
According to WICO, this new class of super Mega ships that will now be able to berth at its main dock will approach 184,000 tons and carry up to 6,600 passengers. Staff suggested maintenance dredging along the bulkhead and the turning basin be done by summer of 2019 so this new class of vessel can safely cross the harbor to berth at the completed pier. WICO reports preliminary costs are estimated at about $5.2 million, with $1.7 million for dredging along the bulkhead and $3.5 million for dredging the turning basin, which officials said is the sole responsibility of the V.I. Port Authority.
Graham reportedly said it is imperative that VIPA complete this work as quickly as possible and that there is private sector interest in the turning basin phase of this work. The completed pier can now also accommodate two Oasis-class ships simultaneously but there would need to be significant dredging at the entrance to the harbor and more expansion of the turning basin in the inner harbor.
The board elected Joyce Dore-Griffin as its chair and Michael Watson as vice chair, according to a statement from the entity.
In its press release, WICO says its executive committee now consists of Dore-Griffin, Watson and Corporate Secretary Edward Thomas. Two standing committees, Finance and Strategic Planning are chaired by Watson and April Newland, respectively.
According to WICO, 71 percent of all cruise calls to the territory will berth at the WICO facility from Oct. 1, 2017 to Sept. 30, 2018, with 84 calls during the summer of 2018 as compared to 66 calls this current summer. WICO officials are holding discussions with VIPA to try to get what WICO believes is a more equitable allocation of the port dues.
WICO reports it has closed on a refinancing package which consolidated the current loan for the inner berth project with other outstanding debt. The statement says the rate was "very favorable" but does not report the rate.
It reports that through June 30, WICO's net revenues from its operations were about $470,000 for the year. The board passed an operating budget for the fiscal year 2018 and projects continued stability, but not profitability.
Spending on its investment in infrastructure is depressing its bottom line. It also abruptly lost Royal Caribbean International-brand calls to Crown Bay this fiscal year and did not have enough time to resell the berths.
The first phase of repairs to the GERS-owned Havensight Mall are now complete, officials reported. WICO manages the mall.
The board reportedly approved a directive to Graham to commission an appraisal of the historic Estate Catherine property in the context of its request to offset the value of the property from the millions of dollars WICO is past due on its statutory annual payment in lieu of taxes. Gov. Kenneth Mapp cited the lack of an appraisal as one of his reasons for vetoing legislation that would have offset $6.65 of WICO's debt to the government in exchange for the property.
WICO had wanted to reduce its payment in lieu of taxes (PILOT) too. When legislation to do that was before the Legislature, WICO officials testified that the entity is financially strapped and cannot afford the PILOT. WICO's financial records and managerial and contract payroll are relevant to understanding WICO's financial condition. Senators ultimately voted not to change the PILOT, citing the government's budget crisis. WICO has not reported it has paid the past-due amounts to the government.
In April, Attorney General Claude Walker wrote an opinion on the law concluding that as the V.I. Public Finance Authority, it "can reasonably be considered a branch of the Virgin Islands Executive Branch."
"Public frustration mounts when WICO claims that all of their matters are confidential or proprietary. Such claims are difficult to accept and gives the mistaken impression that WICO, as a public entity, is attempting to hide information," Walker said in his letter, Jonathan Austin reported in the Daily News in April.
The board also reportedly:
approved insurance coverage for windstorm and other hazards;
approved group health insurance;
approved a stricter travel policy as well as a credit card usage policy;
directed its Finance Committee to focus on cost-saving measures;
and directed Graham to review all existing service contracts with a view toward renegotiating terms and conditions as necessary.