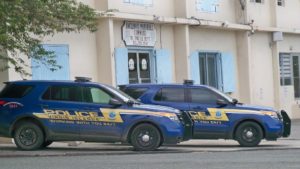 The U.S. Virgin Islands became the first U.S. territory to opt in to FirstNet, a wireless broadband network for public safety, which will be built and operated by AT&T, Gov. Kenneth Mapp announced Tuesday in a news release.
FirstNet – officially known as the the First Responder Network Authority of the United States – was created by Congress in 2012 to establish, operate, and maintain a broadband network dedicated to public safety.
AT&T, in a public-private partnership with FirstNet, will build, operate, and maintain the secure wireless broadband communications network for the Virgin Islands' public safety community at no cost to the territory for the next 25 years, although public agencies will pay a subscription fee to be part of the network, according to Angelo Riddick, director if the V.I Bureau of Information Technology.
According to Mapp, the FirstNet network will transform the way the Virgin Islands' fire, police, EMS, and other public safety personnel communicate, with an aim to create an entire system of modernized devices, apps, and tools specifically for first responders.
FirstNet and AT&T designed the U.S. Virgin Islands' network solution with direct input from the territory's public safety community, according to the Government House news release. FirstNet has been engaging with Virgin Islands' officials and public safety personnel for years to address the territory's communication needs. This includes expanding coverage across the Territory, enabling state, local, and federal agencies to effectively communicate and coordinate throughout the islands, even in remote areas and coastlines.
Virgin Islands' first responder subscribers will have immediate access to quality of service and priority to voice and data across the existing nationwide AT&T LTE network. Once in place, emergency service communications, including 911 calls, will preempt consumer access when priority is necessitated. Preemption for primary users over the AT&T LTE network is expected by year-end. This means fire, police, EMS, and other public safety workers will have dedicated access to the network when and where they need it, according to Government House.