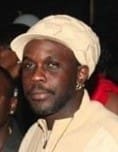 Glenroy Rhymer, better known as "Glen or Blaq," of St. Thomas died on July 16 at Schneider Regional Medical Center. He was 47 years old.
Glenroy Rhymer is survived by his parents: Joseph and Edith Rhymer; siblings: Glenise Allen and Glenore Rhymer; niece and nephews: Raheim Allen, Shona Allen, RaShane Allen, Tai Allen, Raenyse Allen, and Ayden Rhymer; great niece, Jade Allen; children: Trenice Rhymer, Gabrielle Anderson-Rhymer, Ashani Rhymer, Kilan Anderson, Kiyani Anderson and Kiymari Anderson; grandparent, William Rhymer; great aunts: Emelia Davis and Sarah Richardson; and grandchildren: MacKenzie Herrington, Terrance Herrington Jr., Caitlyn, Royal, Tahj Anderson and Sarai (who is not born yet).
He is also survived by aunts: Evelyn Christopher, Enid Morris, Shirley Frett, Ethlyn Hutson, Doreen Christopher, Selina Hodge, Alicia Hodge, Joyce Mack, Shirley Abednego, Janatte Rhymer-Niles, Violet de Castro, Gloria Rhymer, Joycelyn Samuel-Rhymer, Claudette Rhymer and Anne Rhymer; uncles: Melvin Hodge, Edwin Hodge, Joseph Frett, Alvincent Hutson, Elvis Christopher, Allan Rhymer, Dennis Rhymer, Henry Rhymer, William Rhymer, Elroy Rhymer, Charles Mack, Grantley Niles, Cecil Abednego and Arthur de Castro; and special cousins: Gil Rogers, Gladel Dorsey, Eria Rhymer and Claude Richardson.
Other survivors include cousins: Derek Hodge, Necia Hodge-Peet, Bryan Christopher, Brent Christopher, Bryce Christopher, Varney Hodge, Chauncey Hodge, Kenya Hodge, Morenike Testamark, Menshian Morris, Morelton Morris, Kinza Bryant, Kemuel Frett, Kiel Frett, Adria Abana, Alvincent Hutson, Thamar Duncan, Tabitha Christopher, Tyrone Christopher, Timothy Christopher, Kye Rhymer, Joycelyn Rhymer, Michal Rhymer-Browne, Concha Rhymer-Mandolesi, Melissa Rhymer-Manning, Dionne Rhymer-Smith, Diahann Rhymer, Khaled Rhymer, Kal Mack, Kim Mack, Kurt Mack, Kimberly Kuntz, Kasten Liburd, Kristen Avevor, Arlene Bobb, Michelle Williams, Kareem Rhymer, Keon Rhymer-Niles, Mahal de Castro, Camesha de Castro, Sharia de Castro, Sharie de Castro and Tanika Phillips.
Relatives and friends are respectfully invited to attend the first viewing from 5-7 p.m. on Tuesday, Aug. 1, at the Celestial Chapel of Hurley Funeral Home. The second viewing will be held at 9 a.m. followed by the funeral service at 10 a.m. on Wednesday, Aug. 2, at Wesley Methodist Church. Interment will be at Eastern Cemetery.
Arrangements are under the care of Hurley Funeral Home and Cremation Center of St. Thomas, St. John, St. Croix and Tortola.
For directions and online condolences, please visit www.hurleydavisfuneralhome.com