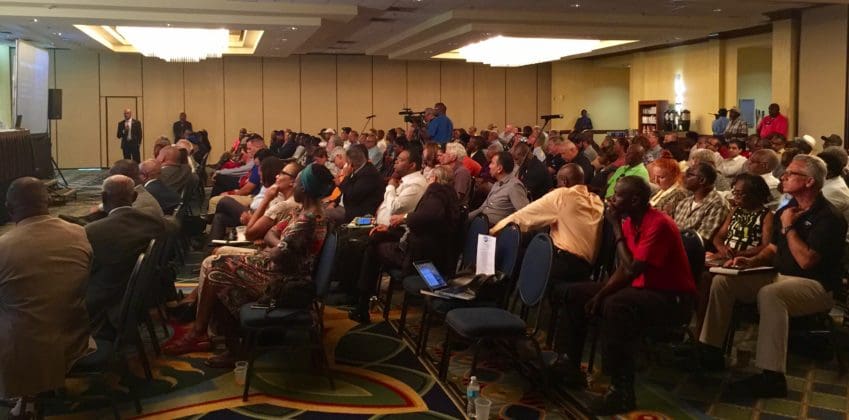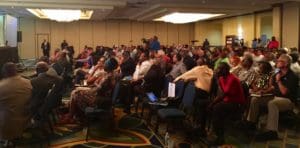 At a town hall Thursday, leading cruise executives said if the U.S. Virgin Islands wants to have soaring cruise passenger numbers and rave reviews like it did in the past, it must refresh and reinvent itself to stand out from other island competitors.
About a 150 concerned members of the V.I. business community turned out for the town hall meeting at Marriott Frenchman's Reef Hotel on St. Thomas. Lead by members Ports of the Virgin Islands – Charlotte Amalie Task Force, a mixture of private sector and government officials, and members of the Florida-Caribbean Cruise Association , which represents 19 cruise lines, the meeting centered on how to improve the cruise passenger experience.
The town hall follows the recent release of a U.S. Virgin Islands Bureau of Economic Research's report that details the slump in cruise passenger arrivals. By June 2016 there were 1,038,209 passenger arrivals compared to only 873,153 this year – a 16 percent decline across the territory.
On St. Thomas arrivals are down by 14 percent, but on St. Croix the figures are bleaker: There's been a 69 percent decline with only 24,742 passengers arriving in the first half of the year compared to 80,000 by this time last year.
Gov. Kenneth Mapp opened the meeting by acknowledging the issues facing the Virgin Islands' tourism industry, asking participants to be "candid" with their comments and to "own our shortcomings," since he wanted to know what tourists are really saying.
FCCA President Michele Paige said the cruise industry wants to help the U.S. Virgin Islands improve and flourish. Referring to the drop in passenger arrivals in the territory, Paige said that cruise lines take people where they want to go. In the region, St. Thomas is ranked 11th out of 35 destinations, but is 29th when ranked by satisfaction in purchased tours.
"Tourism is a fickle friend my friends ­– we always have to be on our game," Paige said.
Cruise ships are constantly adding new activities and entertainment, so passenger expect to see the islands refresh themselves as well, Paige said.
Today passengers and crew-members are spending less money in the territory when they get off the ship, so Paige said that the local tourism industry needs to be more authentic in the items it sells and the stories it tells. She said people want to have experiences and buy things that they can't get anywhere else.
Carlos Torres de Navarra, vice president of commercial port operations for Carnival Cruise Lines, said the company would be brining more passengers to the territory in 2018, but that the Virgin Islands has to work on giving people reasons to stay off the ship. Right now, 96 percent of passengers leave the ship, but they're only spending 55 percent of the available time on the island, which equates to less money.
All three of the cruise industry executives at the meeting said that passengers report less satisfaction with Crow Bay port than they do with the West Indian Company Limited port in Havensight.
"If you're selling St. Thomas it needs to be a consistent experience across the board," de Navarra said of the difference between the WICO and Crown Bay ports.
Richard Berry, president of TOPA Equities VI Corporate and a private member of the task force, told attendees that to compete with other islands the Virgin Islands must expand its ports like the St. Martin and Tortola have both done. To get more ship calls, the Virgin Islands has to be able to accommodate larger ships, he said.
Throughout the town hall, Mapp mentioned a number of infrastructure improvements the government would be undertaking to improve guest experience, including providing water transportation in the harbor, beautifying Crow Bay, improving walking experience along Veteran's Drive, and finishing the Main Street utilities project. Mapp refrained from discussing the Main Street project at length, since he said more information would be made about its delays next week.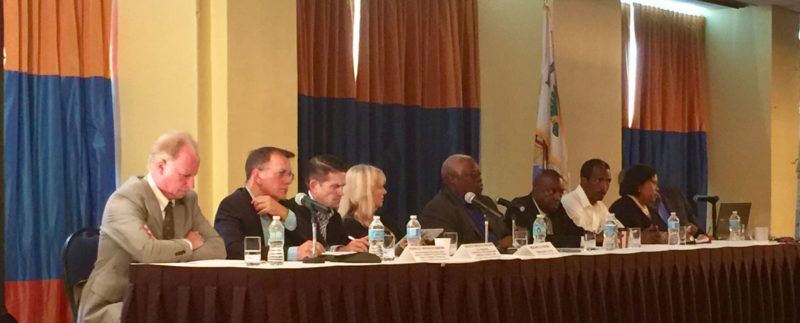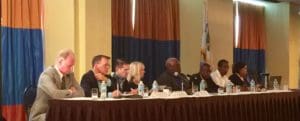 Commissioner of Public Works Gustav James gave updates on the other infrastructure projects. He said that water transportation in the Charlotte Amalie harbor would begin by the end of November and would help reduce congestion from road transportation. Currently Public Works is reviewing proposals for operators, since the service will be run as a public-private partnership.
Frederico Gonzalez-Denton, government relations for Latin America, Caribbean and South Florida for Royal Caribbean Cruises Ltd., said the harbor's water transportation will be a "game changer," for improving visitor experience.
Public Works' Highway Program Manager Jomo McClean said that sidewalks, roads and landscaping would soon be improved between Crown Bay port and the nearby Pueblo supermarket.
Mapp said another focus would be to make it safer for cruise passengers to walk either into town or to nearby Lindbergh Bay from the Crown Bay port. He said the V.I. Police Department had purchased Smart cars and Segways to patrol the areas, what he called economical alternative to typical police cars.
When Veteran's Drive is widened to be a four-lane road along the waterfront, Mapp said there will be better sidewalks, more shade and new benches to improve the walking experience to town. He added that when the fire station next to the fort is relocated, part of the structure will remain to become a visitor's center with restrooms.
To make it easier for foreign cruise passengers to clear customs, Mapp said the territory will hire six to eight more U.S. Customs and Border Protection agents that will board ships the night before the ship arrives in the territory, so people can be cleared in advance.
Members of the audience asked why ships don't stay in port longer than around 5 p.m. most days. The cruise executives said it related to time, distance, speed and fuel, which all determine schedule. Paige said that ships would be open to staying overnight, but there has to be demand from their passengers, meaning there must be things for them to do.
The task force consists of members of the private sector that rely directly on the tourism industry, including restaurants, beverage distributors, ground transportation operators and retail stores, as well as representatives from the V.I. Port Authority, WICO, the Department of Tourism, the Department of Property and Procurement, the Department of Public Works, the Office of the Governor and members of the Legislature.
Because St. Croix's tourism product differs from St. Thomas', Mapp said a separate town hall will be held on St. Croix in the future.