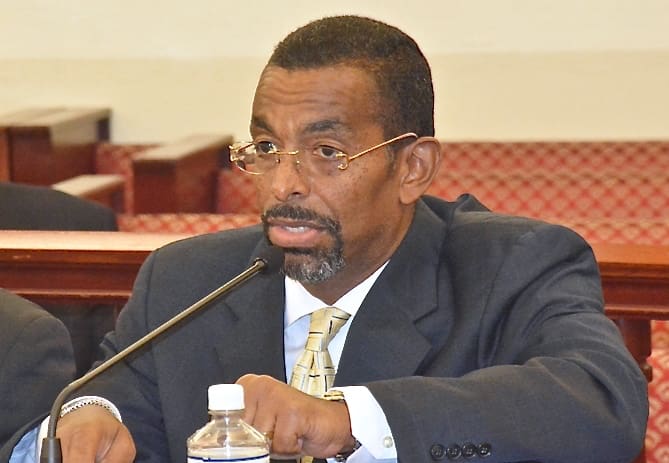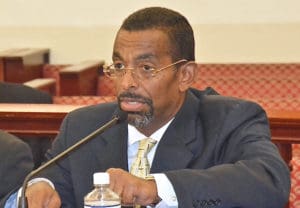 All nine medical licensure boards that fall under the Department of Health's Professional Licensure Division, and one that falls outside it, suffer from membership and resource shortages that may need to be addressed by legislative action, senators said Thursday.
Representatives of the territory's medical licensure boards testified Thursday at a hearing of the 32nd Legislature's Committee on Health, Hospitals and Human Services, at which senators heard a common refrain: board members' terms are long expired, enforcement ability is lacking, and new members are hard to come by.
The testimony prompted discussions about how the Legislature might consolidate, or at least standardize, the administrative functions of some of the boards without disregarding the uniqueness of the various medical fields they cover, which include psychology, physical therapy, dentistry and others.
Senator-at-Large Brian Smith said, "I mean we're to the point right now where we know the government is broke. But what we know too is this: with the number of boards we have, we're going to have to streamline them at once."
According to Deborah Richardson-Peter, DOH's director of professional licensure and health planning, all but two of the licensure boards are functioning in that they regularly meet and are able to meet quorum. Every licensure board, however, shares the issue of expired terms or board vacancies, among other obstacles to fulfilling their mandates.
The two non-active boards are the Board of Podiatry Examiners and the Board of Optometric Examiners. The optometry board ceased being active after the territory did away with the local license examination for optometrists and adopted the national examination. The podiatry board, which currently has only one member, lost four members in 2012 when they collectively declined to continue serving on expired terms.
All testifiers at Thursday's hearing said their boards have at least some members with long-expired terms who continue to serve, some for as long as 13 years. In most cases a mixture of low priority from Government House, boards with too many seats for the V.I.'s small number of specialists, and a burdensome appointment process, is to blame, they said.
Dr. Frank Odlum, chairman of the V.I. Board of Medical Examiners, said certain mandates, such as having a board member from St. John and bringing in non-medical professionals, are particularly hard to achieve. He added that it seems unnecessary to have a five-member podiatry board in the first place when there are currently only six licensed podiatrists in the territory.
"When it comes to consolidation, I don't think it takes a genius to realize that some of our boards should not exist in the form that they are," he said.
Odlum also said the requirement that board members be confirmed by the Legislature via sometimes lengthy hearings often turns people away.
"It's a voluntary thing, and it's an honor to serve – it really is – but there's not that many people who really have the drive. And then again when you mention the steps, that's when they kind of back away," he said.
Sen. Kurt Vialet said one legislative solution to vacancies and expired terms is to draft a bill stating that if the governor does not act on a board nomination within 30 days of a term expiring, the sitting board member is automatically reappointed.
"My recommendation would be if we have individuals who are serving on these boards, that were on the board before and are willing to continue to serve, that we exempt those individuals from having to come back to the Legislature to be reconfirmed," said Vialet.
Vialet also recommended standardizing the sizes of all the medical boards to five members and changing the process so that not all nominees need to be confirmed by the Legislature.
Among the medical boards with the most vacancies is the V.I. Board of Nurse Licensure, a stand-alone board which the DOH plans to soon bring under its Professional Licensure Division. The board is meant to have nine members but only has five, four of whom represent the St. Croix District even though the board's office is on St. Thomas. Only one of those members' terms has not expired.
Janzie Allmacher, that board's vice-chair, told the senators about staff shortages and working conditions that seemed to further alarm senators.
According to Allmacher, the Board of Nurse Licensure's office contains holes where iguanas and rats enter the building, a leaky roof, loose ceiling tiles, broken floor tiles and light fixtures, and a malfunctioning air conditioner.
Although the board is budgeted to have five staff members, it only has three and has not had an executive director since February. Since April the board has had no one on its staff who can access financial records and pay invoices.
"As a result of this acute staff shortage, vendors and routine utility bills are not being paid and petty cash has not been accessible," Allmacher said.
Many of Thursday's testifiers said their entities would benefit from the appointment of a common legal counsel for all boards, as well as a common database in which members might access licensure information. Strengthening enforcement efforts was also an expressed priority.
"If we identify or know of illegal acts, people who are violating the medical practice act, we don't have a body, person, or division that we can say 'Hey can you go and investigate this?'" said Odlum. "It's being done by board members or in some cases staff, which could be potentially dangerous."
The medical licensure boards were not alone in expressing a need for better enforcement tools. Department of Health Commissioner Michelle Davis said there are no enforcement officers in the department at all. She said the department would need, at minimum, six enforcement officers to carry out all the activities it is mandated with.
No actions were taken at Thursday's information gathering hearing, which was attended by Sens. Smith, Vialet, Novelle Francis Jr., Janette Millin Young, Sammuel Sanes, Dwayne DeGraff, Marvin Blyden, and Janelle Sarauw.