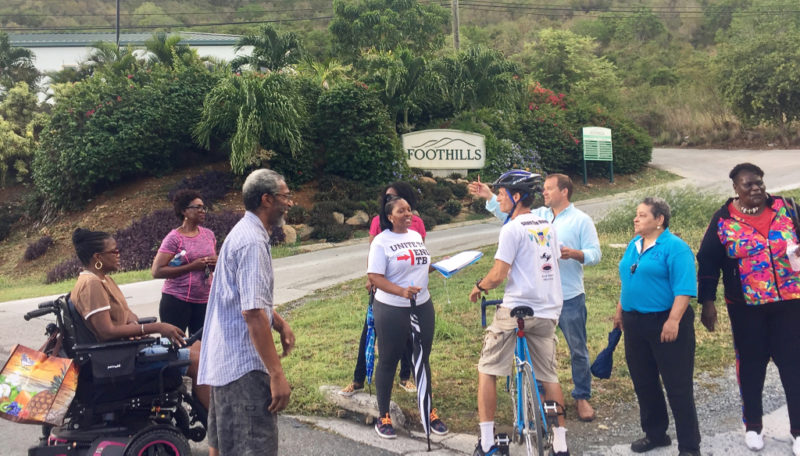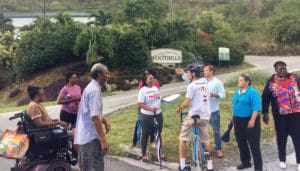 With the help of a diverse group of stakeholders, the area around the Schneider Regional Medical Center will become more pedestrian and biker friendly over the next year.
Friday members of the V.I. Department of Health, V.I. Public Works, and the V.I. Coalition of Citizens with Disabilities teamed up with members of the St. Thomas community to conduct a walkability audit for the road that runs around the hospital.
The audit follows a Walkability Institute that took place on St. Croix in June. Facilitated by the V.I. Department of Health's Chronic Disease Prevention Program, in partnership with U.S. Centers for Disease Control and Prevention and the Task Force for Global Health (TEPHINET), the Institute was a follow up to a territory-wide audit that measured street-level support and barriers to physical activity in May 2016.
According to Health, one in three adults in the territory is physically inactive, so the aim of the action plan is to encourage more people to walk and bike by making roads and sidewalks safer and more inviting.
Lyña Fredericks, program manager for Health's Chronic Disease Prevention Program, said encouraging people to walk and bike centers on the community's need for exercise.
"The territory has high rates of inactivity and diabetes, so changing our infrastructure to promote walking has numerous health benefits," Fredericks said.
Carol Thomas, a concerned citizen who participated in the audit, said she works in nearby Fortress Mall and would like to be able to exercise on the roads around the hospital. Right now she doesn't feel safe doing so, because the road isn't marked and there isn't much lighting.
During the audit, Piotr Gajewski, design manager for the Department of Public Work's Office of Highway Safety, asked the audit's dozen participants what's discouraging walking and biking.
Gajewski explained the street around the hospital is being targeted first, since it's a high-use area with medical facilities, businesses, restaurants, senior housing and schools. But the area needs more sidewalks and crosswalks to encourage people to walk.
"We want to create awareness of pedestrians and bikers with simple fixes," Gajewski said.
Making sure seniors and disabled people can get around the area safely on foot or in their wheelchairs was also a major focus of the audit.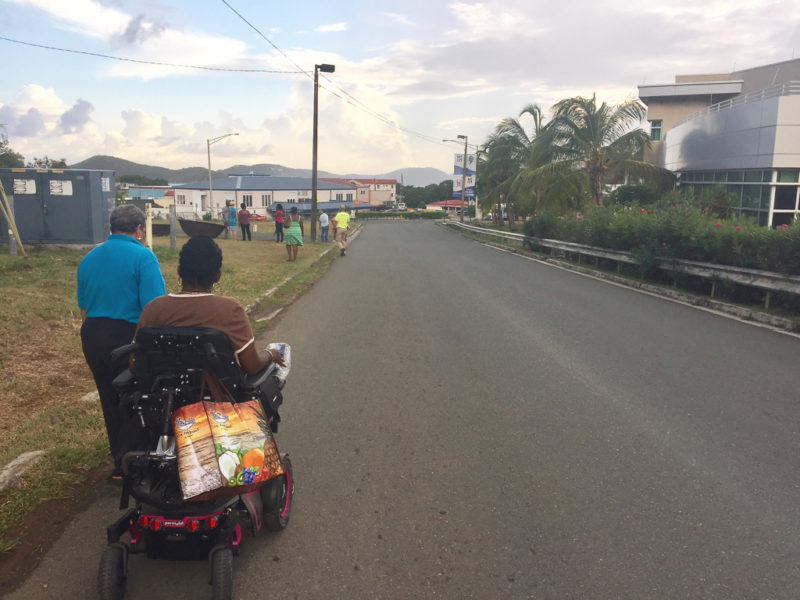 Rosemary J. Sumas, executive director of V.I. Coalition of Citizens with Disabilities, said, "There's senior housing here, so we want to make it so they can traverse the area without getting hit by a car."
"We can influence lawmakers to make changes that help the disabled and elderly get around safely," she said.
For Javanka Larcheveaux, board member of the of V.I. Coalition of Citizens with Disabilities, getting around St. Thomas on her motorized wheelchair can be a challenge, since many sidewalks are inadequate, forcing her to often ride in the street.
"The sidewalks aren't safe for me and the roads aren't marked well, so this one looks like a big drag strip that people speed on. This is an accident waiting to happen," Larcheveaux said of the hospital's perimeter road.
Phase one of the project covers the perimeter road to the east of the hospital that goes up to Foothills Apartments. Between June and December a number of low-cost solutions including signage, pavement markers, road stripping, plastic delineators and benches will make the area safer for pedestrians. Phase two will run from January to June 2018 and will use the same methods on the northern and western side of the hospital's perimeter road.
Shirley M. Sadler, an avid walker who became a team member of the action plan during the Walkability Institute in June, said Virgin Islanders could be healthier if they all walked more.
"I support walking for the education of it, so people know fitness is an important part of your life," Sadler said. "If I don't walk enough, I know I don't feel good."
The Walkability Institute brought together members of the public and private sector.
Representatives from the Governor's Office, Department of Public Works, Department of Planning and Natural Resources, Department of Sports, Parks, and Recreation, senators and legislature representatives, V.I. Coalition of Citizens with Disabilities, St. Croix Chamber of Commerce, local walking coalitions and groups, and community foundations joined in the two-day workshop.