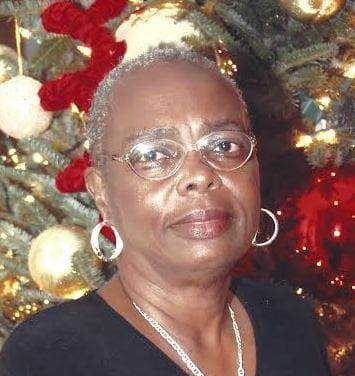 Cynthia Malone Warrell, better known as "Cynthie and Den Den," died on Saturday, June 10, at her residence on St. Thomas. She was 75 years old.
She is survived by her husband, Leon Warrell Sr.; daughter, Linda Warrell, sons: Sgt. Leon "Duke" Warrell and Leonard "Simba" Warrell; stepdaughters: LeAnn Warrell and Leona "Pinky" Warrell; stepsons: Kevin Warrell and Lionel Warrell; sister, Ione Malone-Yearwood; brother, Harold Malone, daughters-in-law: Saria Warrell and Yolanda Warrell; grandchildren: Kishma Warrell, Malika Warrell, Jashiel Warrell, Leon Warrell III, Jahiel Warrell, Sheniqua Warrell, Makysha Warrell, Elisha Bruney and Abigail Bruney; and great-grandchildren: Keyon and Kaden Warrell, Zequoy Rymes and Janiya Warrell.
She is also survived by nieces: Alicia V. "Susie" Malone, Durita "Ricky" Roumo, Denise E. Malone, Mariah Malone, Charlotte Malone-Benjamin, Valarie, Cheryl Malone, Jamika Malone, Jerica Malone, Jane Malone -Ricketts and Jacqueline Malone-Hodge; and nephews: Vincent Yearwood, Anthony Malone, Egbert Malone, Miach Malone, Rowan Malone, Jeffrey Malone, Ludence Malone, Carvin Malone, Meade Malone, Guy Malone, Keith "88" Malone, Arden Malone, Roger Malone and Richard Malone.
Other survivors include great nieces: Chenise A. Phillips, Rehenia I. Brummell, Audrey L. Malone, Sandra S. Huff and Lakeisha Wade-Malone; great nephews: Halim A. Scatliffe, Lakoi A. Malone; great-great nieces: KeDeya and Kensi Warrell. She is also survived by CAHS Class of 1961, the Port Authority family, Helen Bruney and family, Marion Peters and family, Juanita Williams and family, Muriel Dyer and family, Beulah Joseph, Marie "Ollie" Simeon, Officer Sandra Daniel and family, Melva Downing and family; as well as a host of godchildren, family members and friends too numerous to mention.
A viewing will take place from 5-7 p.m., Friday, June 30, at Hurley's Funeral Home.
Tributes will begin at 9 a.m. followed by a funeral service at 10 a.m., Saturday July 1, at The Cathedral Church of All Saints. Interment will be at Western Cemetery No. 2.
The family requests that mourners wear festive colors.
Arrangements are under the care of Hurley Funeral Home and Cremation Center of St. Thomas, St. John, St. Croix and Tortola.
For directions and online condolences, please visit us at www.hurleydavisfuneral home.com