Staff and commission members of the V.I. Transfer Centennial Commission testified Wednesday evening before a Senate committee, but offered few specifics regarding money the body has spent marking the 100th anniversary of the transfer of the territory to the U.S..
Some senators on the Committee on Workforce Development, Consumer Affairs, and Culture expressed surprise and frustration at the absence of a thorough budget report from the commission, especially after pointed questions posed in the media this month about some members' attendance, on the government's dime, of centennial-related events in Denmark.
The commission eventually determined it would only contribute funding for four of its members to travel to Copenhagen, down from an initially proposed 11.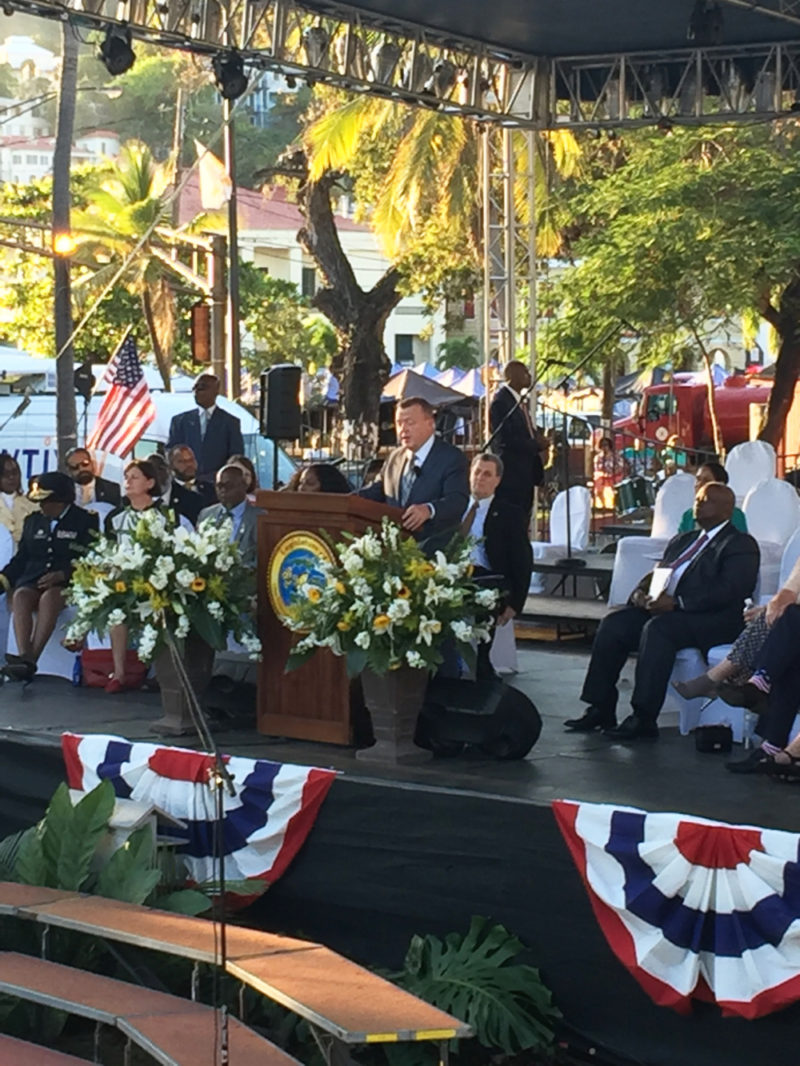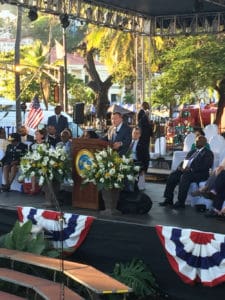 In March, the legislature invited members and staff of the Centennial Commission to testify on its progress in commemorating the 2017 transfer centennial, but at the time the commission's chairwoman, Pamela Richards, and its executive director, Kevin Jackson, said they could not attend because they were too busy with the planning of the approaching Transfer Day ceremonies.
At Wednesday's second attempt at a hearing, Jackson was present with assistant director James O'Bryan Jr. and two of the commission's members, Shelley Moorhead and Lois Hassell-Habtes. Notably absent was Richards and vice-chairman Gerville Larsen, who resigned from his position shortly before traveling to Denmark with other members.
Jackson reported that to date the commission has expended $730,595.51 on "lectures, symposiums, festivals, booklet publishing, television vignettes, quelbe events, the reopening of Fort Christian and related events, collectible merchandising, staff salary, inter-island travel for commission members, and travel involving legacy projects for Danish and VI students."
Jackson struggled, however, to provide answers to more probing questions from senators, such as how much money has been spent on travel for commission members, and how much has been earned from events and merchandise for which the commission has charged. He also did not have figures available when asked how much the Transfer Day ceremonies themselves cost, or how much centennial funds had been granted to the V.I.'s three carnival festivals.
Jackson cited as accomplishments activities that he said were "developed or sponsored in whole or in part by the commission," such as a visit by the Danish ship the Danmark, a presentation by U.S. Supreme Court Justice Sonia Sotomayor, and the attendance of the Danish prime minister to this year's Transfer Day ceremonies.
"We believe we have met our goals and look forward to funding and implementing more initiatives. To leave a legacy that will be remembered, appreciated and built upon by future generations," he said.
Jackson said that approximately $1 million is still available to fund centennial-related events for the remainder of the year. The commission recently began accepting proposals from community members and organizations again after briefly closing submissions.
Senator Tregenza Roach, who is not a member of the Committee on Workforce Development, Consumer Affairs, and Culture, but who has been vocal in calling for more transparency from the commission and even reallocating its remaining funding, attended the hearing to voice his concerns directly.
Roach said he felt that the lack of a robust showing by commission members, and their total absence at the March hearing, signaled "either some dysfunction, or disrespect towards the Legislature."
Roach also criticized Senate President Myron Jackson, who both presided over the hearing as the chairman of the committee, and is a Centennial Commission member, for himself not giving senators more information on the commission's activities over the past year. He also suggested that it might be problematic for the commission to report to a senate committee chaired by one of its own members.
"You can begin to see that this is kind of an incestuous thing when you come to the Legislature to report to the committee that's headed by the person who is a member of the commission," Roach said.
Senator Janette Millin Young said she was concerned with the lack of communication between the commission and senators, some of whom spoke of learning about the commission's plans, and some of its internal challenges, through the news media.
"In the absence of information, people have questions. Try to keep your senators informed," she said.
Not every senator was critical of the commission, however. Senator-at-Large Brian Smith made no inquiries of the body's representatives and instead used his two rounds of questioning to offer effusive praise to those behind 2017's centennial events, calling them "exemplary."
"I personally was honored to see something that came off with such extraordinary care, because every single Virgin Islander, whether they are in the territory or abroad somewhere, would be proud because we have history and we put it on display for the entire world to see."
The subject of commission members' recent trip to Denmark was raised by Sen. Dwayne DeGraff, who said some of his constituents were confused about why the V.I. was sending representatives to Denmark during a commemoration of one hundred years under the U.S. flag.
"I'm trying to find the correlation with going to Denmark," DeGraff said.
Hassell-Habtes, who brought to the hearing brochures from various events attended in Denmark, said "Our purpose in going there was to ensure that our Centennial Commission members were participating on the other side of the picture, and I think we did that."
Moorhead explained that of his four trips to Denmark this year, the most recent has been the only one paid for partially with monies granted to the Centennial Commission. He said all his trips to that country have been towards pursuing reparations for the Virgin Islands for centuries of slavery and colonialism under Danish rule.
"The reparations conversation has developed over the years. It has ebbed, it has flowed. It has waxed, it has waned, for various different reasons. It has lacked support from our government at times. It has lacked funding. It has been challenged politically in Denmark," said Moorhead, adding that the issue was gaining traction, especially in academia in Europe.
Sen. Jackson said he was also one of the Centennial Commission members who participated in events in Denmark in June, but that his trip had not been funded by the commission.