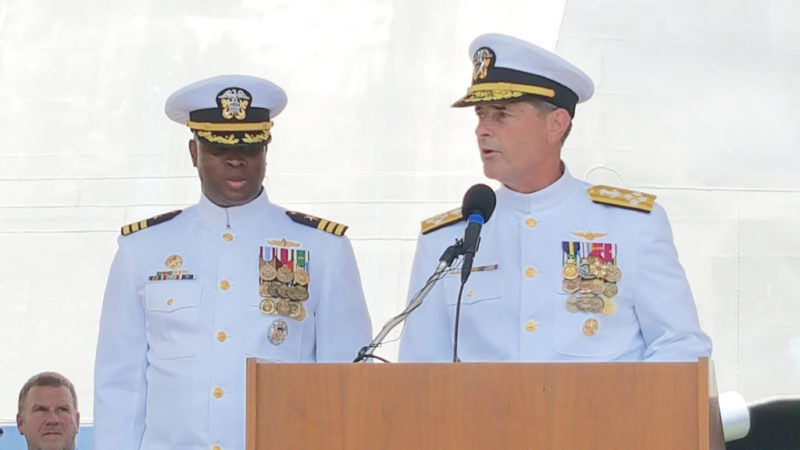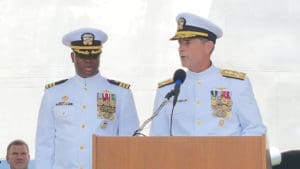 U.S. Navy Cmdr. Keith Woodley, a native of St. Thomas, took command Saturday of USS Gabrielle Giffords, the Navy's newest shoreline combat ship. The Navy commissioned the ship and handed it over to Woodley at a ceremony Saturday at the Port of Galveston, Texas.
Woodley commands the ship's core crew of 50 officers and enlisted personnel.
During the ceremony, Woodley praised the crew for their dedication and hard work in getting the ship ready for service.
"This is not just a new ship. This is a new class of ship and that makes it even more challenging for the crew," Woodley said. "They have risen to that challenge and performed exceptionally well in getting this ship ready for service," he said before a crowd of more than 2,500.
V.I. Delegate to Congress Stacey Plaskett (D-VI) congratulated Woodley in brief comments on the House floor this week. Plaskett said Woodley is a graduate of Florida A&M University and the Florida Institute of Technology.
At sea, Commander Woodley served as damage control officer onboard USS Samuel Elliott Morrison, the combat information center division officer and assistant weapons officer aboard USS Anzio, the chief engineer on USS DOYLE, the logistic and readiness assistant chief of staff for Commander, Carrier Strike Group Eight, and executive officer on USS Kauffman.
Adm. William Moran, vice chief of Naval Operations, delivered the christening ceremony's principal address before officially commissioning the ship into service.
"As we man the rails today, blood gets pumped, the ship comes alive, and the heart begins to beat," Moran said. "It's the blood that is infused by the spirit, the attitude, and the courage of its namesake. We are so proud to be part of Gabrielle Giffords' legacy to the United States."
Following the commissioning, Dr. Jill Biden, the ship's sponsor and wife of former Vice President Joe Biden, gave the time-honored Navy tradition of ordering the crew to "man our ship and bring her to life!"
The crowd sounded its approval as the crew ran aboard the ship to man their assigned stations and complete the ceremony of bringing the ship into active service to end a story that began more than five years ago.
In 2012 the Secretary of the Navy announced the future ship's name, and USS Gabrielle Giffords became the 16th ship to be named for a woman and only the 13th ship to be named for a living person since 1850, according to the Navy. Gabrielle Giffords was a U.S. representative from Arizona who in 2011 was shot in the head during a campaign event at a supermarket. She survived the attack but was unable to continue serving.
Most other Navy surface combatant ships have a crew of 300 or more sailors. But littoral, or shoreline, combat ships like Gabrielle Giffords have more automated systems and much smaller crews than their counterparts. Gabrielle Giffords' crew is just 73 at the ship's commissioning.
"It's not easy being an LCS sailor," said Gunner's Mate 1st Class Mark Dobrinin at the ceremony."We have to wear so many hats and be trained on systems and duties outside of our normal job specialty due to the small crew size. Every enlisted sailor here volunteered for the program and we're excited to serve on USS Gabrielle Giffords."
The 3,200-ton Gabrielle Giffords was built by Austal USA in Mobile, Alabama. The ship is 421 feet in length and has a beam of 103 feet and a navigational draft of 15 feet. The ship uses two gas turbine and
two diesel engines to power four steerable water jets and can go more than 40 knots.
Littoral combat ships are fast, agile, mission-focused platforms designed to operate in near-shore environments, while capable of open-ocean tasks. They can fight coastal threats such as submarines, mines, and swarming small craft.
A fast, maneuverable, and networked surface combatant, Gabrielle Giffords is capable of operating independently or with an associated strike group.
USS Gabrielle Giffords will depart Galveston and begin her transit to her homeport at Naval Base San Diego.