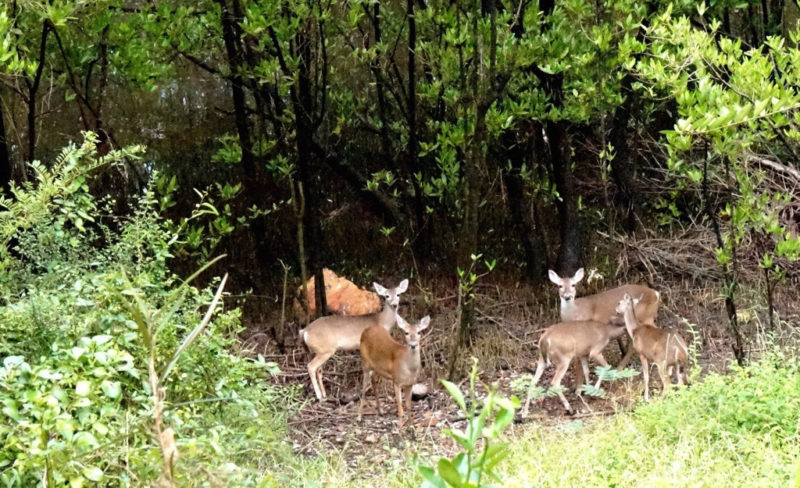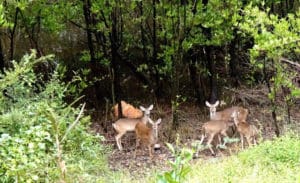 Deer sightings were a rarity on St. John 20 years ago, and were limited to the remotest parts of the island at dawn or dusk.
Now if you step out of your door in the early morning you're likely to hear hoof beats of retreating deer. If you drive any distance down the Northshore Road, you'll see their tails disappearing into the roadside bush.
With no natural predators on St. John, the deer population has soared, but the growth of the overall population may not be an indication of its health. In recent months several people have reported seeing deer that were covered with ticks.
"On April 4, 2017, I walked the grounds of Caneel Bay and photographed some deer," wrote one visitor from Denmark in a letter to the Source. "Taking a closer look at the photos right now I realize that they are severely attacked by ticks, on their heads and necks. The deer should be treated by a veterinarian, which is the reason for my contact. The situation must be intolerable for the poor creatures."
The visitor's call for action raised a number of questions: To what extent are deer affected by the ticks? Is there a way to help them? And who is responsible for the well being of the wild creatures that live among us?
A further concern to those familiar with Lyme disease (carried by ticks that live on deer on the northeastern United States) is whether the deer on St. John present any health threat to humans.
This last question is the simplest to answer. Veterinarian Laura Palminteri, the owner of Canines, Cats and Critters, said the type of tick carried by deer on St. John – the American dog tick– is different than the type of tick that carries Lyme disease.
She said dog ticks do carry a disease, Erlichiosis, known locally as Tick Fever. It can be spread to humans, but the disease primarily affects dogs and livestock as well as goats, sheep, donkeys, and deer. Cats are less likely to develop the disease because they are more fastidious groomers, according to Palminteri.
"Ticks are always a problem. All our patients are treated for ticks," said Palminteri.
Dog ticks are a perennial problem, according to many pet owners, but there seem to be outbreaks at certain times of the year.
In 2014, a groundskeeper at Caneel Bay Resort, renowned for his compassionate treatment of animals, contacted Palminteri to get medical assistance for the herd of deer that dwelled on the resort's property.
Upon discovering that the deer liked to eat a particular seed pod, Palminteri and the groundskeeper laced the pods with tick-killing medicine, and the groundskeeper hand-fed them to the deer. This quelled the infestation for several months.
But in October 2014, a portion of the herd was euthanized, and the animals were buried to keep the tick infestation from spreading, according to Patrick Kidd, Caneel's New York-based director of marketing. The herd was culled by the U.S. Agriculture Department's Animal and Plant Inspection Service.
Kidd said he hadn't received any reports this year that the deer were in poor health, and he hadn't noticed any problem with the deer he has seen "although they do come and go." He said treating the deer at Caneel was not something the resort could authorize.
"Sadly we're not in a position to interfere with the health of the wildlife. It's a concern to us if guests see the animals in poor condition. If there was an animal in a debilitated condition, we would alert the [Virgin Islands National] Park, and they've been very responsive," Kidd said.
Thomas Kelley, natural resource manager for the VI National Park, said the park periodically gets calls from citizens who are concerned about sick animals.
Palminteri said she also has received calls from drivers who see a deer lying next to the road. When the animals are emaciated and covered with ticks, humane euthanasia is the best option, she said.
Kelley said the deer at Caneel became debilitated in October 2014 when the island was starting to experience drought conditions, and the food supply decreased.
"Deer are gregarious and stay in bands, so the herd did not leave the property to seek food elsewhere," Kelley said. Many of the deer became malnourished and more susceptible to disease.
He could not confirm the number of deer culled by the U.S. Agriculture Department's Animal and Plant Inspection Service in 2014. Anecdotal reports suggest between 50 and 100 were euthanized.
Eleanor Gibney, an expert in native plant species, said she'd seen the remains of at least 20 deer in various parts of the National Park during the drought in 2015 as she hiked through the forest to conduct research.
Today, no one can tell you how many deer live or die on St. John.
"We're reluctant to put out any facts about their number and range, and less inclined to discuss whether it's growing or declining," said Kelley.
"They're introduced exotic ungulates, and we're charged with managing them, so we will develop a management plan. We have plans for most of the larger mammals – rats, cats, mongoose, sheep, goats and hogs."
Developing a management plan is a multistep process that can take many months, according to Kelley. The Park is required by the National Environmental Policy Act to file documents, conduct studies, and hold public hearings before the plan can be implemented.
An Environmental Assessment Plan must be developed in cooperation with the U.S. Fish and Wildlife Service and the Virgin Islands Department of Planning and Natural Resources.
Facing budget cuts, the Park and other wildlife agencies are struggling to find the funding to do the research.
"Conducting a wildlife census is difficult and expensive, especially on an island that's densely vegetated, with steep slopes and a small number of trails," Kelley added.
Some preliminary research on the deer was conducted in 2016, but Kelley said nothing conclusive has been published yet.
Park staff are well aware that the deer have affected the various ecosystems within the park, according to Kelley. "They make trails, overgraze and disperse seeds, all of which have an ecological impact."
"Deer have a broad diet, but they're selective," said Dr. Gary Ray, an ecologist based on St. John. They like to "graze" (eat herbaceous, grasslike plants) as well as "browse" (consume shrubs and trees, more woody plants.)
The effect of deer on the island's vegetation is nothing short of alarming, according to Eleanor Gibney.
"I've done a lot of looking, and it's mind-blowing," Gibney said. "There are areas where there's nothing below the browse line. No seedlings. Nothing."
Gibney said the deer could totally change the upland forest composition, and worse, could do incalculable damage by eating mangrove seedlings which grow along the shoreline. Mangrove forests serve as buffers from storm surge during hurricanes.
"The damage they're doing and repercussions could be disastrous," she said.