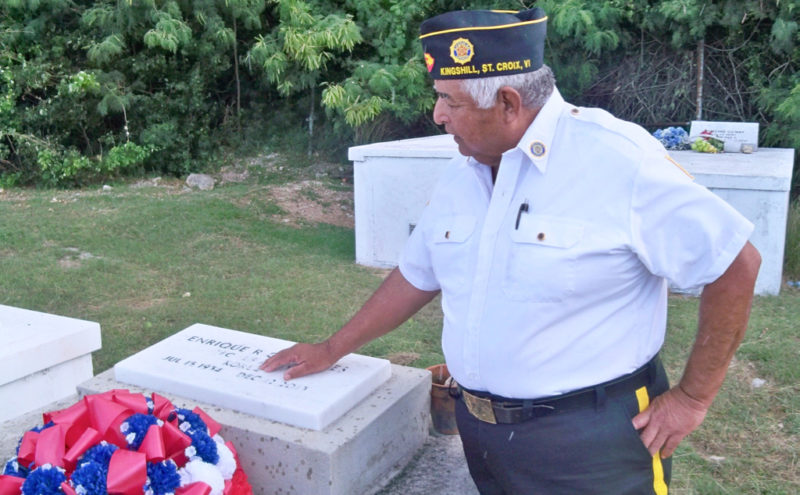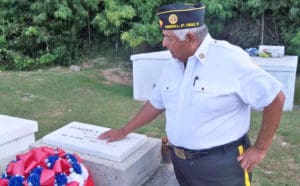 Many residents look on Memorial Day weekend as three days of relaxation. But members of American Legion Post 102, like many veterans across the territory, haven't been relaxing this weekend. Instead, they've been very busy.
On Friday, members of Post 102 cleaned tombs in cemeteries in mid-island St. Croix; Saturday they were putting out 400 flags; Sunday they held a graveside ceremony and Monday they will be marching in a parade in Frederiksted.
Comrade Eleuterio, member and former vice chair at Post 102, speaking to the Source after the Sunday ceremony at King's Hill Cemetery, said the Post had a lot of help this year.
"It has been good," he said. "A lot of family members got involved. They mostly cleaned up the tombs and around them."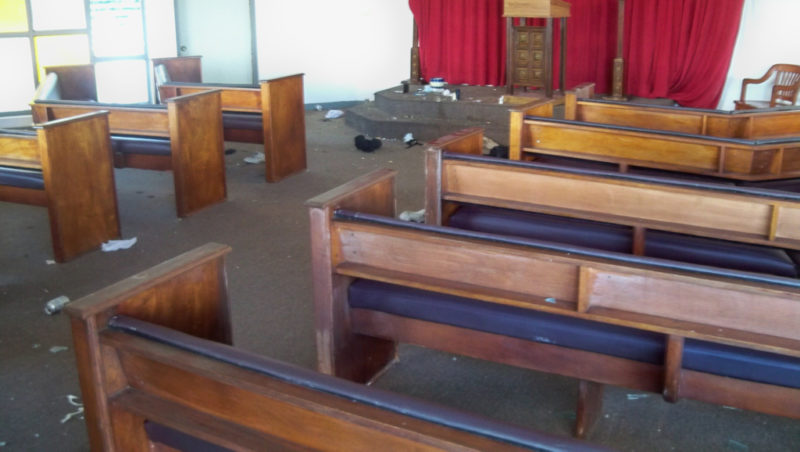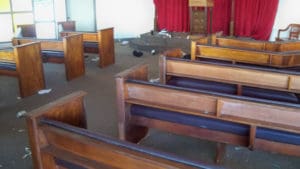 One thing that didn't go as planned was the ceremony at Kingshill Cemetery, which had been planned to be held in the chapel. But when Post members arrived they found that windows had been broken and the inside of the chapel was covered with broken glass and other trash.
The Post's tradition has been to place a wreath on the tomb of the most recent veteran to pass away. This year the wreath went on the tomb of Enrique Quinones, a U.S. Army veteran who fought in the Korean War.
District Commander Charles David welcomed everyone to the ceremony. Romain Cruz, commander of Post 102 conducted the ceremony.
"May the ceremonies of today deepen our reverence for our departed friends and comrades," Cruz said. "Let us renew our pledge of loyalty to our country and its flag. Let us resolve by word and deed to emphasize the privilege and duty of patriotism."
According to a news release from the Virgin Islands Office of Veteran Affairs, it was not just Post 102 that was this weekend. The release said that all the American Legion Posts were placing flags and cleaning tombs and having ceremonies. On Sunday a graveside ceremony was held at Eastern Cemetery on St. Thomas and a Memorial Day Ceremony in Cruz Bay.
St. Thomas and St. Croix on Monday are having parades.
The St. Thomas parade will start after a graveside ceremony at the entrance of Western Ceremony 1 and proceed to the Emil White bust on the waterfront for the seaside ceremony. After the seaside ceremony it will then proceed up the waterfront making a left turn before the Asfour Department Store toward Main Street; making a right onto Main Street and proceeding to the Franklin D. Roosevelt Veterans Park where the commemoration ceremony will be held. Keynote Speaker will be 1st Sgt. Monet Davis.
The St. Croix procession will start at the Post Office in Frederiksted and proceed to the Frederiksted Cemetery for another graveside ceremony, then on to the Frederiksted waterfront, adjacent to the Verne I. Richards Veterans Memorial Park, for the seaside service. The commemoration ceremony will be held at the Verne I. Richards Veterans Memorial Park.