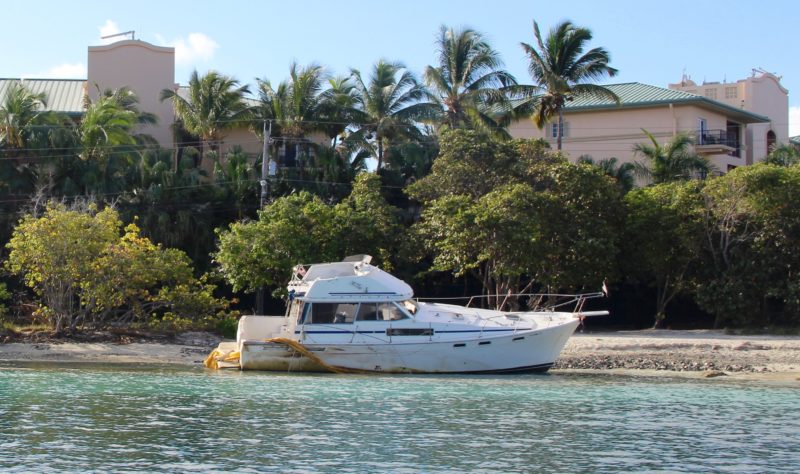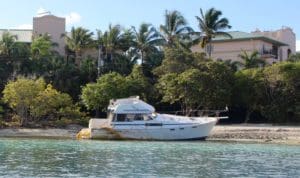 When a powerboat broke free from its mooring in Muller Bay earlier this year and washed up on the popular beach near vacation rentals, it made the news with several groups calling for its removal.
The beached boat created an eyesore and somewhat of an uproar, but this wreckage is really just the tip of the iceberg of marine debris issues in the Virgin Islands. With more boats being abandoned every year, the problem is ever-growing with little funding available for boat removal.
On St. Thomas' East End, there are a series of protected sites, including Compass Point Pond and the Mangrove Lagoon, which stretches over 680 acres. Derelict boats litter these areas, leaking harmful pollutants into the territory's marine environment on a daily basis.
According to the National Oceanic and Atmospheric Administration, the territory has more than 50 islands and cays that surround the main islands. Surveys completed by the V.I. Division of Fish and
Wildlife have found that these small landmasses are of great ecological importance, since they provide ideal nesting habitat for nearly all of the territory's seabird populations.
Snowy egrets and blue herons are among the birds that frequent these islands. For that reason, more than 30 of the territorially owned offshore cays are wildlife sanctuaries where it's illegal to throw, place or deposit any waste, including human waste and marine debris like wrecked boats.
Under V.I. Code, a derelict vessel is "a vessel or houseboat that has been abandoned, forsaken, or disabled beyond repair." Vessels on a mooring must be able to move within 30 minutes of an order to do so by the Division of Environmental Enforcement or they can be considered abandoned.
Jamal Nielsen, media relations coordinator for the Department of Planning and Natural Resources, said that the removal process starts with his department contacting the boat owner at his or her last known addr
ess. If he or she cannot be reached, a notice is posted in the newspaper or a notice of violation and assessment (NOVA) is issued. DPNR can seize the boat if the owner doesn't respond and then put the boat up for auction or dispose of it.
There are a number of issues when it comes to carrying out effective enforcement for derelict boats, and the financial burden most often falls on the government and by extension, on local taxpayers.
"One large issue with enforcement is when someone abandons a vessel, for the most part, they leave the island and there is no one to assess a penalty to, or charge for the removal of the abandoned vessel," Nielsen said.
Removing boats is expensive and Nielsen said that DPNR doesn't have access to funds to regularly do so.
"The cost of the removal and destruction is precisely the reason why persons choose to abandon the vessel in the first place," Nielsen explained. "There are years where we apply for grant funds to remove the vessels, but these are highly competitive grants and the maximum amount of funding is $250,000."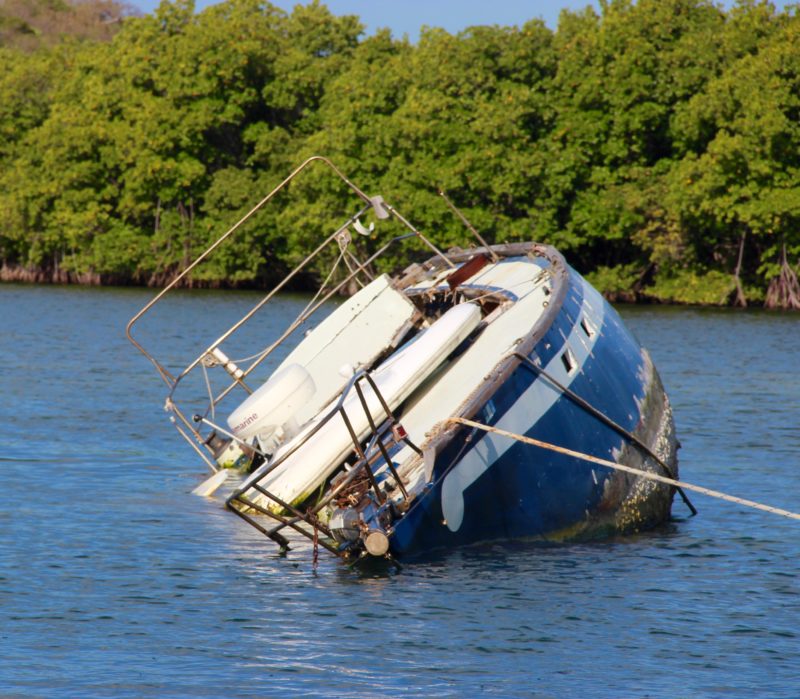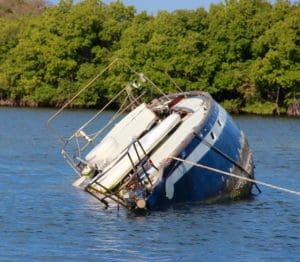 Nielsen said that amount of money could only remove six to seven boats total, which is just a small dent in the issue. Surveys show there are hundreds of derelicts boats and wrecks between all three islands.
After the boats are removed from the water, there are a number of steps before disposal. Since the V.I. Waste Management Authority limits the size of waste that can be placed into the landfills, some of the vessels must be broken down into smaller pieces before they are discarded.
Breaking down fiberglass boats is a costly process, Nielsen said. For that reason, DPNR is working with Waste Management on a new method of disposal with plans to test this new idea on some derelict vessels before the heart of the upcoming hurricane season.
Jean-Pierre Oriol, director of the Division of Coastal Zone Management (CZM), confirmed that DPNR is working on the issue with Waste Management.
"I recently met with Dr. Nadine Noorhaasan specifically on this issue and we're coming up with some ideas as to how boats may be accepted at the landfills," Oriol said.
Nielsen added that CZM officials met with representatives from the National Oceanic Marine Debris Program in early May to show them firsthand the issues in the lagoon on St. Thomas. They're hoping that will help them make a case for funding when the proposal period opens later this summer.
There are a number of dilapidated boats that never leave the lagoon or so-called hurricane hole, which serve as refuge for boats during storms.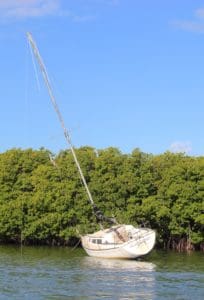 But boats aren't supposed to stay there during good weather, according to V.I. Code.
When asked about the number of fines that have been given out in the last year for derelict or abandoned boats, DPNR refrained from providing a figure. Nielsen said it's illegal to moor in the hurricane hole unless DPNR approves doing so during a pending storm. CZM is authorized to assess penalties of up to $500 for the unauthorized use of the mooring, which includes mooring an unseaworthy vessel. It can also fine up to $10,000 for waste pollution.
There are several people who live on these dilapidated boats that are moored and tied up illegally in Mangrove Lagoon. In addition to the damage these boats do to the mangroves, the raw sewage that people living on these boats flush out is harmful to both human and environmental health.
Nielsen said that CZM can generate revenue if the enforcement action is issued for something the vessel holder can and wants to correct. For example, someone can be fined $50.00 for not properly displaying a mooring sticker. But when the vessel is abandoned, that usually means the owner is nowhere to be found and money can't be collected.
Sea Tow Virgin Islands owner Alan Wentworth has cleared dozens of abandoned boats from the territory's waters and shorelines. While Sea Tow is an emergency marine service that assists boaters much like a roadside assistance program but on water, it also provides marine salvage and debris removal services.
Wentworth has applied for grants to fund marine debris removals in the Virgin Islands, since he knows the territory doesn't have funds to remove them. In light of the territory's financial situation, Wentworth thinks DPNR could be doing a better job of applying for debris removal grants.
He's also created a logbook of abandoned boats in the territory, taking photos of them and noting their locations. Wentworth said he assembled the log to help show the government the scale of the problem, so that they might be able to work on a solution to address it. But he said that DPNR hasn't really engaged with him.
When Wentworth's completed marine debris removal in the past, he said he's been able to just cut the boats up and take them to the landfill. But now he has to fill out tedious paperwork and do an inspection on each boat.
"It's very aggravating, it takes a long time and I've never had to do it before," Wentworth said. "It's just more hoops to jump through when I'm trying to do a cost effective public service that helps the environment and beautifies it."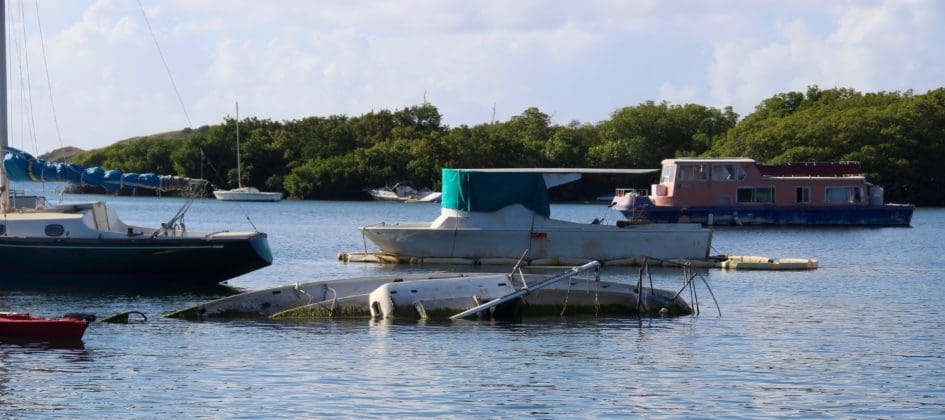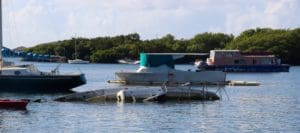 Wentworth said he's been contacted by 4Ocean, a nonprofit that funds marine debris removal, about cleaning up the territory's waters. Before he starts working with the nonprofit, though, Wenworth said he wants to find a way to streamline the inspection and cleaning process with DPNR.
"I don't want to get this group involved while they're putting up the money and then have issues with the landfill," Wentworth said.
Alice Krall, communications manager for Waste Management, said that as of now, a Non-Hazardous Special Waste Application needs to be completed and a permit has to be issued to dispose of a boat. Krall said that there was never a policy change and that the procedures were always in effect but not enforced. She said Waste Management met with Wentworth in 2015 to explain the process.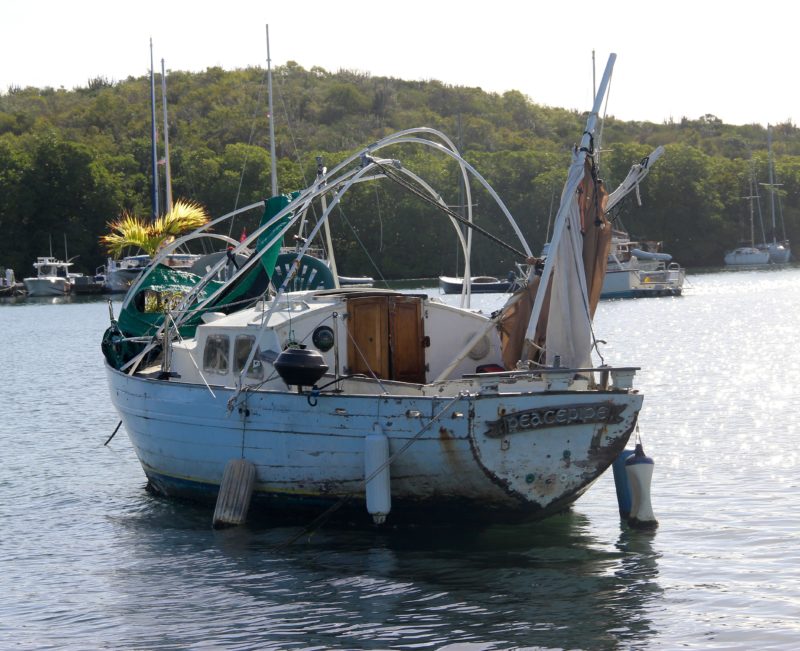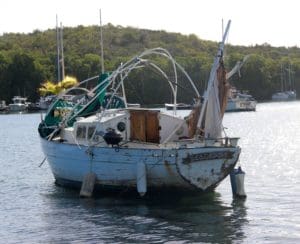 According to Krall, Waste Management must provide authorization to DPNR in order for a vessel to be accepted at the landfill after an assessment of the boat is done.
There are a number of other conditions that are now being enforced: The waste has to be free of hazardous material, the junked boats must be drained of all fluids, and tires, engines, electrical components and batteries must be removed.
Putting a boat through this level of detoxification is extremely expensive and would limit speed and the number of boats that can be disposed of with one grant or by an outside funder like 4Ocean.
It's a bit of a dilemma. The boats are decaying in the marine environment and leaking toxic fluids from their engines into the water, so it makes sense to remove them as soon as possible. Yet, properly detoxifying them is expensive and limits the number than can be removed.
The territory's two landfills are already under Environmental Protection Agency order to close in the coming years, since they are on the brink of being full and they are unlined and already regularly leaking heavy metals into the surrounding environment. Adding boats to the mix adds to this toxicity issue, but the derelict boats are also hurting the environments in which they are located.
–Are the boats worse for the environment while decaying in the water or in the landfill?
–And, how will the Virgin Islands afford the removal of all these decaying boats?
Julianna Ricci, a grant writer that assists Wentworth with applying for funds for marine debris removal, said she hopes an arrangement can be made with Waste Management to consolidate all the paperwork and to waive the fees.
"One of the things that has made Sea Tow so remarkably effective in their work is Alan's commitment to hard work and getting the job done. Anything that VIWMA or others can do to streamline it means that he can continue with this level of efficiency," Ricci said.
For local tour operators, the wrecks and marine debris are both an environmental hazard and an eyesore that hurts the tourism economy.
"The debris hurts the local tourism business and reflects poorly on the territory," said Sybille Sorrentino, owner of Virgin Islands EcoTours, which operates in the Mangrove Lagoon area on St. Thomas.
"People come to the VI and we're showing them a very special place and then they'll say why this and why that. We
explain that it's a hurricane hole, but when there are storms they wreck boats and the boat owners might not have the money to clean them up," Sorrentino said.
Members of the fishing and tourism industries who are regularly impacted by these derelict vessels would like to see more fines issued to boats that unload their waste directly into the territory's bays and lagoons.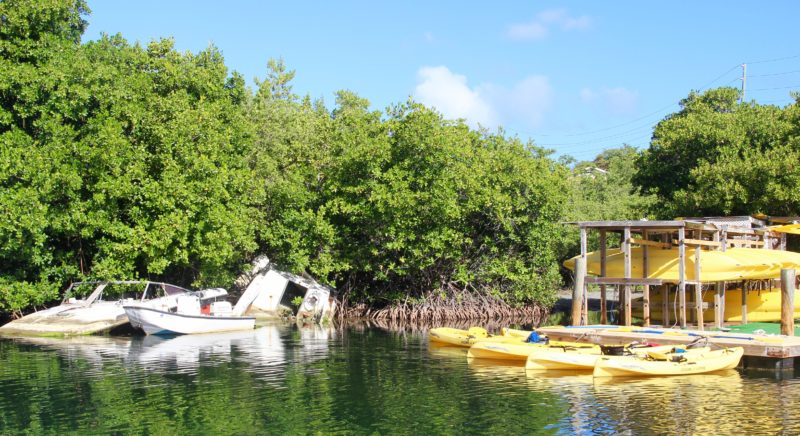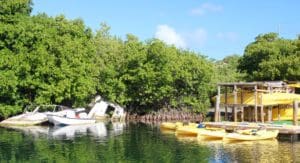 This illegal dumping is a relatively common occurrence and fining them could be a source for revenue, they said.
Raw sewage is considered a pollutant under V.I. Code, said Howard Forbes Sr., DPNR's director enforcement, adding that it is also illegal to dump raw sewage within three miles of the territorial shoreline. According to V.I. Code, any person who discharges pollutants of any kind into shoreline areas or territorial waters can be fined up to $10,000.
While it's widely known that many people live on boats that aren't being regularly pumped out, Forbes Sr. said individuals can only be prosecuted if the violation is committed in the presence of an officer.
There are people living in the marine sanctuary that shouldn't be there, Sorrentino said, and they are pumping their waste directly into the waters. Like other tour operators, she said she wishes DPNR would do more to keep people from living in the protected area and from dumping waste.
If it's know that someone is living on a stationary, non-operable boat and they have no record of being pumped out, isn't there reasonable concern about them dumping directly into onshore waters? While it's difficult to enforce illegal waste dumps and to fine owners for abandoning their derelict vessels, a number of concerned community members want to see more enforcement across the board.
"The lagoon and our marine environment aren't acceptable resting places for abandoning this debris," said one concerned citizen. "We are hurting our health, environment and economy by not doing more to stop this careless behavior."