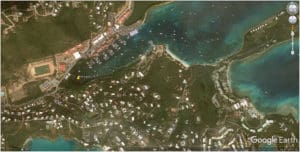 The stench coming from decomposing sargassum seaweed is so strong that even drivers are getting whiffs of it when they pass by the Division of Fish and Wildlife's office on St. Thomas.
The sargassum has drifted into the Red Hook Lagoon area adjacent to American Yacht Harbor. According to the Department of Planning and Natural Resources, "The excessive amount of decaying sargassum seaweed has caused the depletion of oxygen in the bay, thus producing a rotten stench."
Ruth Gomez, director of the Division of Fish and Wildlife, said the seaweed came ashore near the division's office over the weekend. By Monday it was starting its decomposition process, which caused the foul smell.
To address the issue, Gomez said she reached out to the U.S. Environmental Protection Agency on Tuesday for assistance. DPNR will work with the EPA to conduct air and water sampling to determine potential impacts of the decaying seaweed on the environment.
"Once the sargassum is able to continuously free float there is no odor. It is when it is unable to free float it dies, sinks and starts to decompose. It is the decomposition process that causes the release of the sulfur odor," Gomez explained.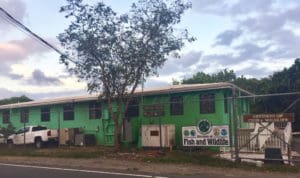 On Tuesday Division of Fish and Wildlife employees stretched an oil boom across the back of the lagoon near their office to help prevent more of the seaweed from making its way into the mangroves.
This isn't the first time sargassum has invaded the territory's shores. In 2015 all three of the territory's islands dealt with the smelly seaweed. A more minor event occurred in 2016.
The 2015 event made operating boats difficult, as the smelly seaweed choked many of the territory's harbors. Some marinas had the seaweed removed and thrown away, while others gathered the sargassum and brought it back out to sea where it acts as a critical marine life habitat.
The brown, berry-like structures found in sargassum are gas-filled bladders known as pneumatocysts, which give the plant buoyancy. In the open ocean this floating habitat provides food, shelter and breeding ground for fish and other marine life such as sea turtles, crabs and shrimp.
When asked how the sargassum could impact the surrounding environment and community, Gomez said the EPA would be on island starting today to monitor, and to train DPNR staff and to implement a health and safety plan.
Gomez said DPNR Commissioner Dawn Henry is planning for future incidents in partnership with the USVI Sargassum Seaweed Taskforce.
Because of the smell, Division of Fish and Wildlife employees were relocated to the Charles W. Turnbull Regional Library in Estate Tutu on Thursday. While away from the regular office, the division can be reached at 340-774-0630.
Henry apologized for any inconveniences the relocation of the Division of Fish and Wildlife may cause and said the public would be notified as soon as the problem has been fixed.