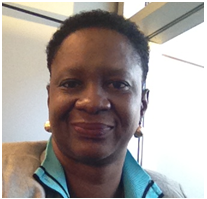 Germaine Todman, better known as "Gem," died on Saturday, April 22, at her residence on St. Thomas. She was 52 years old.
Germaine Todman is survived by her, father, Laurence "Boots" Walters; stepmother, Frances Walters; adopted mom/aunt, Mary Todman; daughters: Dana Todman, Valencia George-Thompson, and Kenya and Kelya George; sons: Romell Todman, Charles Dore and Fitzroy Wattley Jr.; son-in-law, Leroy Thompson; special adopted children: Nicole Friday, Shekima Smith, Lamar Andino, Nikia Fleming and Truniece White; and adopted children: Nikkiah Friday, Kishma and Keshaun Pringle, Choya Todman, Shanique Doyling, Ashaki Petersen, Lenean Powell, Delta and Daryl Dore, Nyka Jn-Baptiste, Jacqueline Parsons, Jenique Smith, Jahkeem and Jahleem Grant, Melbert Matthias, Chassity Barringer, Sibongile Taylor, Jelani Daniel, Shanda Brooks, Kenya Brandi, Christelle Phillip, Della Clarke and Kimanie King.
She is also survived by grandchildren: Najae Harris, Ro'Myah Todman, Le'Nyah-Starr Thompson and Romeo Todman; adopted grandchildren: Jha'Dae Fountain, Jeala-Monee Sasso, AsiaNiq Ritter, Jahkai and Jahreek Richardson, Tia Thomas, Ayanna Bell, Jahnaiyah Ryner, DereNiyah Sylvester, N'Lani Jn-Baptiste, Mathaus Marc and K'Yon Rhymer; sisters: Sandra Martin-Hill, Churna Martin and Deborah Walter; brothers: Cecil Freeman, Curtis Nathanel Walters, Elroy Todman, Fredrick Martin, Abdullah Salaam, and Doug and Dirk Walters; sisters-in-law: Anisha, Tischelle and Levette Walters, and Michelle Freeman; and aunts: Barbara and Charlene Wheatley, Linda Cove, Jackie Malone, Maria Walters, Marion Levons, Jennifer Springette, Ruth Austin, Rita Penn, Joyce Leonard, Sheila Benjamin, Enid Pickering and Nora Potter.
More survivors are uncles: Belfour Wheatley, Henry Freeman Sr., Wilmouth Christopher, Leroy Scatliffe, and Luis and Vernal Walters; great aunts: Lesmora Azalea and Osapha Todman; nieces: Shamilya and Shamecka Pickering, Sher'Laura Rivera, Sha'Koyia and Shakia Warner, Abigail, Pashael, Eartha, Lavannah, Sa'Niyah and Safiyah Todman, Shauniqua and Shaqu-Kherra Martin, Shenelle, Sakeeda, Kasceeda and Taseeda Freeman, Shenelle Dawson, Chenáe, Chantáe, Vernique, Vanique, D'Shaunique, Trinity and De'Jha Walters; and nephews: Charles Pickering, Ejahma, Oswald and Isayjah Todman, Delton Frett, Tekma Martin, Jaquan Lee VanDyke, Domoree Hill, Cecil Freeman Jr., Casheem, Caleem, Camoi, D'Shaunte and Doug Jr. Walters.
Other survivors include godparents: Ezmie Callwood and Mavis Lettsome; special friends: Marty Pickholtz, Marita Smith, Eloise Grant, Diane Allen, Dwight Rogers, Julius Felix, Mildred Pringle, Terry Bridges, Kevin George, Stella Felix, Renea Lesley, Geoffrey and Germaine Bailey, Jeafrey Robinson, Honcho Nickeo, Samantha Edwards, Darren Roach, Allisa Charles, Monique Lake, Leroy "Simba" Richards, Steve Letang, Karrim "Blacks" Williams, Linda Harris, Peter Figueroa, Sheldon Turnbull, DJ Tony T, Jahseed (Red Lion Sounds), Irvin "Brownie" Browne, Rosa Marie Isaac, Lou Elias, Kim McCall, the Entire Kirwan Terrace and Merchants Market family; as well as many other relatives, families and friends too numerous to mention.
Relatives and friends are respectfully invited to attend the first viewing from 5-7 p.m., Friday, May 12, at the Celestial Chapel of Hurley Funeral Home. The second viewing will be held from 8:30-10:30 a.m., Saturday, May 13, at Church of God of Prophecy, 5C Estate Hoffman. A service will immediately follow at 10:30 a.m. Interment will be at Eastern Cemetery.
The family is requesting festive colors be worn.
Arrangements are under the care of Hurley Funeral Home and Cremation Center of St. Thomas, St. John, St. Croix and Tortola.
For directions and online condolences, please visit us at www.hurleydavisfuneral home.com.