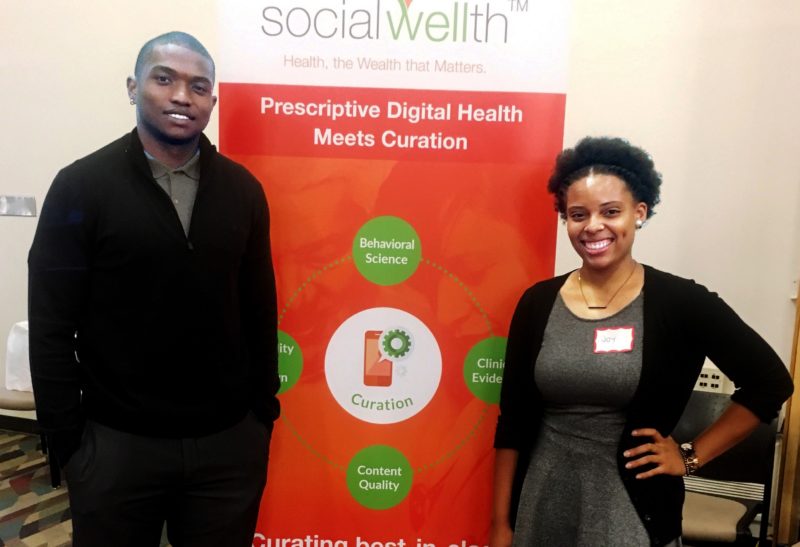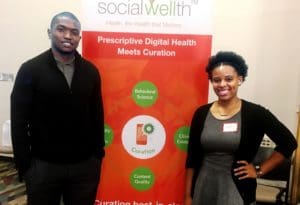 University of the Virgin Islands sophomore Joy Grant, social science major, and UVI junior Gerald Bellot, applied math major, have placed second in the international Games4Health, the world's largest and most competitive health game design competition for students, held at the University of Utah on March 30. Games4Health represents a global effort to deliver health through today's consumer technologies.
Grant and Bellot comprised the first team ever of students from UVI to participate in the event. This was a huge accomplishment given fierce competition and the fact that nearly half the teams were comprised of graduate students," said Dr. Tim Faley, Sokoloff Distinguished Professor of Entrepreneurship.
Grant and Bellot placed second in their category, "Happy Fitness" with their Da Vinci phone app that combines mental exercise with physical movement. They were awarded a cash prize of $3,000.
"Joy and Gerald demonstrated such tenacity and resilience throughout the entire game development process," said Faley. "I'm so very proud of them for all they have accomplished."
Games4Health invited 160 competitive teams to compete. The teams came from 21 states, one U.S. territory, 86 universities and 14 countries including Australia, Brazil, China, Portugal, South Korea and others. This year's competition focused on the development of clickable prototype games that focused on five challenges: corporate wellness, happy fitness, clinical health, chronic diseases and mental well-being.
"We had a great experience representing UVI and being part of the 2017 Games4Health competition," said Bellot. "It was great to network with fellow innovators and receive feedback from various communities."
Grant was similarly enthusiastic about her foray into the world of international game development. "Participating in Games4Health was a great opportunity to meet people who are interested in and involved with the same things as us," said Grant. "Having the opportunity to learn more about the business side of apps and meeting influential people in that field was also priceless."
Prof. Faley and the student developers thanked Dr. Alexander Randall, assistance professor of communication, and the students in the communication department for assisting the team with creating videos that were part of the application process. Thanks also go to the company Invision for granting UVI a free site-license of its app-prototyping software.
Finally, the accomplishment of competing successfully at Games4Health would not have been possible without David Vinson, founder and CEO of SocialWellth.
"Not only did Mr. Vinson and his amazing team sponsor UVI's Design Slam, which Grant and Bellot won, but his company arranged all of the travel logistics to Salt Lake City, for which they also absorbed the costs," said Faley.