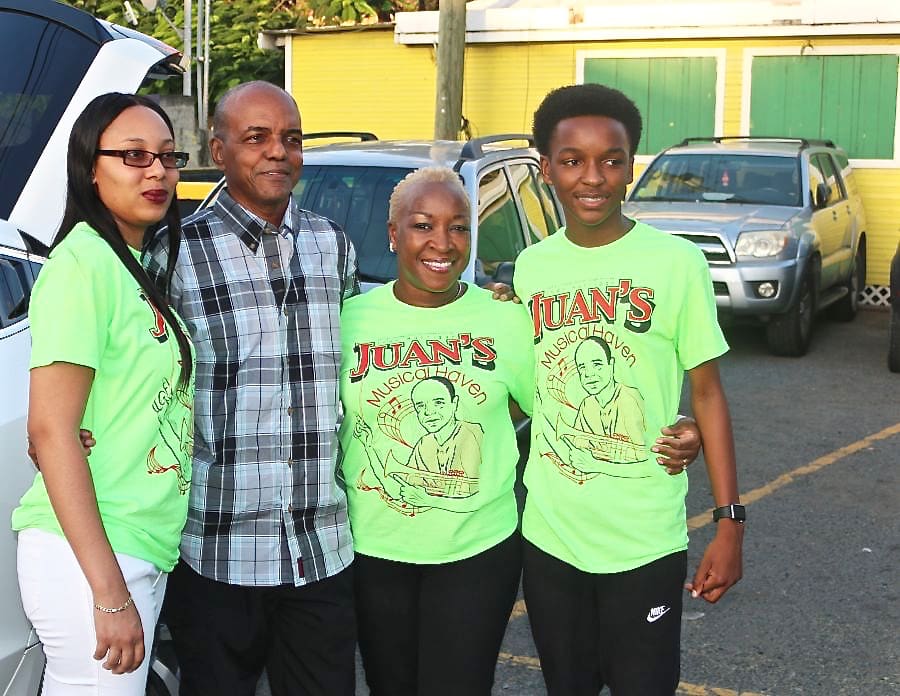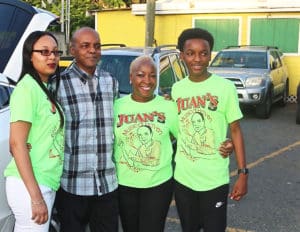 Music man Juan Harrigan has long been known for his work with the V.I. Carnival Committee and his role as band conductor for the Calypso International Tent, whose opening kicks off the annual festivities. This year, the committee repaid him by naming the Carnival Village after him and at the opening Friday night, every booth was decorated in his honor.
"I was really surprised when they asked me, but I was happy to say yes," said Harrigan, who came out Friday night with his entire family in tow. "I spent 25 years with the committee and it's become a big part of my life, so it's definitely a good feeling to get the crown while I'm still alive, and for the 65th anniversary of Carnival."
Looking around the Juan Harrigan Village, many booths were decorated with musical notes, pictures of trumpets and paintings of Harrigan in action with the 73rd Army Band.
"We're happy to be able to represent him," booth owner Rene George said of Harrigan Friday night, when asked about her booth design, which put Harrigan's portrait next to likenesses of quadrille dancers, Fort Christian and the V.I. flag. "He's always been a supporter of our booth, he's always been there for us and so it was easy for us to come up with a design this year."
George, who has been in the village for more than 40 years, said having Harrigan as the honoree was fitting for this year's double celebration – commemorating both the anniversary of Carnival and the Centennial Transfer – and helped make this year's village competition even tighter. There was excitement in the air for all chefs Friday night, George said, and each vendor was looking forward to hearing what the judges had to say about who had the best food or booth design.
"Our booth is special," George added. "Our grandmother has been cooking the best food for years and so we continue to carry the famous pigtail and goat-head soups that are always so popular. Every year, people keep coming back for a bowl and we look forward to winning again this year."
Around the village, all other booths were in full display, with owners and workers cooking up everything from johnny cakes and pates to sushi.
"And it isn't pre-made sushi," Reynika Patterson, owner of booth No.7, said. "You come up, you order and we'll make it. It's something new and we are excited to try it for the first time."
While Patterson's booth stuck with the "Juan's Musical Haven" theme, images on the outside also paid homage to "loved ones" Patterson said had passed during the year. Several other booths Friday also followed suit, honoring both the living and the dead for the opening.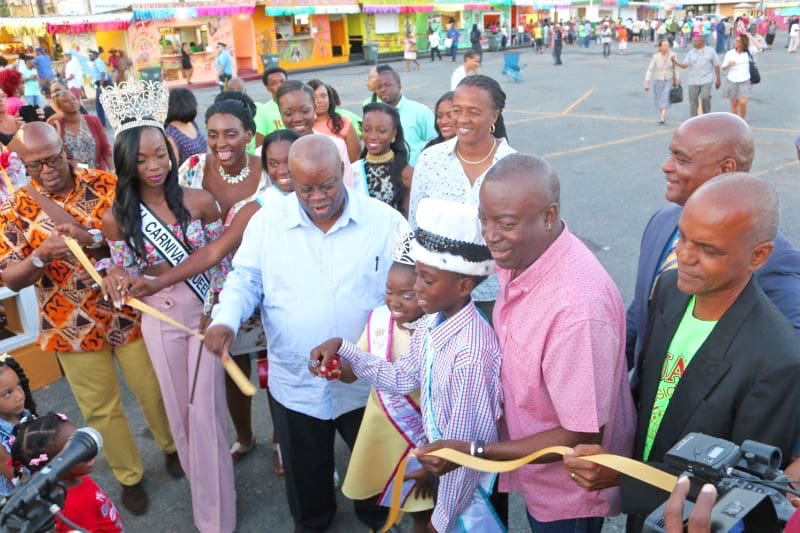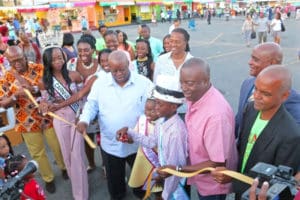 And in the spirit of trying new things, Gov. Kenneth Mapp said Friday night that his wish for Carnival was to have a 100 percent increase in adults coming out for this year's Children's Parade, which he said no longer has to compete with the annual Carnival horse races.
"We've switched it to Thursday because we want to put all of our attention on the children and I think people will be surprised at some of the ideas coming out of our schools for this year's parade," Mapp said. "Last year after the parade, Lt. Gov. Osbert Potter and I thought about how we could get more participation so we started a group, met with the horse owners and saw that it could work on Thursday, right after J'ouvert when no one's doing anything."
The races start at 1 p.m., so people have enough time to go home, relax and get back out again, Mapp said.
"It's going to be a great time," Mapp added. "And we hope that it continues to be violence free, giving everyone a chance to be safe, celebrate good health and to just have fun."