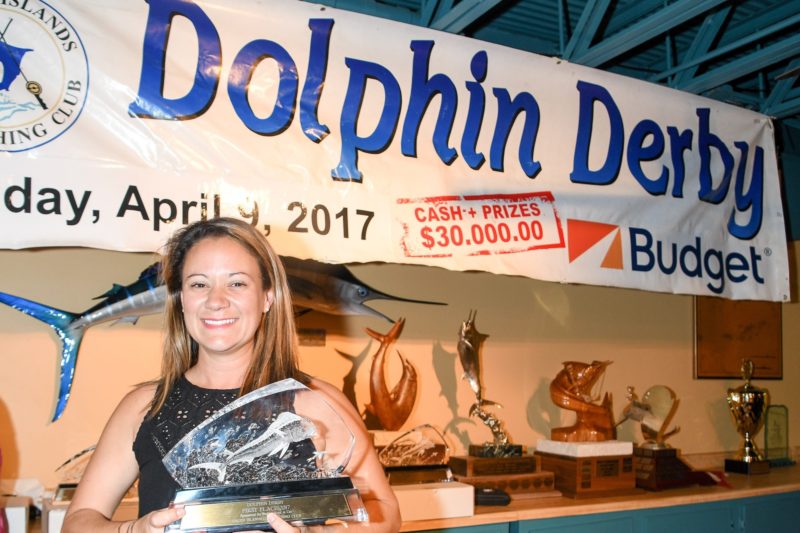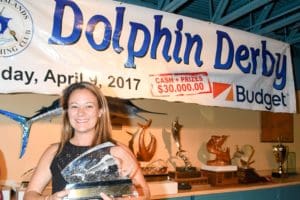 The catch of a 34.06-pound dolphin fish (mahi-mahi) earned St. Thomas' Angela Berry the title Top Angler and a $1,000 cash prize at the Virgin Islands Game Fishing Club's 22nd Annual Dolphin Derby held April 9.
Fishing aboard the St. Thomas-based 45' Wilbur Sportfish, Family Ties, with Captain Colin Butler at the helm, Berry caught her winning fish off the north coast of the island.
"We put lines in the water just after 6:30 a.m.," said Butler. "Most of the fish were caught early after seeing frigate birds circling around overhead. Then, there was a lull. The big ones came in the afternoon. They were blind strikes while trolling."
Berry said she could tell her dolphin fish was big by its bite and fight.
"It wasn't like the smaller fish in the morning; it fought much harder," said Berry, who says the secret to her success was a great captain and crew. "The best part is definitely the camaraderie."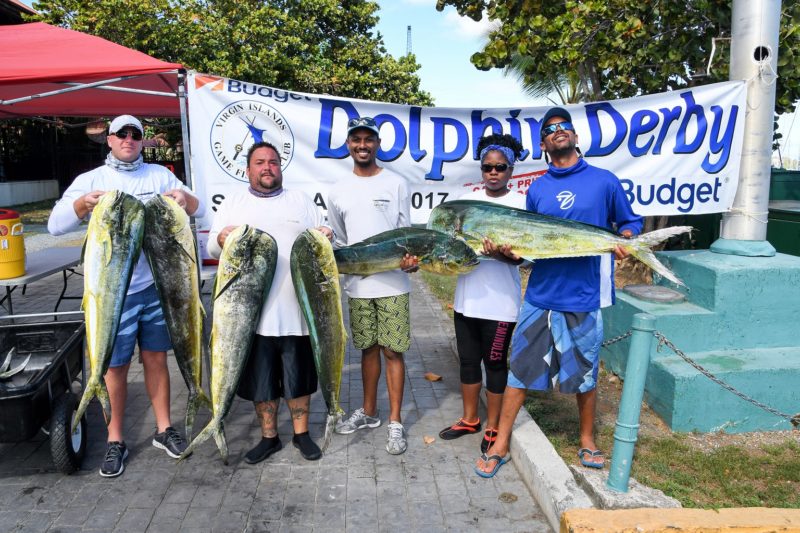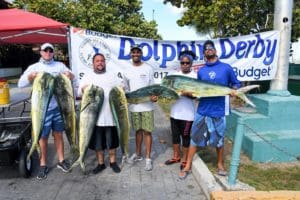 Berry's first place fish was about 21-pounds shy of the 55-plus-pound criteria to win the tournament's ultimate prize of $25,000 in cash. However, the whopper also landed her the Top Female prize. Additionally, a 23.48-pounder scored Berry the 10th largest dolphin and ultimately handed her a trio of awards.
Cash prizes were awarded to anglers catching the 10 largest dolphin.
Adam Maschrzak on World Class landed a 33.51-pound dolphin for second largest, while Jennifer Tyler, also fishing from World Class, took third with a 32.63-pounder. At 32.41-pounds, it was John Raffa on Family Ties, that caught the fourth largest dolphin, while Tamika Turbe, angling off Emanuel, reeled in the fifth largest dolphin, a 31.97-pounder. John Clark, also aboard Emanuel, scored both the sixth, eighth and ninth largest dolphin, weighing in at 27.67-, 24.14- and 24.00-pounds, respectively. Finally, it was the 26.9-pound dolphin Kelsey Thomas, on Dogsled, brought to the scales that earned seventh largest.
Eleven-year-old Fairley Maltby aboard Doubleheader, won Best Junior Angler with the catch of an 18.41-pound dolphin.
This year, new rules created an opportunity for both professional and recreational sports fishermen to win prizes by registering as either a professional or amateur. Plus, to even the playing field, each boat was limited to weighing-in their 10 largest fish, even if they caught more. The main goal is to have fun and give everyone an opportunity to win.
The Best Amateur Angler prize went to Mike Holt, who caught a 19.73-pound dolphin from his boat, Southern Cross.
"I think adding an amateur category is a good move for the club," said Holt. "It gives fishermen who don't go out every day a chance to win and I think we'll see even more participation."
The Best Boat award went to Emanuel, with the top collective catch weight of 184.49-pounds of dolphin. This is a repeat feat that the Emanuel team won most recently in the 2013, 2014 and 2016 Dolphin Derby. Capt. Alvin Turbe, Tamika Turbe, Gilbert Laban, Gerald Greaux Jr. and John Clark were the anglers aboard Emanuel, which is a St. Thomas-based charter sports fishing boat.
Seventeen boats and 67 anglers, including four junior anglers, collectively weighed-in with 544.64-pounds of dolphin. This conservation-oriented tournament discouraged the catch of dolphin that weighed less than 10-pounds.
Several boats donated fish to the host Virgin Islands Game Fishing Club, where this was the featured entrée at the Awards Dinner held April 10.
The Virgin Islands Game Fishing Club appreciates the sponsorship of Budget Car and Truck Rental and Southern Glazers Wine and Spirits.
The Virgin Islands Game Fishing Club's next event is the Anegada Tournament, set for May 27 to 29. That will be followed by the 54rd Annual July Open Billfish Tournament, set for July 6 to 8. For more information, call 775-9144, E-mail: usvigfc@gmail.com or visit www.vigfc.com