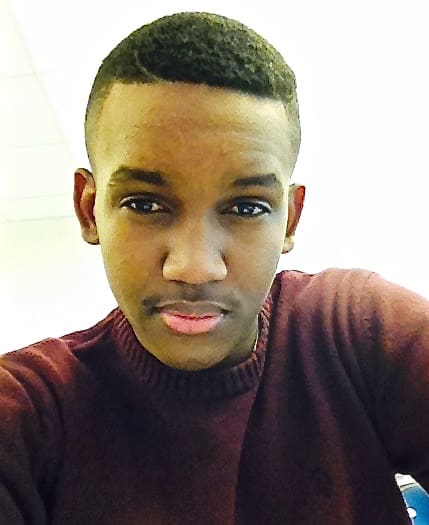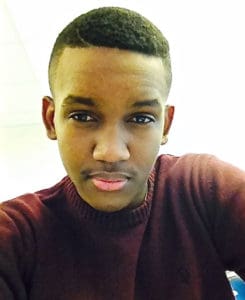 With the attention he's been getting this week, no one could blame Adonte Yearwood if he were a bit distracted, but the 17-year-old V.I. native is solidly focused on the future. He's looking forward to a June 10 graduation from Eastern Senior High School in Washington D.C., a summer trip to South Africa, some time "home" on St. Thomas, and entering George Washington University in the fall on a four-year, all-expense paid scholarship.
"I'm tired of high school so I'm ready for a new challenge," Yearwood told the Source Friday. He plans to study criminal justice.
"I want to become a criminal investigator," he said, adding, "The Secret Service is my dream job."
Early this week he found out he was one of nine D.C. high school students getting scholarships at GWU, and national and local media haven't stopped calling him since. The total dollar value of the scholarship is almost $300,000, according to Yearwood's proud mom, Dorene Browne-Louis.
But it means more than that to a family that was rocked by tragedy less than a year ago. In August, Gregory Louis, who married Browne-Louis when Yearwood was a small boy and helped to raise him, was gunned down as he sat outside the Charlotte Amalie Fire Station where he was working as a Fire Services supervisor. The crime stunned and mystified the community. The investigation is still ongoing, Police confirmed Friday, and they have identified no suspects or people of interest.
"His absence is really, really felt," said Vivian St. Juste, who is a cousin to Louis. That makes Yearwood's success all the more a "blessing" for the entire family.
Browne-Louis said her son was "always a good student." He went to Seven Day Adventist School on St. Thomas through eighth grade, and spent his freshman year at Ivanna Eudora Kean High School. His only problem in school was that some of his classes weren't challenging him and he would become bored.
He moved to Washington about two years ago when Browne-Louis landed a job in VI. Delegate Stacey Plaskett's D. C. office. She now works for Homeland Security. The two of them checked out area schools and settled on Eastern Senior, where Yearwood has performed well academically.
"I have almost like a photographic memory," he said, and that gives him an advantage over other students who have to work harder. He said English is probably his best subject, but he does well in all of them.
He also plays third base on the school's baseball team. Volleyball was his sport on St. Thomas, but he says it wasn't an option at Eastern Senior.
"He told me, 'Mom, you will not pay for my college tuition,' " Browne-Louis recalled. He applied to about 10 different schools and has been accepted at most if not all of them.
In fact, he received other scholarship offers, but held out for GWU. Early in this school year, he was on the fast track for a $140,000 Posse scholarship, but he says he would have had to commit to choosing one of five placements if he was tapped for the award, and so he dropped out of the running.
He likes GWU not only for its reputation and its programs, but also for its locale. There will be a lot of career opportunities in D.C. He's also considering going into the military after college; he figures if he can get into the military police he'll get valuable experience for a career in justice.
He's been fascinated with law enforcement since he was three years old, Browne-Louis said, laughing as she recalled how he would "investigate" pretend crimes. "His father (Elvis Yearwood of St. John) was a police officer. I don't know if that's where it came from."
Yearwood knows people sometimes change course after they start college, and he isn't closing the door on the possibility. But, for this very focused young man, that doesn't look likely.