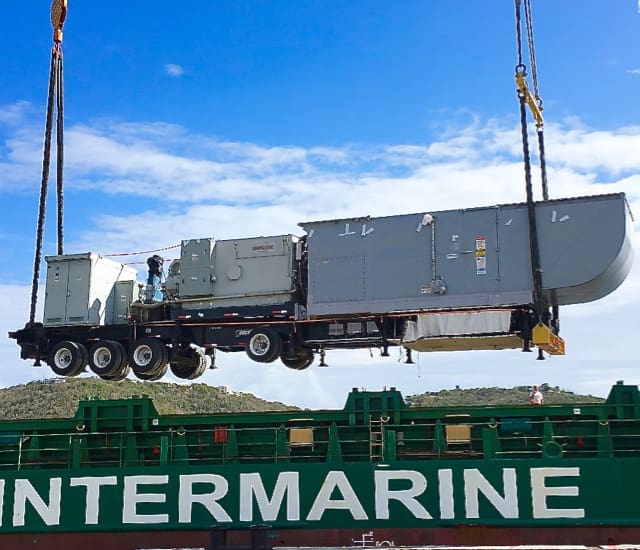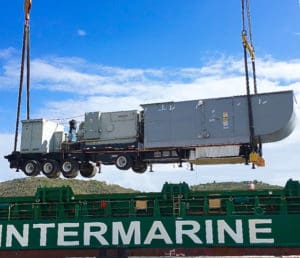 The Virgin Islands Water and Power Authority took delivery of a new, leased 22-megawatt generator Sunday to add generating capacity to the Randolph Harley Power Plant on St. Thomas, the utility reported.
The generator arrived on St. Thomas just days after WAPA entered into formal agreement with Finnish power producer, Wartsila, for the immediate purchase of three new generators, with an option to purchase an additional three units in 2018.
In a news release Thursday, WAPA said that formalizing the agreement with Wartsila on March 15th for the acquisition of seven megawatt units and the delivery of the new generating unit are "major steps forward" in the its effort to not only stabilize the power plant but provide more reliable and efficient electric service to its customers.
WAPA Chief Executive Officer Julio A. Rhymer, Sr., said Thursday that the arrival of Unit 26 will immediately infuse new generation capacity to the power plant.
"Unit 26, when dispatched with Units 15 and 25, will exceed the capacity needed to meet peak electrical demand in the district. Additionally, we can finally take our largest generator, Unit 23, off line for its long delayed maintenance overhaul and subsequent conversion to LPG as its primary fuel source."
During the period Unit 23 is undergoing its overhaul, back up generation capacity will be provided by Units 14 and 18, WAPA said.
Rhymer said the new Wartsila units, which will burn LPG to produce electrical power, are expected on island by December, with installation completed in the first part of 2018.
The new unit, designated Unit 26, is capable of burning both diesel oil and propane. It will be on line by the end of April.
"These units represent the initial steps to right-size the power plant and to develop a more efficient and less costly operation," WAPA's news release said.
Once Unit 23 is back on line, another leased generator, Unit 25, will be returned to its owner, APR Energy. Units 23, 26 and the three Wartsila units will together generate about 70 megawatts of power, significantly more power than is needed to meet peak demand. Even with those units dispatched, the plant would still have Units 14,15 and 18 as back-up generators capable of producing about 30 megawatts of power.
Should WAPA opt to exercise the option to procure another round of Wartsila units, Rhymer said, the second set of three generators will be powered by either diesel oil or LPG and will have the capacity to produce about 27 megawatts of electrical power.
"I am pleased at the successful outcome of the six-month long negotiations with Wartsila to secure new generation for the Randolph Harley power plant," he said. "The new units and the addition of Unit 26 will bring about much needed relief for our customers who have endured repeated service interruptions resulting from insufficient generation capacity to meet their demand for power."
Rhymer also addressed preparations that are underway at the power plant for both the arrival of Unit 26 and the planned placement and installation of the new Wartsila units.
"We have expedited the removal of the old Israeli Desalination Units, as well as removed a significant portion of the now dormant Unit 22, to make way for both sets of generators. Additionally, we applied to both local and federal regulators and were successful in obtaining the required permits for Unit 26 to use the existing stack of Unit 22. This was a move that significantly reduced the permitting process for the air quality permits required to bring the unit on line," he said.