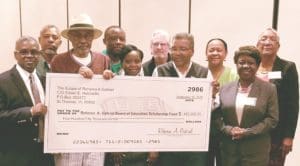 As the Virgin Islands Board of Education (VIBE) continues to simultaneously commemorate V.I. History Month and Women's History Month, it is appropriate to pay homage to the women of the territory who have made a great impact in education. On St. Croix, the names of female educators such as Eulalie R. Rivera, Bianca Brannigan, Hilda B. England, Helen Joseph and Delta Dorsch come to mind as readily as the names of Ruth E. Thomas, Jane E. Tuitt, Adelita Cancryn, Ulla F. Muller and Ivanna Eudora Kean come to mind in the St. Thomas-St. John District.
However, a career educator whose name does not readily come to mind may have made the most significant contribution in the history of V.I. education. The estate of St. Thomas educator and administrator Dr. Rehenia Gabriel recently established a scholarship in her name, under the auspices of VIBE for students in the St. Thomas-St. John District who are interested in entering the fields of guidance counseling or school social work.
On Jan. 21, her estate officially presented the board with a check for $450,000 establishing the Dr. Rehenia A. Gabriel Scholarship to assist the children of the Virgin Islands in their pursuit of education. The terms of the scholarships, which are to be awarded annually, mandate that six scholarships will be awarded in the amount of $5,000 per student.
"This bequest is representative of the caliber of commitment not only from Dr. Gabriel but the majority of our educators in the Virgin Islands educational system," said Winona A. Hendricks, chairperson of the V.I. Board of Education.
Dr. Rehenia Gabriel was an educator in the St. Thomas District. She was the daughter of Theodore and Ann Marie Caiby Gabriel, and she attended the Thomas Jefferson and Abraham Lincoln Elementary Schools, graduating from Charlotte Amalie High School in 1936. She earned her undergraduate degree from Northern Illinois University in social studies with a minor in psychology, her Master's Degree in Guidance and Pupil Personnel and then her Doctorate in Education from New York University. In fact, she has the distinction of being the first woman from the Virgin Islands to earn a doctorate in education.
"She was steadfast in her craft and the ultimate educator," said Terrence T. Joseph, VIBE board member and chair of the Public/Private Liaison Committee. "I met her as a young man and, even then, was impressed by her force of character and her focus on excellence. It is an honor to be a part of the body she entrusted to shepherd in the next generation of education professionals."
Dr. Gabriel was the assistant principal at her alma mater, CAHS, from 1958 to 1963. She also served as the Department of Education's Director of Pupil Personnel Services and the Educational Testing Service Supervisor for the Graduate Record Examination. She retired in 1984, but she did not forget about the children of the Virgin Islands.