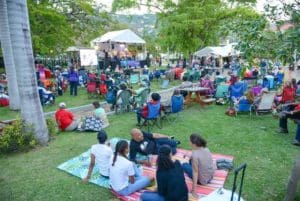 The sounds of Virgin Islands' culture filled the Downtown Charlotte Amalie streets as jazz, quelbe, reggae and a variety of Caribbean-inspired jazz renditions had many at Saturday's Jazz in the Park dance the night away. International Capital & Management Company (ICMC) hosted a USVI Transfer Day Centennial Jazz in the Park music series to kick-off the 2017 season.
This installment featured Stanley and the Ten Sleepless Knights, Louis Taylor and the Caribbean Project, Marsvyn David and the Virgin Islands Rhythm Section, and Khemistry.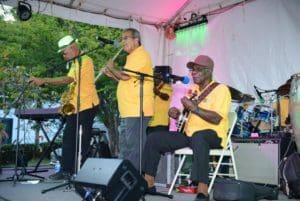 Stanley and Crew played V.I. favorites to include "Queen Mary" and "Sly Mongoose" as the Heritage Quadrille Dancers sashayed from left to right along the green in Roosevelt Park. Attendees of all ages found a partner and danced as though no one was watching to the infectious quelbe beat. Bamboula dancers bounced to the rhythm of drum beats along Norre Gade after Marsvyn David and the Virgin Islands Rhythm Section brought attendees to their feet with they're rendition of "Hit the Road, Jack." Khemistry harmonized melodic sounds of conscious reggae that stirred "cool vibes."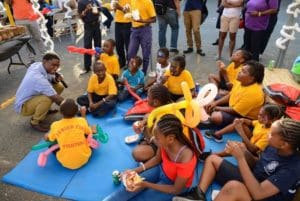 "What a memorable and enjoyable celebration of Virgin Islands culture and talent as hundreds of community members came out to partake in all that this wonderful day had to offer," said Karen Nelson-Hughes, community relations director. "This culture-rich event celebrated the transfer of the U.S. Virgin Islands through traditional Virgin Island's music, art, food and dance and, to date, brought the largest number of attendees to the park."
Over 40 vendors offered a variety of arts and crafts, local dishes and treats along with the Centennial Expo, which showcased historic V.I. artifacts donated by the St. Thomas Historical Trust, Friends of Denmark, We From Upstreet, French Heritage Museum, the U.S. Navy and the Virgin Islands Centennial Commission.
Kids enjoying balloon animals at Jazz in the Park (Photo courtesy of Chic Photography)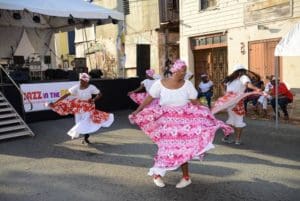 "We are exceedingly proud to bring another successful Jazz in the Park installment to the community, and we look forward to providing more positive outlets for local and international musicians and artists," said Cornel Williams, ICMC president and CEO. "The Jazz in the Park year-round efforts are meant to inspire and enrich the lives of music lovers in our community as well as revitalize the Downtown Charlotte Amalie area."
Jazz in the Park is made possible by the support of the following sponsors: USVI Department of Tourism, Innovative, Marriott's Frenchman's Reef & Morning Star Resort, Barefoot Wines and Budweiser, Today's Satellite Television Virgin Islands, and the Community Foundation of the Virgin Islands (CFVI).