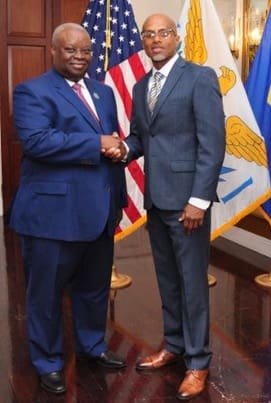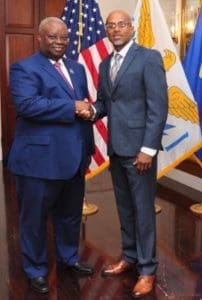 Gov. Kenneth Mapp formally announced he is nominating Lloyd Bough Jr. to serve as commissioner of the Department of Property and Procurement, during a press conference Wednesday morning. Bough replaces Randolph Bennett, who has served since the beginning of Mapp's administration. Mapp did not say why he was removing Bennett.
Bough has served as chief of procurement contracts at the department since 2007.
Mapp said he was very pleased to bring on board someone who had experience actually executing much of the work he will now supervise.
"I am proud to have been able to reach into the middle management of the department," Mapp said. "I am asking all the good folks at Property and Procurement to fully cooperate with your new commissioner."
Mapp said Bough's role is particular critical now with the government working to increase revenue, reduce expenditures and get various infrastructure projects off the ground – most of which require contracts that must be approved by Property and Procurement. He also cited pressing needs to finalize the acquisition of new ambulances and buses for senior citizens.
This is the latest in several changes in top administration officials. Mapp recently replaced Human Services commissioner and his chief of staff.