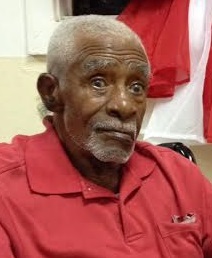 Ulric Anselmo Shinnery, better known as "Boo," died on Feb. 12 at his residence on St. Thomas. He was 89 years old.
He is survived by his son, Virgil Antonio Shinnery Sr.; daughter, Cheryl Jean Williams Thomas; sister, Regina (Jean) Smith; brother, Wilburn (Moose) Hendricks; son-in-law, Elreth (Dozen) Thomas Sr.; daughter-in-law, Linda Shinnery; sister-in-law, Jeanette Smith; grandchildren: Ginger Thomas Petway, Chantel, Elreth (Skippy) Jr., and Joey Thomas, James, Michel, Virgil, Ulric, Ebony, Raven and Monique Shinnery; and great-grandchildren: Ashley, Zaire, Angeline, Jeremiah, Javonne, Joline, Lequanna, Karen, Rick, Tamara, Leo, Isaiah, Anthony, Emili, Giovanna, Dante, Emoni, Emiana, De Andre, De Markus, Amelia, Nathaniel and Khristopher.
He is also survived by adopted sons: Rev. Drs. Cortroy Jarvis and Derrick Forrester and Derrick Forrester; special niece, Janet Harrigan; nieces: Alexis and Avril Barthlett, Allison Bussue, Arlene Lake, Sharon y
Prosper, Sharmaine Weekes and Tisean Hendricks; nephews: Angel, Albe, Anthony and Alex Barthlett, Elmo Hendricks Jr., Cletis Hendricks, Derick Hendricks Ph.D., Dexter and Kacy Hendricks; as well as many other friends and relatives to numerous to mention.
Relatives and friends are respectfully invited to attend the first viewing scheduled for 5-7 p.m. on Wednesday, Feb. 22, at Celestial Chapel, Hurley Funeral Home. The second viewing will be held at New Herrnhut Moravian Church at 9 a.m. followed by a funeral service at 10 a.m. on Thursday, Feb. 23. Interment will be at New Herrnhut Moravian Cemetery.
In lieu of flowers, the family requests that an offering be taken during the service to go toward the transportation fund.
All arrangements are under the care of Hurley Funeral Home and Cremation Center of St. Thomas, St. John, St. Croix and Tortola.
For directions and online condolences, please visit www.hurleydavisfuneral home.com