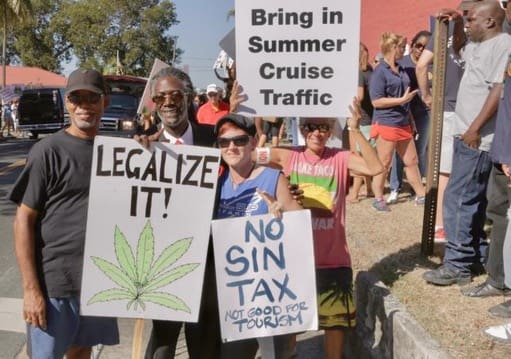 With chants of "kill the bill" and "give Mapp the axe," swarms of V.I. residents attempted to send a message to their elected leaders Wednesday by coming out for a peaceful protest on St. Thomas against the governor's sin tax proposal.
Many were business owners or leaders in the business community, while others were government workers, pro-marijuana activists or just local residents who said that they could not afford to pay "another dime" to the government.
To accommodate the protest, Main Street businesses even opened later, giving owners or employees the chance to "make their voices heard."
The protest was scheduled right before senators were set to take action on the sin tax proposal, which is meant to address the territory's fiscal crisis and includes an increase in excise taxes on tobacco, alcohol and soda. It also calls for the creation of a daily fee for timeshare occupancy.
The bill was approved by the Senate's Finance Committee in early February, along with a bill setting a floor of $360 on real property bills, regardless of homestead and other exemptions.
Protestors said Wednesday that the implementation of such a proposal would "kill" the local business community and drive tourism traffic elsewhere.
"People are already going to St. Martin. What's going to keep them coming here now?" Mickey Mania owner Ricky Mohanani asked Wednesday. "This bill should be a no-go. The senators should say no, no, no. No more taxes."
A Facebook group called "Say No to Sin Taxes USVI" was launched a few weeks before Wednesday's protest, and many of the community members outside the Legislature on Wednesday were carrying signs posted on the site. Bellows International owner Richard Barry encouraged protestors to additionally post the signs in their businesses to keep the movement going as the proposal moves forward and to sign an official position calling for the proposal not to be passed.
[youtube height="315″ width="560″]https://youtu.be/oTrxktXvF4M[/youtube]
Some signs advocated for the legalization of marijuana, which was recently proposed by local business leaders as a possible alternative source of revenue.
"Just look at Colorado," one resident said. "Since they've legalized it, everything has gotten better. They just don't have enough homes for all the people that are now flocking there. And if we do it, we will have money and jobs here for people who need it."
Other protestors, such as resident David Cera, took the opportunity to preach "reform." If the government is even thinking about putting in place such a proposal, it's evident that they don't understand the views of the community at large and come next November, it's time to put new people in charge, he said.
"We're going to take responsibility," he said. "We are going to be more educated, more informed and we're going to our background checks about who we put in there. We are going to be better educated in the way we vote."
For most part, senators attending the protest Wednesday said they were "impressed" by the turnout and were "happy" to hear the views of the business community.
Senate minority leader Positive T.A. Nelson, who has been advocating for the legalization of medical marijuana for years, even crossed the street Wednesday and held up protestors' signs, saying that the community shouldn't allow politicians to divide the people. Before new taxes are passed, the government has to be more responsible about how its spending its money, Nelson added.
Sen. Janette Millin Young agreed, saying that the Senate has been told about the poor financial condition of the government but has still not received a true revenue picture. It's irresponsible for officials to keep passing bad laws to get the government out of its hole while also making conditions worse for residents, she said.
"Until we get a true picture," Millin Young added, "we should not approve more taxation."
Sen. Tregenza Roach also said that Wednesday's protest sent a clear message to senators about how the community feels about the proposal and state of the local economy.
"I think the turnout is great today and that every opportunity that we have to hear from the public is important," Roach said. "We're in a democracy, in a critical time, discussing issues about our economy and I think all voices need to be heard."
"I think the message being sent is that everyone is concerned about the state of the economy and that they want us to make decisions based on the input informed people that are living with these issues day to day," Roach said.
Senate President Myron Jackson shared similar thoughts.
"I think the community is making its voice heard and that they would not like the sin tax to be implemented and that in the democratic process, this is what it's all about," he said. "We're going to listen the testimony by those that are here and their position and I think we all agree that something needs to be done, but how we get there and when we get there is the issue."
Asked if Wednesday's protest was enough to make him change his mind about the proposal, Jackson added, "It's enough to make me hold the bill."