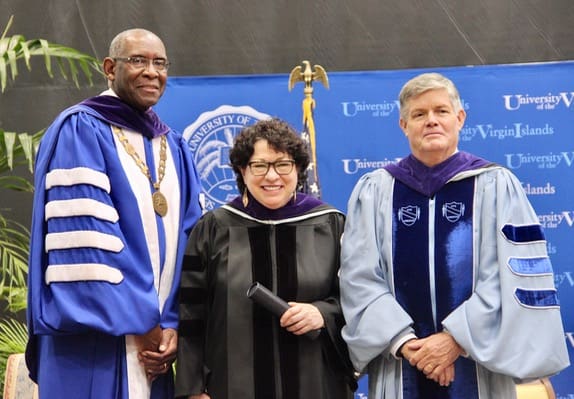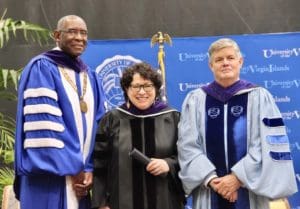 During a special convocation celebrating the University of the Virgin Islands' 55th anniversary, the Honorable Sonia Sotomayor, associate justice of the U.S. Supreme Court, told students and attendees about how she overcame barriers to become the first Hispanic to serve on the high court.
To honor her accomplishments and visit to the territory, UVI awarded Sotomayor an honorary degree that was presented by university President David Hall and Henry C. Smock, chairman of the university's board.
Students from the St. Thomas and St. Croix campus asked Sotomayor a number of questions, including about the greatest challenges she faces as a Supreme Court justice and as a minority women in a male-dominated field.
Sotomayor walked through the audience at the St. Thomas campus and shook hands as she fielded questions and even ventured into the bleachers to ensure that no section was left unvisited.
Nominated by President Barack Obama and confirmed in August of 2009, Sotomayor, who is of Puerto Rican descent, is the first Hispanic to serve on the Supreme Court.
To show students they can accomplish whatever they put their minds to and overcome odds stacked against them, Sotomayor talked about how she born into a working class family in the Bronx and that her father died of alcoholism at age 42. Despite that hardship she was the first person in her family to graduate from college and to become a lawyer.
Student Dwane Hendricks asked what Sotomayor thinks are the biggest misconceptions about her justice appointment and what it means to the country. She responded that people mistakenly assume that she makes decisions based on being a Latina justice.
"When Sonia votes on a case, I never think of how a Latina would vote, I think about how should a justice vote," Sotomayor said, adding that her background and life experiences do shape her views, but that she is first and foremost a justice and does what she thinks is right.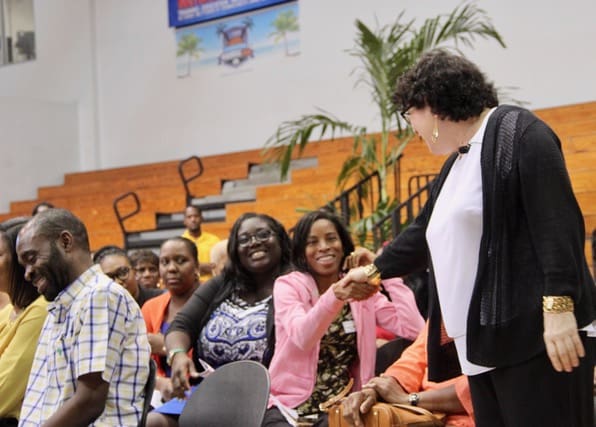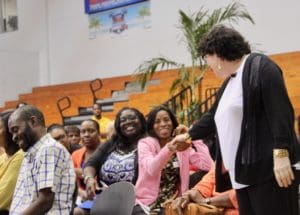 Sotomayor said her greatest strength is that she always works hard to fully understand an issue, even if it includes learning complicated math that's involved in a case.
"If I can't figure something out, I work at it until I do," she said.
When Andrea'a Dorsey asked the justice about the importance of racial, gender, age and economic diversity in the high court, Sotomayor gave an unexpected answer: She said she is most worried about the court's lack of professional diversity.
Sotomayor explained that not a single justice has criminal defense experience and that it also lacks expertise in environmental, disabilities and education law. She also said the current court lacks educational diversity, since none of the justices have a public school education and all graduated from Ivy League schools.
On the challenge of being a minority women in law, Sotomayor said her success was once undercut by someone who inquired if the only reason she got into Yale Law School was because of affirmative action. Having graduated summa cum laude from Princeton University, Sotomayor earned her place at the prestigious school.
Hall said, "Our students should learn that social and historical barriers cannot stand in the way of their dreams if they work hard, persevere, and use all of their gifts and talents."
"They should also learn that once they achieve their goals and dreams they must be equally committed to serving others and removing barriers," Hall continued.
Sotomayor said she's been in the territory since Tuesday, first visiting St. Croix and then coming to St. Thomas for the convocation. She said she visited the territory about 15 years ago, but never realized how diverse the territory really is until this trip.
"You have a lot to teach the mainland," Sotomayor remarked, reflecting on how people of different races and ethnicities don't just interact but are friends here too. She said she would encourage her Supreme Court colleagues to visit the Virgin Islands to see this unity firsthand.
The university awards honorary degrees to persons who have demonstrated outstanding accomplishments, including those who have achieved a record of major distinction at a regional, national or international level, as well as those who have made contributions to enhance larger society or who have significantly benefited or enriched a particular group.