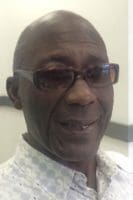 Elie Andrews died on Feb. 6.
A viewing will be held from 5-7 p.m., Thursday, Feb. 16, at Turnbull's Funeral Home. A second viewing will be held from 7-9 p.m., Friday, Feb. 17, at Turnbull's Funeral Home followed by services at 9:30 a.m. at Sts. Peter & Paul Cathedral. Interment will be at Western Cemetery No. 3.
He is survived by his wife, Odette Andrew; children: Fitzgerald Etienne, Jeff, Elie, Maria and Cheryl Andrew, and Risa Andrew Sasso; brothers: Michael, Degorie, Mesh, Astaphan and Matthew Andrew, Soshadarmadon Francis and Dubason Elie; sisters: Angie Vidal, Josephine and Catherine Andrew; son-in-law: James Sasso; and daughters-in-law: Maureen Etienne, Beatriz Paulino-Andrew, Deidra Andrew and Laney Andrew-Faircloth.
He is also survived by grandchildren: Tevon and Tiffany Etienne, Tatyana, Jeff Jr., Jaleel, Donell, Junelle, Shawn and Brittany Andrew, Shantel Descartes, Dawson Lorenz, Jayden Charley, Jett Ferrero, Adrian, Berlin and Josmelin Paulino, Dale Belle, Eva Williams, Markel Jno-Lewis, Josette Fenton, Tyshel, Dynel and Latrell Sasso; and great-grandchildren: Jayden Belle, Elinie Chinnery and Kalea Carr.
Professional Funeral services are entrusted to Turnbull's Funeral Home. Telephone: 779-6565 E-mail: turnbullsfuneralhomevi@yahoo.com