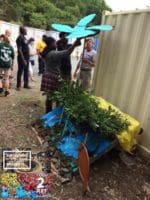 The Coral Bay Community Council, Eudora Kean High School and Gifft Hill School came together to organize a unique art competition.  On Thursday, Feb. 2, high school students from Eudora Kean and Gifft Hill met at the Resource Depot on St. John to make art from something there is plenty of in the Virgin Islands — trash.
The art competition's goal was to get the youth in the V.I. to consider the amount of waste created in the territory, what can be done about the issue, and how to start thinking about trash as a resource.
The two dozen students were separated into six teams, given time to organize their ideas and then — from old electronics, scrap metal, plastics, tires and other assorted waste materials — were asked to make sculptures reflective of cultural and environmental aspects in the territory.  The groups had 90 minutes to put together their art. The winning sculpture was selected from a panel of judges that included  Julius Jackson, professional boxer/chef; Alice Krall of V.I. Waste Management; and Dhymond Nicholls, artist/co-creator of Dimes and Nickels.
The winning team was made up of Tyreke Morton and Maeven Parsil from Gifft Hill School and Deiondra Chaldwell and Cheyenne Richardson from Eudora Kean H.S., who constructed a mangrove scene from trash.
Scott Eanes from the Coral Bay Community Council said, "This took the entire St. John community to organize; it is inspiring how everyone came together to give these young adults a unique experience."
Julius Jackson said "This is great. Wish they had this when I was in school."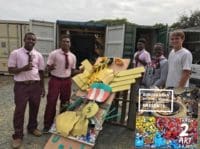 Thanks to the many sponsors of the event, prizes for the competition were donated by Skinny Legs, Mumbo Jumbo, Jolly Dogs, Indigo Grill, Island Muse and Dancing Rooster — all businesses in Coral Bay.  St. John Hardware in Cruz Bay donated tools and equipment to help the kids construct their statues.  Ronnie's Pizza, also in Cruz Bay, donated several large pizzas to feed the hungry youth. Varlack Ventures and Transportation Services, the ferry companies, helped by giving the Eudora Kean students $2 roundtrip tickets.  Island Green Living Association provided the Resource Depot facility. Dr. Dave Minner and his EARTH program including his interns were an integral addition to the logistics of the art competition.
"This was a total team effort by the Virgin Islands community and we are really pleased how this all came together and was executed," said teacher Veronica Pozas of Gifft Hill School, noting she would like to see the art competition to become an annual event and include more schools.
For more information, contact Scott Eanes of the Coral Bay Community Council at 776-2099.