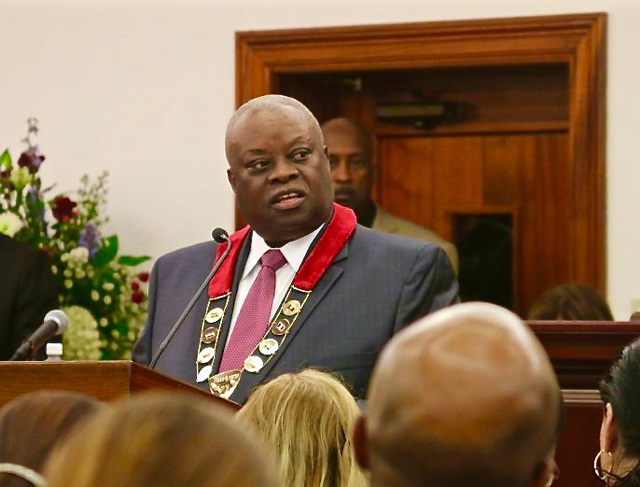 In his annual address Monday night, Gov. Kenneth Mapp compared the state of the territory to "A Tale of Two Cities," saying that on one hand the economy has grown and expenses are down, but on the other, the government might not make payroll in February if the Senate doesn't vote on critical financial reforms.
Mapp wrapped up the State of the Territory by putting the ball in the Senate's court, asking them to take action on everything from proposed sin taxes to solid waste management proposals and even nominations of board and commission members that he said will help the government move forward.
"Last year, I reminded this body that change requires courage," Mapp said. "I need the support of the 32nd Legislature, the support of courageous leaders, so that we may move forward. Despite our current challenges, I am so hopeful for the future of these islands. We are truly beginning to achieve great things and we stand at a fork in the road. So we must decide which reality we want to charter."
The hopeful portion of Mapp's speech stood in contrast to statements he's made over the past few months about the financial situation of the territory, which he has described as "precarious." Instead, Mapp said that in the past two years, government revenues have increased, that the real estate market is "on the upswing," and that the territory is looking forward to launching $100 million of new capital projects this year.
Over the past two years, the government has not had to go to the bond market, has filled budget gaps with private sector investment – including the sale of the shuttered Hovensa facility on St. Croix to Limetree Bay Terminals – and has managed to reduce spending within the executive branch.
"In 2015, spending was down over $30 million as compared against 2014, and in the first quarter of this fiscal year the executive branch has reduced its spending $12.5 million below authorized levels," Mapp said. The governor added that the government has continued to pay off tax refunds, debt service on its bonds, and has collected more than $43 million in delinquent income taxes, among other things.
But then there was a change.
"Well, on one hand our economy is stronger than ever and growing, but on the other we need to address the cash flow issues in the public sector," Mapp said. "We have financial challenges, which require real action on all our parts."
And the reality of those financial challenges could be payless paydays come February, he added. That reality came after investors recently said they had "lost their appetite" for the territory's bonds and wanted to see the government resolve the "structural deficit" that Mapp said his five year plan would go a long way toward reducing by 2021.
"However, this plan, if not fully implemented, or if a similar plan containing reduced operating costs, increased revenues, and new economic growth at comparable levels is not implemented, it will surely result in painful burdens being placed upon our community," Mapp said. "To return to fiscal health, everyone must play their part and be prepared to carry a small piece of the
burden. Reductions of operating costs must be borne by all branches of this government and not only the executive branch."
Mapp said if the government doesn't take "decisive action," jobs "will be lost and services will be curtailed due to the reduction in cash flow."
But again, "the government's current ability to pay its bondholders is not in doubt nor in jeopardy," the governor added.
Mapp once again called for the Legislature to act quickly on his proposal for new taxes, which would:
– Assess a 10 percent excise tax against the landed value of distilled spirits and imported wines sold in the territory;
– Increase the excise taxes on tobacco products;
– Impose limitations on credits that can be applied against property tax obligations;
– Impose gross receipt taxes on internet purchases coming into the territory;
– Impose a one cent per ounce tax on carbonated sugar beverages; and
– Impose an environmental-infrastructure impact fee on time share owners.
Mapp has said members of business community will help support these proposals if they are also able to see cutbacks in government expenses, and so he also called on the Legislature and the courts to support his own plans to: freeze vacant positions except for federally funded positions, teachers and first responders, cut all non-essential travel, and suspend all negotiations for salary increases.
Meetings will be held with the heads of each department and agency to make sure these measures are implemented. Mapp said he will also meet with the community to discuss reforms for the Government Employees Retirement System, which the Senate would eventually also have to approve.
"Just in the last six years, the net pension trust fund of the system has declined by $544 million dollars," from $1.5 billion dollars in 2009, to $991 million dollars at the end of fiscal year 2015, Mapp said. "I plan to host public hearings in both districts and forward comprehensive reforms to this body before the end of March of this year."
Reforms include: margins and mitigation risk for workers and taxpayers; adopting federal guidelines for a sustainable pension plan; instituting self-correcting mechanisms that are triggered when funding levels drop below acceptable thresholds; assessing required contributions against higher levels of pay without concomitant increases of benefits; and increasing the minimum age for qualification of retirement benefits, and requiring that the GERS board have a minimum number of members that have experience in managing financial portfolios.
Mapp also called on the Legislature to act on two horse racing bills that would allow the government to move forward with the already approved construction of horse racing tracks on St. Thomas and St. Croix. The bills, which enact related anti-doping statutes for horsemen and call for the consolidation of the districts' Horse Racing Commissions into a single body, would seal the deal for $30 million in private investment into the industry, he said.
Meanwhile, Mapp spoke of various managerial and infrastructure related changes that he said would also help to balance the scales, starting with a rebuilding of the relationship between the cruise ship industry and V.I. Port Authority, which the governor said had been "damaged" by the agency's previous executive director, Carlton Dowe, who was fired by the board in December and replaced temporarily by the governor's brother and VIPA's assistant executive director, David Mapp.
"I have directed the commissioner of Tourism to serve as a facilitator for the reestablishment of the ports of the Virgin Islands," Mapp said. "This engagement has been welcomed by the cruise industry. She will be responsible for working with key stakeholders to deliver to me, within the next 60 days, an action plan to address this industry's growing concerns. I will invite members of the business community to participate and be a part of this process. Collectively we must improve and reinvigorate our cruise product and passenger experience."
Mapp also called on VIPA to rescind its recently enacted $4.50 per passenger excursion fee that he said is "driving business out of the territory."
While Mapp said that crime in the territory has actually gone down – despite "a few" recent "high profile cases" – he added that last week's dispute between the V.I. Water and Power Authority and Public Services Commission over base rate increases also has to be resolved.
"WAPA will invite the PSC in to discuss this matter with me and to ensure that any new base rate increases are restricted to acquiring, installing and operating the new units, as well as funding for maintenance of the systems and ensuring an uninterrupted fuel supply. None of the new money is for administrative positions," Mapp said.
The governor said an expected minimum wage increase on June 1 (to $9.50 per hour) will also "make a positive impact" on the economy, along with laws to streamline the local Economic Development Commission tax benefits program and the investment in infrastructure upgrades in areas such as sports.
Mapp said he is also looking forward to working with U.S. President Donald Trump, and will submit five capital projects to be included in the first phase of a federal infrastructure initiative. The list includes: the modernization of the Cyril E. King Airport Terminal at $54 million, the third phase of the Veterans Drive Waterfront Project at $80 million, a new school on St. John at $32 million, the complete reconstruction of the Queen Mary Highway on St. Croix at $30 million, and the expanded Paul E. Joseph Stadium project, also on St. Croix, at $30 million.