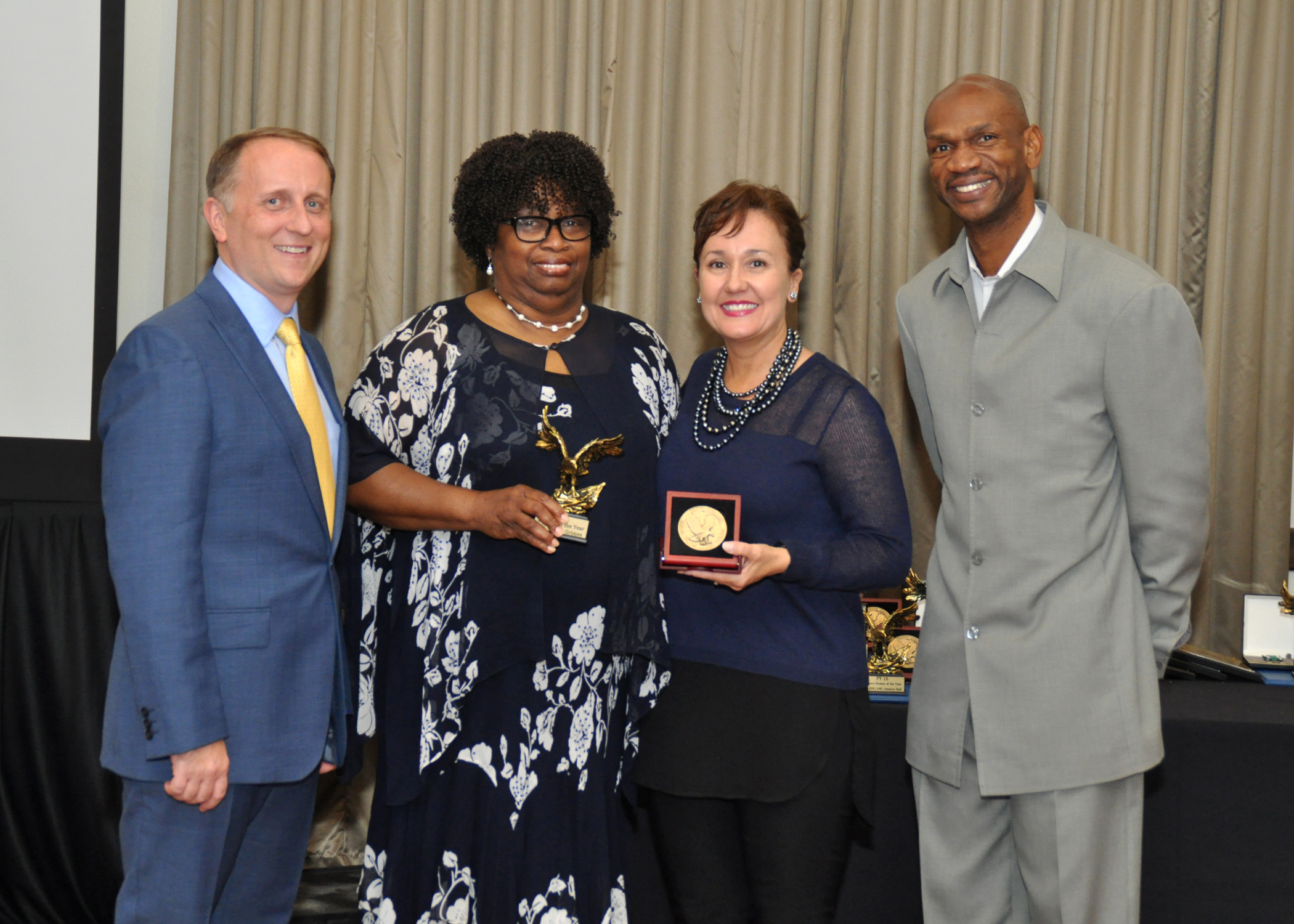 Commanding Officer of Navy Recruiting District (NRD) San Antonio, Karen Muntean, recognized Mariel Grimes as the NRD's Civilian of the Year and Petra Allen as the Contractor of the Year during an awards banquet held in Live Oak, Texas, in November 2016.
Grimes, an enlisted processing assistant, is responsible for insuring that all prospective applicants interested in joining the Navy are qualified medically and competitively. Her responsibilities also include ensuring documents submitted by the applicants and that their recruiters are accurate and correct.
During the fiscal year, Grimes reviewed over 649 enlistment packages for enlistment. She also reviewed and prepared over 300 enlistment waivers and submitted over 1,121 medical documents for submission and review.
"Being selected as the Civilian of the Year was a shock to me," said Grimes, an Army veteran and native of St. Thomas, U.S. Virgin Islands. "My job gives me the pleasure of serving my country and helping young children achieve their dreams."
According to Muntean, a native of Calhoun, Tenn., Grimes was nominated throughout the year for her monthly and quarterly contributions, and it was the culmination of her work that earned her the selection as Civilian of the Year.
"Ms. Grimes serves as a critical connection for Navy applicants between the front-line recruiters and the Military Entrance Processing Station (MEPS)," said Muntean. "She not only processes the Navy applicant's paperwork in the MEPS Navy Liaison Office, but she personally interviews the applicants and goes above and beyond to ensure their readiness and administrative qualifications."
Aviation Electrician's Mate 1st Class Russell Dodge, the NRD's officer processing medical issues and a collegiate program coordinator, said Grimes exhibits the same heart and tenacity in everything she does not matter what the task.
"You never have to question her passion for her job, the recruiters, her co-workers or the applicants," said Dodge, a native of Boston. "Ms. Grimes might be the most caring individual I've ever met. She not only cares for everyone in the command, as if they were family, but she feels the same towards every single applicant she processes."
Muntean says it's due to Grimes' premier customer service and attention to detail that the NRD meets its goal each month to hire America's best and brightest for Naval Service.
"She is often referred to as "Momma Grimes" because she has become a part of our command fabric and serves as a maternal figure to our sailors, many of whom are far from home," said Muntean.
"People tell me I get too emotionally involved with the applicants, but I cannot change who I am and how I feel when I see someone trying to do something to better their lives," said Grimes. "When they hurt, I hurt and when they are happy, I am happy. This is not just how I feel about the applicants; my co-workers to include the recruiters are my family."