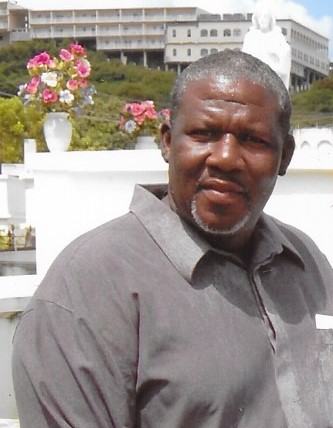 Edward "Eddie" Brathwaite died on Jan. 7.
A viewing will be held from 5-7 p.m., Friday, Jan. 20, at Farrelly Justice Complex Zone A Command. A second viewing will be held on at 9 a.m. followed by a funeral service at 10 a.m., Saturday, Jan. 21, at Turnbull's Funeral Home. Interment will be cremation.
He is preceded in death by his mother, Mayrose Liburd; father, Austin Brathwaite; wife, Janice Rogers-Brathwaite; and daughter, Linya Brathwaite.
He is survived by his sons: Li Antonio Brathwaite, LiShawn Brathwaite and Juwun Brathwaite; daughter, Lia Monee Brathwaite; adopted sons: Duane Holland, Rolan Monsanto and Kent Fraser Jr., adopted daughter, Kira Simmons; grandsons: Christian Chylewski and Jayden Hercules; granddaughters: Leticia Brathwaite, Aaliyah Johnson and Victoria Brathwaite; daughter–in–law, Ruth Brathwaite; and brothers: Albert Brathwaite, Alvin Brathwaite, Dale "Buck" Brathwaite, Clifford Brathwaite, Clinton Brathwaite and Austin Brathwaite Jr.
He is also survived by sisters: Cheron Grant-Todman, June Brathwaite-St. Louis, Juliette Brathwaite-Todman, Emelda Monsanto, Mary Rose Brathwaite, Monica Brathwaite and Marva Brathwaite; brothers–in–law: Ronald Todman, Valdemar Monsanto, Ramong Kuntz, James Lee and Reynold St. Louis; sisters–in–law: Robin Brathwaite, Jocelyn Lee-Babb, Jaslyn Lee, Jacqueline Frett, Sandra, Patricia and Ingrid Rogers; uncles: James Liburd, Daniel "Bobby" Liburd, Ronald "Johnny" Liburd, Enous Brathwaite, Edric Brathwaite, Edward Brathwaite, Ishmael Brathwaite, Wesley Brathwaite, Herman Mitchell, Leando Gabriel and Emiliano Lake; and aunts: Jean Liburd, Crisilda Liburd-Simmonds, Elaine Brathwaite, Evelyn Brathwaite, Glover Abednego, Glancelle Smithen, Edris Prentice, Margaret Hutton, Rita Thompson and Yvonne Dallas.
Other survivors include aunts–in–law: Lydia Brathwaite, Icilyn Brathwaite, Shelia Brathwaite, Elainee Gabriel, Kathy Mitchell, Darnell and Vashti Liburd; uncle–in–law, Aaron Simmonds; special friends: Li Chang Joseph, Robert Brady, Kerry Harrigan Ulric "Muscle" Benjamin, Lorna Christian, Adelbert Molyneaux, Corine Graham-Piper, active and retired members of the Special Operations Bureau and Marine (Blue Lightening) Division of the Virgin Islands Police Department; as well as nieces, nephew, the Brathwaite, Liburd and McClean families plus many other relatives and friends too numerous to mention.