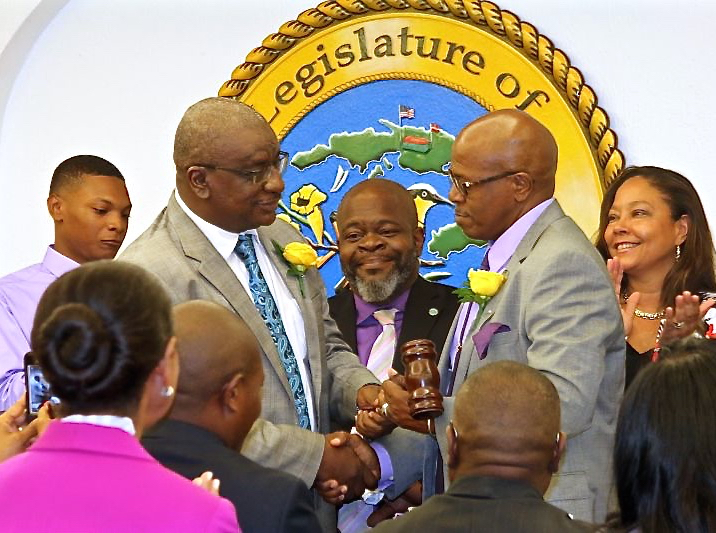 The usual division between the incoming majority and minority was the main topic of discussion during the first session Monday of the 32nd Legislature, which presented a bill for organization that included the establishment of officers and the official committees.
While all of the newly sworn in senators took time during their personal remarks to thank their loved ones and supporters, members of the Legislature's new minority also spoke about the more than 50-page document of rules, regulations and committee listings that were submitted to them right before the session.
At the end of the day, the bill passed with nine votes in favor and five votes against. Voting for the bill were Sens. Marvin Blyden, Jean Forde, Novelle Francis Jr., Myron Jackson, Neville James, Nereida Rivera O'Reilly, Sammuel Sanes, Brian A. Smith and Kurt Vialet. Sens. Dwayne DeGraff, Alicia "Chucky" Hansen, Janette Millin-Young and Positive Nelson voted against it.
"I too voted no for the bill because I don't want to start off my political career voting for something I have never seen," newly elected Sen. DeGraff said during his personal time. "It has nothing to do with majority or minority, it's just not something I intend to do. This is an historic moment in my life, and I want to start it off right."
Some senators, such as Millin-Young, also spoke about the creation of the Senate's committees, which, in some cases, included all new members.
"I kept reading this organization document and didn't see my name where it used to be," Millin-Young, who previously served as the Senate's vice president and chair of the Committee on Economic Development. "For years, I have been an integral part of this committee and many know that I have been laying the foundation for economic development initiatives within this body for years."
Incoming Senate President Myron Jackson responded to the remarks by calling for unity among the group.
"May wounded hearts and feelings be healed as we move together as a body to address the concerns of the people, and may we as like forces do what we must, united," he said. Jackson also reflected on the role of the Legislature, the "importance" of being elected, and the significance of how far the territory has come politically since the first Transfer Day ceremony 100 years ago.
"I was moved and likewise reflective of how far we've come," Jackson said about Monday's swearing-in ceremonies, which took place right before the afternoon session. Adding that he would do his "utmost best" at the helm of the Senate, Jackson added, "and I was reminded today of the importance to which I take this seat. It is not an easy task and it never has been."
32nd legislative officers are:
-Jackson: Senate President
-Rivera-O'Reilly: Vice President
-Secretary: Forde
-Majority Leader: James
-Secretary for Intergovernmental and Territorial Affairs: Forde
-Liaison to the U.S. Congress: Blyden
-Liaison to the U.S. Interior Department: Smith
-Liaison to the White House: Sanes
Standing Committees are:
Rules and Judiciary:
Francis (chair)
Forde (vice chair)
Jackson
Sanes
Nelson
Kevin Rodriquez (pending the outcome of his ongoing lawsuit)
Finance
Vialet (chair)
Blyden (vice chair)
James
Rivera-O'Reilly
Smith
Roach
DeGraff
Health, Hospitals and Human Services
Rivera-O'Reilly (chair)
Vialet (vice chair)
Blyden
Francis
Millin-Young
Sanes
DeGraff
Education, Youth and Recreation
Forde (chair)
James (vice chair)
Vialet
Francis
Jackson
Roach
Rodriquez (pending)
Workforce Development, Consumer Affairs and Culture
Rodriquez (chair, pending)
Jackson (vice chair)
Millin-Young
Smith
Nelson
Hansen
Blyden
Housing, Public Works, Waste Management and Planning
Blyden (chair)
Sanes (vice chair)
James
Rodriquez (pending)
Millin-Young
Hansen
Smith
Homeland Security, Justice and Public Safety
Smith (chair)
Francis (vice chair)
Forde
Rivera-O'Reilly
Nelson
DeGraff
Hansen
Economic Development and Agriculture
James (chair)
Smith (vice chair)
Sanes
DeGraff
Rivera-O'Reilly
Vialet
Blyden
Nelson
Roach
Government Affairs, Veterans, Energy and Environmental Protection
Sanes (chair)
Rodriquez (vice-chair, pending)
Forde
Rivera O'Reilly
Hansen
Roach
Millin-Young