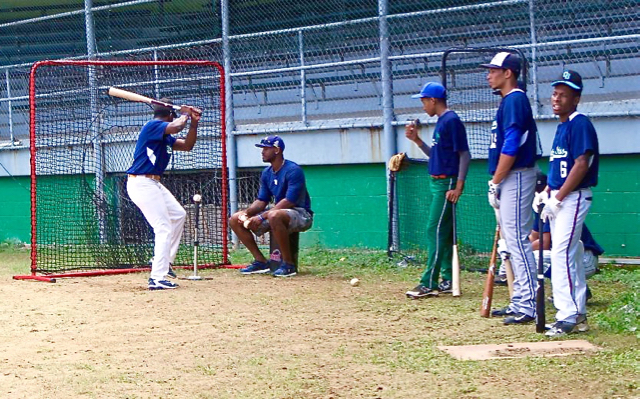 While Darren Canton's annual Scout Day event has previously helped to identify some local Major League talent, this year's outing at Lionel Roberts Stadium was more geared toward giving the younger members of the Future Stars Baseball organization the chance to understand better what skills they need to develop in order to be successful in the sport.
"We do have a few college guys, some more seasoned players, out here that we're hoping get some interest this year, but there's also a lot of youngsters that we're hoping are able to get their feet wet," Canton said Saturday morning as the event got underway. "Mostly a lot of 15 year-olds, who we hope will understand what they can accomplish, but that they have to go out and take it seriously."
Approximately 25 athletes took part in Saturday's Scout Day, which gave them a chance to show off everything from fielding and catching skills to heavy hitting and pitching. Helping the players along were members of Canton's core group of volunteers, including Major Leaguer Jabari Blash, a Future Stars alum who is now part of the San Diego Padres organization.
Blash was on the field early Saturday helping with batting practice and for many on the field, having him there was just as important as playing in front of scouts from the Houston Astros, Texas Rangers and Philadelphia Phillies.
"He's just a huge inspiration," said 19-year-old D'Quan Matthews, who plays outfield and infield at Lackawanna Junior College. "Jabari is one of my best friends and it's always helpful to be able to interact with him, to pick his brain and learn from what he does."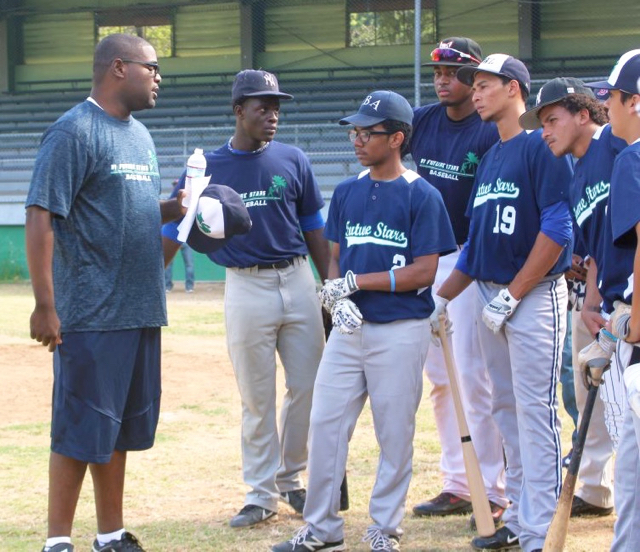 Matthews, one of a handful of college students that Canton hopes will get some more exposure this year, said that he grew up playing baseball on St. Thomas but transferred to the states after junior high school to be part of a more dedicated athletic program.
"I love being home and seeing friends and being in the hot weather," he said. "But I basically left island to play year round and to get more exposure. I've been doing events like this with Darren since I was 13, but other than that, there's nothing here that keeps you playing all the time or gives you the opportunities to play for scouts. I want to be a professional ballplayer, that's my dream, and whatever it takes, I'm going to keep working harder and harder at it. Hopefully it works out and hopefully the scouts see today that I'm improving."
According to Phillies area supervisor Luis Raffan, the scouts did notice. But, like Matthews, they also understood the need locally for programs that give the athletes a chance to play baseball a little more.
"There are some of them out there with a great deal of athleticism," Raffan, who came down Saturday for his first Scout Day event, said. "But it's also a lot of young talent, it's guys that need more repetition, who need to play baseball a little more. They are very athletic, which is pretty incredible, so it's just a matter of getting them out on the field as much as possible."
Raffan added that for the younger players, it's also a matter of understanding how disciplined they are about the game.
"It's all about whether they have a passion for it," he said. "If they don't have passion, that's the first problem and two, if they are not disciplined, that's also a problem. Do they want to be out here every day in this heat practicing, are they working out in the off season? Things like that are what make a baseball player. Basically, what I tell the guys is to practice, practice, practice and make that a routine every day. That's what's going to determine their ability to make it."
Astros scout Joey Sola added that more local events, such as tournaments, would give the athletes extra opportunities to play and the scouts a better setting in which to evaluate their skills.
"I was here for the first Scout Day with Jabari Blash and Akeel Morris (who now plays in the Atlanta Braves system) and every year, this event is basically the only game in town for us," Sola said. "And the numbers are there. Since that first event, I have seen a lot more kids on island interested in baseball but talent wise, everyone has to be involved in developing them. If there could be more tournaments, where you can see the kids more and have them play more games, they will be able to work on their abilities and it would be more helpful for us to evaluate them. But the numbers, they really are incredible."