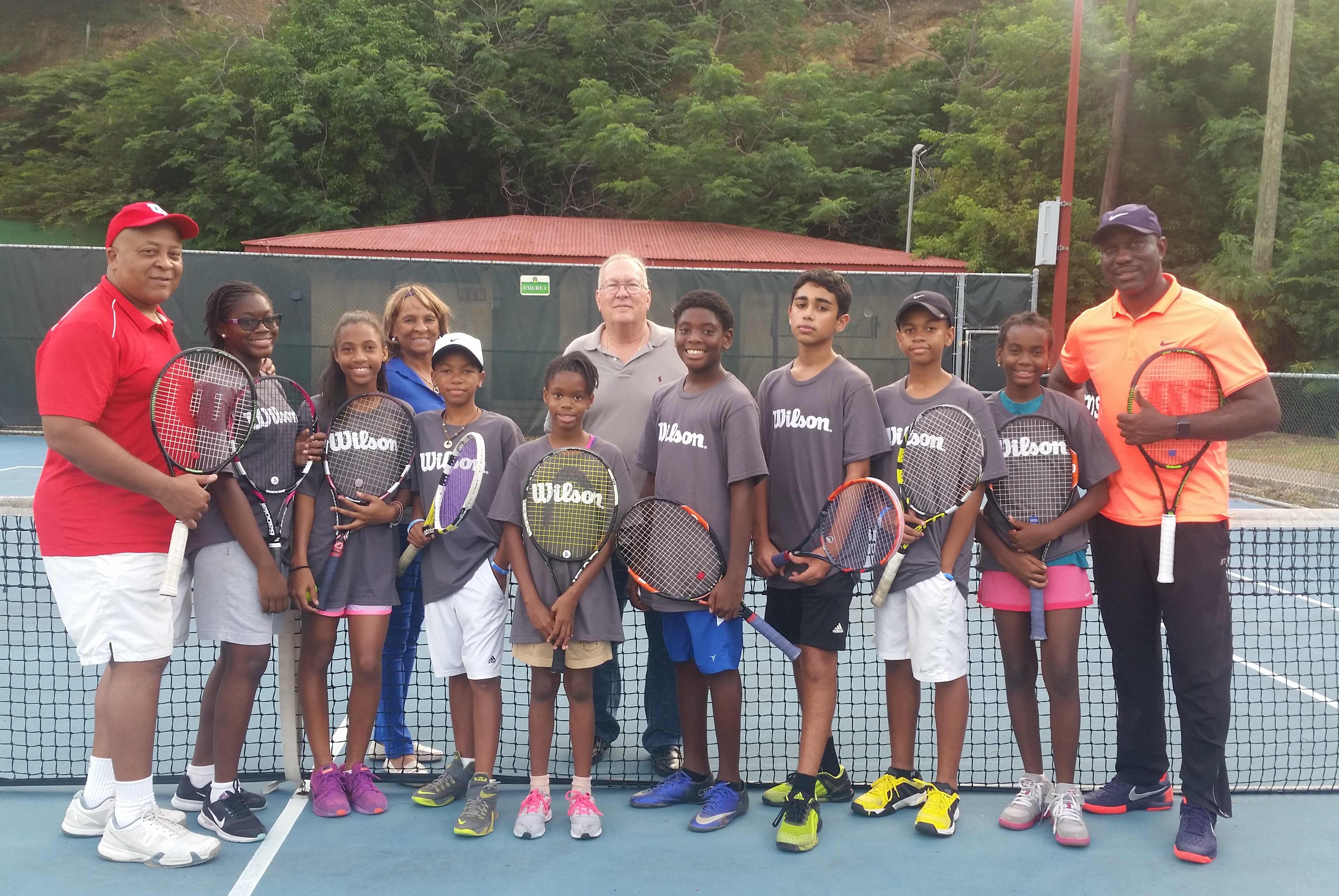 The Virgin Islands Tennis Association (VITA) hosted a three-day tennis developmental clinic on Dec. 2-4 at the Doris E. Hodge Tennis Complex in Sub Base. Approximately, 25 junior tennis players between the ages of seven years and 16 years participated in the three-day event. During the three days, the junior tennis players worked on the fundamental of tennis, such as forehand, backhand, service, footwork, physical fitness and conditioning. They also played mini-tennis and several tennis related games. Britany Leonard, a tenth grader, who plays in the 16-and-under category, said, "I enjoyed the clinic and learned a lot. I learned the correct position and posture for my serves."
The developmental tennis clinic was opened to local tennis coaches as well. Several local coaches attended the event, and some worked side by side with their students on the tennis courts. Turhan Berne, a native of St. Thomas and once a formidable junior tennis player on the island in the late 1970s, came down from Georgia to conduct the clinic. Berne, who volunteered his time, said that he was giving back to his community. He lives in the Atlanta area and is a well-known tennis coach and organizer of professional tennis tournaments in the Southeast region of the United States, said that one of his goals for the clinic was to help coaches on St. Thomas develop local tennis talent. "I see a lot of potential in these kids, and with the right training, some can go very far," said Berne.
Carl Hodge, a native of Macon, Ga., and a longtime friend of Berne, also participated in the developmental clinic. Hodge, is a tennis coach and a manager of a tennis facility in Macon. "I see lots of promising kids, with the right training."
Kevin Hughes, a tenth grader, who plays in the 16-and-under category said, "It made me happy to see other players excel with coaches Turhan and Carl."
The tennis event was put together by VITA board members Karen Nelson-Hughes, Julita de Leon and Sharon Flamon.
"VITA's shared mission and vision that speaks to engaging and supporting our talented junior tennis players was certainly brought to life this weekend, as we witnessed first-hand, the talent that exists here in the U.S. Virgin Islands," said VITA President William McComb, "We hope to continue to support our up and coming young tennis players, as they work to strengthen their skills and strive to compete in both national and international arenas."
VITA thanks The Virgin Islands Olympic Committee for its continued support.