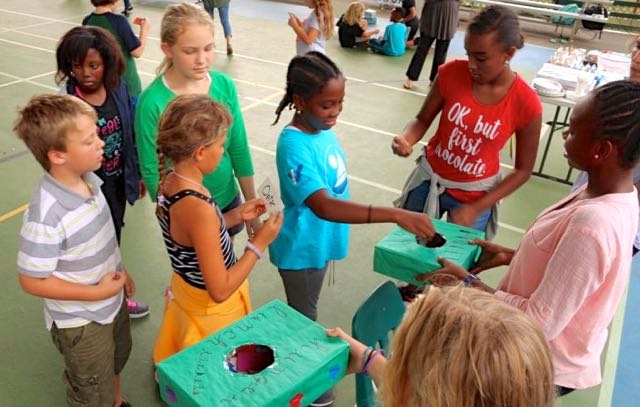 A decade ago, the V.I. Montessori School and Peter Gruber International Academy started its annual Hunger Lunch event with 13 students but this year the event brought at least 200 attendees to the campus Tuesday in an effort to raise money for – and awareness of – world hunger efforts.
The event is sponsored by the Peter Gruber International Academy, whose director, Gloria Zakers, said it is fitting, as the school heads into its four-day Thanksgiving break, for the students to reflect on some of things they are grateful for, including having a holiday meal. This year the event was themed, giving those who attended the chance to receive a portion of food from the five richest and five poorest countries in the world.
"The idea is that there is a lot of food inequality in the world, but unless you live somewhere that doesn't have a lot of food, you're not aware of that," Zakers said Tuesday. "So this event is meant to spread awareness that there are a lot of places where people don't have enough to eat, and how, as we roll into the Thanksgiving holiday, we should be incredibly grateful for what we do have."
Zakers said the students are asked to fast for the day and to donate their lunch money, or whatever they would have spent on lunch, to a hunger effort or charity, which, this year, is nokidhungry.org. Cans of food were also collected, to be given to the Bethlehem House on St. Thomas.
Once students are on campus, they are asked at the lunch to take a ticket that will give them a sampling of food representative of a rich or poor country.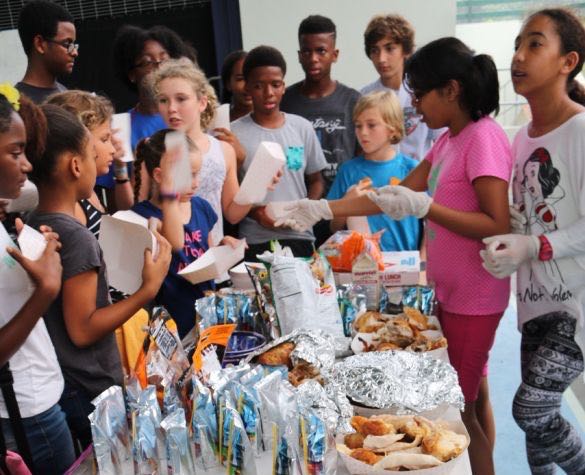 Simple meals of rice and beans were given to students who picked tickets from countries such as Nigeria, Malawi or the Central African Republic, while students with tickets from richer countries such as Qatar, Kuwait and Luxenberg received more balanced meals, including meat and sometimes even dessert.
"Keep in mind, you may leave this lunch hungry," VIMSIA junior Darby Williams told the audience Tuesday as she delivered a monologue to kick off the event. "But this is intentional, because we want you to know how it feels."
Williams added that one out of every nine people in the world are hungry and don't "have the energy to do even the most simple jobs."
"For some people, not having food is just a fact of life," she said. "Why does it have to be a fact of life? Because there are very few people trying to change it."
For some people attending the event, Williams' message hit close to home.
"Wellness and food should be basic human rights," VIMSIA math teacher and college counselor Elizabeth Elger said. "Nobody should go hungry. I'm cranky just today not eating anything; I can't imagine what it would be like to go everyday on such limited or no resources. And certainly, as the countries we selected indicate, it is happening in places such as Africa, but it's also happening on St. Thomas and it's important that the students are aware of that. We have plenty of kids that go to our schools hungry every day."
Several students participating Tuesday said they understood the message of the event and, along with donating money and helping food aid causes, many also tried to come up with other ways to help.
"It's interesting because there are people in the world dying of obesity and people dying of starvation," eighth-grader Hanna Esannason said Tuesday. "It makes me think if we all get together and share, maybe things can be more balanced. It's important for us to think of what we can do."