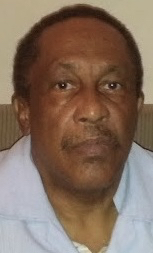 Deacon Roy Eustus Bruney, 69, died on Monday, Nov. 7, 2016, in Florida.
He is survived by his wife, Helen Bruney; sons, Brandt Bruney, Alex Bruney and Dwight Bruney; daughter Suzanne Bruney; granddaughters Bria Bruney, Abigail Bruney, Nalyah Bruney; grandsons Elisha Bruney and Cadim Sabin; siblings Lucy Dabreau of Atlanta, Georgia, Gemma Felix and Henry Bruney of St. Thomas, Bertile "Betty" Bellot of St. Croix, Julian Williams of Chicago, Illinois, Shirley Bruney of Orlando, Florida, Cecilia Ferris and Maria Bruney of Antigua, Dr. George Bruney of the Bahamas, Reginald Bruney of the United Kingdom, Angela Eusebe, Paula, Paulette, Michael, Charleston, and Rawlins and Davidson Bruney of Dominica; sister-in-law Diana Williams; brother-in-law Kerol Bruney; nieces and nephews Patreece DeChabert, Nanyamka Farrelly, Dorna Henricks, Desiree Darling, Josh Dabreau, Sheridan Questel, Jr., Bryan and Allen Samuel, Akeel St. Jean, Nicholas and Christopher Williams; aunt and uncle Nathaniel and Joseph Williams of Dominica; special cousins Bernice Cumberbatch, Bertha Samuels, Francesca Aaron, Mabel Estrada, Ivan Hurtault, Tennison "Tom" Bruney; close friends Cynthia and Leon Warrell, Lester and Shirley Lewis; and numerous additional relatives and friends.
The first viewing will be from 3 to 5 p.m. Sunday at the Celestial Chapel at Hurley Funeral Home. The second viewing will be held at 10 a.m. Monday at Holy Family Catholic Church, followed by the funeral service at 11 a.m. Burial will be in Eastern Cemetery.
Arrangements are under the care of Hurley Funeral Home and Cremation Center of St. Thomas, St. John, St. Croix, and Tortola. Directions and online condolences are at www.hurleydavisfuneralhome.com.