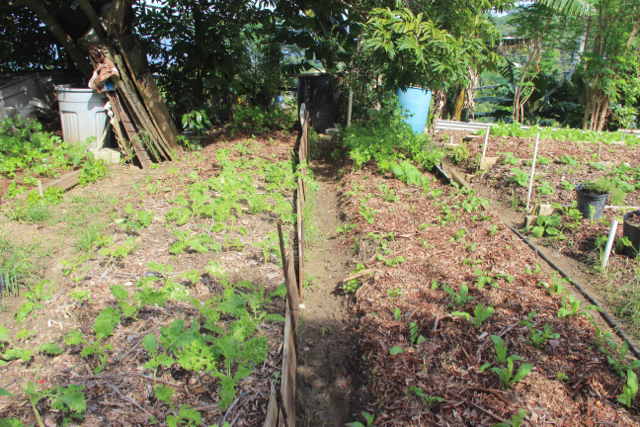 Over the last few weeks steady showers have filled cisterns across the territory, but they also have made it more difficult for some farmers to grow crops.
In parts of the islands, deluges have filled soils with excess water, making it difficult for plants to breathe. Overly saturated soil can kill plants or significantly decrease their yields.
Simon Anthony of Drina's Organic Farm on St. Thomas said the rain had been hurting his vegetables and greens for the last several weeks. The roots of his crops are struggling because they are getting waterlogged, he said.
Last year, drought conditions dried up soils and killed crops and fruit trees throughout the Virgin Islands, making it hard for farmers to make a living. Anthony said that when it rains too much, he faces the same issue.
"We have a different weather pattern each year and we can't predict it, so we have to plan ahead," Anthony said.
Planning ahead and having some financial cushion is a must, Anthony continued, since farming is his main source of income and too much or too little rain hurts his production.
According to Rudy O'Reilly, district conservationist for the U.S. Department of Agriculture's Natural Resources Conservation Service, plant roots need oxygen to function properly.
"With no oxygen in the soil the plant roots essentially suffocate," O'Reilly explained. "Other long-term effects include the growth of fungus and other diseases, an increase in weeds, and a reduction in beneficial microbes and soil fertility."
O'Reilly said that such shallow root crops as vegetables and herbs are most affected by overly saturated soils. Deep-rooted fruit trees aren't as vulnerable, since their roots are hardier.
That's why having adequate drainage that supports the health of soils is a must.
"Good drainage allows water to get into the soil without saturating all of the pore spaces," O'Reilly explained.
To promote drainage, Charles Leonard has built terraces throughout his farm in Estate Bordeaux on St. Thomas.
"I learned my terracing from the old farming guys – with the terracing and building banks on a slant, water runs off and there is less saturation," Leonard said. "If you farm your land long enough, you get to know what it needs."
Leonard said that farmers who grow on flat lands have a much more difficult time diverting water the way he does on his plot. There's less control on flat lands he said.
"I think most farmers would still prefer more rain than not enough," Leonard said.
Anthony has built up the beds on his farm to allow water to drain into soils below, but runoff from surrounding roads and other developed land makes it more difficult to maintain those beds and divert water. (See "Taking Stock of Soil on World Soil Day" in Related Links below)
For Dale Browne of Sejah Farms on St. Croix, the heavy rains mean he has to delay planting and deal with more weeds. For the most part, he said the rains have been beneficial, but that oversaturation could be an issue if the heavy showers persist.
"My soil is clay, so it already holds a lot of water. Cutting the grass on our property helps us control some of the water that builds up," Browne said.
Soil type also affects drainage. The territory has a lot of clay soils, which are compact and can make it difficult for plants to breathe.
To avoid oversaturation and root rot, O'Reilly said farmers could add more organic materials to their soils, which can be done by putting compost on the soil. Depending on the soil type, farmers also can reduce tilling to help.
"The less the soil is disturbed, the easier it is to maintain its naturally occurring microbes that aid in aeration and nutrient cycling," O'Reilly said.
The local NRCS office provides technical and financial assistance to help farmers address their natural resources concerns and can be reached at 340-692-9632 between 8 a.m. and 4 p.m. Monday through Friday.