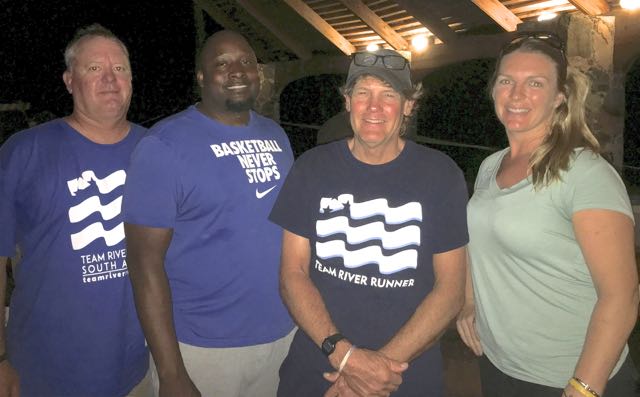 Sometimes a chance conversation can lead to great things. Nearly 10 years ago, Doug Benton, the owner of Crabby's Watersports in Coral Bay, started chatting with Joe Mornini, a visitor from Maryland who wanted to rent a kayak for the week to explore St. John's north shore.
Mornini told Benton about his passion for paddling. A special education teacher of at-risk teenagers, Mornini said he burned off his stress after work by kayaking.
When Mornini said that he had started a program to teach wounded veterans to learn how to kayak at Walter Reed National Medical Military Center, Benton, a veteran and a member of the American Legion Post 131, really perked up.
And when Mornini said he'd love to bring a few of the guys from Walter Reed to stay at Cinnamon Bay, Benton said, "You're talking to the right guy."
Together they started planning and pretty soon they started a program that has evolved to bring wounded veterans to St. John four times a year through Mornini's organization, Team River Runner.
On Nov. 5, more than 100 St. John residents gathered at a picnic to meet the 15 members of Team River Runner who were on island participating in an annual weeklong Leadership Clinic.
Most of the participants had been nominated to attend by one of the 55 local chapters of Team River Runner that exist in 31 states.
"We also invite some newly disabled/wounded veterans from Walter Reed National Military Medical Center," said Mornini. "They are accompanied by a Walter Reed clinician (also a veteran). We paddle, swim, and meet each day for leadership instruction."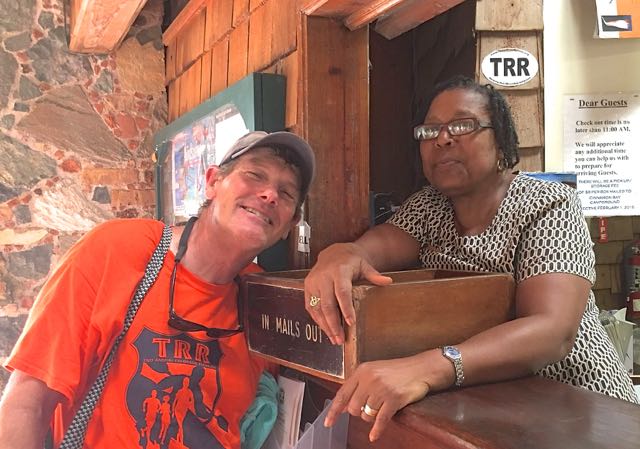 When they pitched the idea to officials at Walter Reed, Mornini said he and fellow paddler Mike McCormick discovered that kayaking is a perfect sport for the disabled.
Those who can walk can help lift those who can't into kayaks; those who are blind can be directed by using a set of vocal calls. Using foam, tape, air bags and creativity, team members can make accommodations for just about any disability, Mornini said.
The Team River Runner website explains the philosophy behind the program as one that "provides hope and healing to those who have risked so much, yet asked for so little. … Our veterans are on the river to recovery."
During last week's leadership clinic, participants were drilled in paddling techniques and met with Homer Hickam Jr., a Vietnam War veteran and the acclaimed author of October Sky who has a home on St. John. They also spent time reflecting on their problem-solving and communication skills.
Shelton Gore, a member of TRR's Orlando chapter, headed up logistics for the week's activities.
Gore said that a key element in leadership is helping others figure out what their role is. He believes leadership can be taught "as long as someone above you teaches you. The only thing that can't be taught is character," he said.
Participants in the leadership clinic continue to teach other wounded veterans how to kayak. Though only wounded veterans can become members of Team River Runner, thousands of others support the organization.
On St. John, the picnic held last week at the Agriculture Center in Coral Bay was organized by American Legion Post 131, the Legion Auxiliary and AARP. "It was definitely a group effort," said Benton.
The St. John American Legion post, which has about 50 members, is named in honor of Viggo Sewer, the first Virgin Islands resident to die in the Korean War, on Feb. 5, 1953. Sewer's siblings Aubrey "Brie" Sewer and Maria Lett assisted with the event.
Team River Runner's biggest fundraising event on St. John is the Chaotic Kayak race held in the summer. Teams of three race kayaks around the M/V Sadie Sea anchored off Oppenheimer Beach. As each team tries to wipe out the competition with giant squirt guns, the crew aboard Sadie Sea tries to douse them all with pails of water.
This past summer, more than 38 businesses sponsored teams vying for "The Golden Paddle," raising the bulk of funds that sustain TRR's programs on St. John. But individuals in the community have created their own fundraising events for TRR.
Angela Ebner holds yard sales in Coral Bay twice a year and donates a portion of the proceeds to Team River Runner. Jeff Miller, who swam solo nonstop around St. John in September, raised more than $4,500 for the group.
So far this year, more than $52,000 has been raised locally to make the TRR programs on the island completely self-sustaining.
Coast Guard veteran Tom Larsen, captain of M/V Sadie Sea, and former crewmember Kate Farrington, helped organize events and coordinated donations.
Working with St. John restauranteurs, they made sure the Team River Runner participants didn't go hungry. During the week of the leadership clinic, dinners were provided by the Barefoot Cowboy, Ocean Grille, The Tap Room, Joe's Rum Hut, the Beach Bar, Skinny Legs and The Landing.
Many others donated food, drink, transportation, accommodations and equipment. To learn more about Team River Runner, visit http://www.teamriverrunner.org/