On Friday afternoon, 130 employees from International Capital and Management Company braved the rainy weather to give back to the local community by volunteering for various causes around St. Thomas.
While ICMC coordinates and contributes to multiple community activities throughout the year, including Jazz in the Park and Student Hall of Hope, this volunteer event marks the company's inaugural Community Day.
To serve the local community and build a culture of volunteerism, ICMC encourages its stakeholders – which is what the company calls its employees – to make a difference in the lives of others through service work.
"At ICMC, we believe in meaningful philanthropy that involves more than giving money," said Willa Fils, ICMC community relations manager.
Stakeholders from all levels of the organization volunteered on Friday, including the company's president and members of the executive team.
"We are proud to have a very community-driven stakeholder population that eagerly seeks out opportunities to serve the community both via ICMC initiatives and outside of ICMC," Fils said.
The ICMC community relations team developed activity options by researching different projects and by identifying needs, while also making sure a variety of activities were available to appeal to the interests and talents of all volunteers.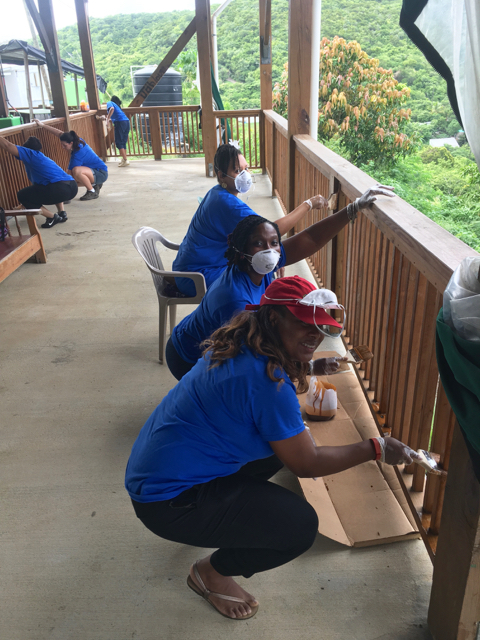 Around 40 volunteers worked at Brewers Bay to remove trash and other debris, while a smaller group helped plant mangroves in the lagoon near the bay with the assistance of marine scientists from the University of the Virgin Islands.
Other volunteers headed west to help prepare the Bordeaux farmers market grounds for We Grow Food Inc.'s annual agriculture fair, which is held each January.
Animal lovers volunteered at the Humane Society where they cleaned up the property, spent time with animals and offered organizational assistance.
Rick Grant, executive assistant to ICMC's chief financial officer, chose to volunteer planting mangroves since he's passionate about preserving the natural environment. He said his group had to walk about 75 feet into the lagoon during the pouring rain but that all of his coworkers were still excited to be there.
The volunteers planted 52 mangroves deep in the sand and learned that their survival rates are only about one in 10, because of how exposed the plants are to the elements.
Grant said he finds the volunteering day valuable from a community outlook perspective and because it helps foster interpersonal relationship with coworkers.
"On one level, it's helpful to the community and we get to give back with our talents and passions. It also lets us get to know coworkers that we don't interact with on a daily basis," Grant explained.
ICMC hopes to make Community Day an annual event, Fils said.
Karen Nelson-Hughes, ICMC's director of community relations, said, "It is our hope that this day was as impactful and helpful to those whom our team served, as it was for us as a team to experience."