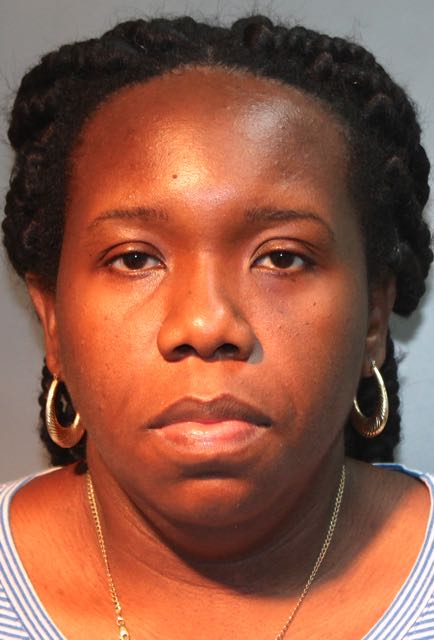 Elca Anthony, who is employed by the V.I. Territorial Emergency Management Agency as a 911 dispatcher, was arrested without incident Wednesday morning and charged with being an accessory in attempted murder after the fact and with interfering with an officer discharging their duty, the V.I. Police Department reported.
According to police, the 35-year-old Anthony was arrested at 5:06 a.m.
The charging document provided by the investigating detective indicates Anthony sent a text on Dec. 15 regarding an attempted first-degree murder as the incident was unfolding, allowing the suspect an opportunity to change his vehicle and elude police.
According to documentation, Anthony assisted a known criminal felon, Daniel Carino, in order to prevent his apprehension by having knowledge of the type of clothing worn and vehicle operated by the suspect involved in the shooting incident.
Carino was later arrested and charged in the attempted first-degree murder in the incident and is presently detained.
The police news release reporting Wednesday's arrest did not mention any connection between Anthony and Carino.
Unable to post the $50,000 bail, Anthony was remanded to the Golden Grove Adult Correctional Facility.
Anthony also will be placed on leave without pay pending the outcome of the case, VITEMA Director Mona Barnes said in a statement issued Wednesday afternoon.
Barnes acknowledged that the case may raise concerns about the integrity of the 911 emergency system but urged residents to withhold judgment.
"While Ms. Anthony remains innocent until proven guilty in a court of law, I want to assure the community, and to state unequivocally, that this agency does not tolerate employees who do not uphold VITEMA's policies and who do not abide by the law," she said. "I ask the community not to pass judgment on 911 operators as a whole. VITEMA's 911 operators are dedicated employees who often go above and beyond to serve this community in their time of greatest need."
Barnes said VITEMA fully cooperated with the investigation and will continue to support the V.I. Police Department's efforts to protect and serve the public.
Acting St. Croix Police Chief Winsbut McFarlande thanked community members who assisted with the investigation and asked that they continue to provide information that would improve their ability to better serve the community.
He urged anyone with information on any criminal activity to call the VIPD at 340-778-2211 on St. Croix, 340-774-2211 on St. Thomas, or the anonymous tip service, Crimes Stoppers VI, at 1-800-222-8477.