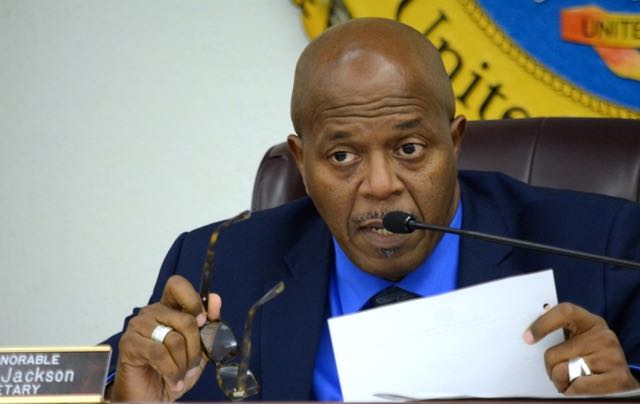 Senators voted Wednesday to hold, for now, legislation aiming at the rehabilitation of several abandoned, historic structures amid budget woes and concerns about funding both from the USVI and Denmark during a hearing of the Committee on Culture, Historic Preservation, Youth and Recreation.
The bill sponsored by Sen. Myron Jackson would authorize the government to buy several properties and build a national museum, an architecture school, a school of art for conservation and a museum of science, a cultural civic center and other projects.
"The proposal calls for the revitalization and transformation of several historic structures that were abandoned by the Virgin Islands government with the closure of the Jose Antonio Jarvis Elementary School, known to some of a certain age as the former Abraham Lincoln School," Jackson said. "It also proposes to transform the old Apollo Theater site."
The legislation also called upon the V.I. government to pledge to come up with $10 million from public and private sources.
Senators and numerous testifiers all supported the concepts and projects envisioned, but government officials raised questions about whether $10 million was available local funding to match $10 million possibly available from Denmark. And testimony from a Danish representative indicated no entity has yet committed to providing the $10 million from Denmark either.
"The community loved the idea and endorsed it as their own during a communitywide vote," Enterprise Zone Commission Director Nadine Marchena Kean said.
Property and Procurement Commissioner Randolph Bennett said his department supports the concept, but said he "would only ask that the funding is fully secured to proceed with the remarkable project for the youths of the territory."
University of the Virgin Islands Chief Financial Officer Shirley Lake King read testimony from UVI Vice President Haldane Davies supporting "these two very good proposed aspirational projects," but only "subject to the submission of a plan, including the funding."
Yvette Finch, president of We From Upstream Inc., spoke in support. "The bill, as we see it, is extremely important in placing this building into the hands of those professionals who are indeed capable to successfully design, build and maintain this multipurpose center," Finch said.
While senators were largely supportive of the bill's intent, they had concerns about both the bill's language and clarity and about funding.
"I believe the bill is going to need more amendments to make it more firm and clear," said Sen. Marvin Blyden. "We need these types of investment, not only to help with our history and our culture, but at the same time, it can help with economic development."
"Right now historical tourism is booming," he continued. "When people go to different islands and territories, most of us have the same thing. Sun, sand and sea, friendly people, etc. But we all have our own DNA, we all have our own history and they want to know about you, where you're from, your culture."
Sen. Tregenza Roach said, "Many of us see the merits of the project."
"I think what the reality is though, as indicated by the testimony, is that what we have to do is focus on the mechanism that will make this happen, which is the bill, and there was very little testimony on the specifics of the bill," he said, adding that funding was not clear. Representing Denmark in the proceedings was Bo Manderup, who was identified as Sen. Bo Manderup. In what capacity he is a senator was not clear. Denmark is governed by an elected parliament and the government does not have a senate. Manderup is not a member of the Danish parliament or Folketinget, according to the Folketinget webpage.
Manderup is a former member of the European parliament, a former member of the European Commission and holds an array of local and institutional titles, including chairman of the Danish UNESCO National Commission, according to Danish news sources on the internet and Manderup's LinkedIn profile.
"Our intention and hope is to raise more money from the government," Manderup said, but conceded "we are not sure how much we will be able to raise."
"We want to raise at least $10 million but we are not sure of the mix of public and private funding at this time," he said.
He said the government and others have come up with around $300,000 in "seed money" to create the conceptual and design drawings, and that the project was still very new.
He made it clear that Denmark has not committed to fund the project.
"If the government makes a commitment, as they have already done on the seed money, which I just talked about, that of course is a commitment they will honor. Equally, if they make a commitment to put up further funds, as I mentioned, they will honor that commitment," Manderup said, adding that the Danish Minister of Culture said at a ceremony Tuesday that he was "very committed to see this project come true."
Although Denmark has not committed any funding yet, Sen. Kurt Vialet told Manderup that, based on the colonial history of the territory, slavery and "what you were able to benefit on the backs of Virgin Islanders … you should be paying 100 percent."
Manderup said he did not disagree with Vialet's interpretation of history, but said "we see this project as something that could take us forward."
Senators also raised concerns about building new structures, with the existence of so many dilapidated government-owned buildings throughout the territory.
"As a government, we do not do well with maintenance," Jackson said, adding "these priceless historic structures are worthy of preservation." Voting to hold the bill were Jackson, Roach, Sens. Marvin Blyden, Positive Nelson and Sammuel Sanes. Sens. Novelle Francis and Kenneth Gittens were absent.
The committee also held a measure to establish a committee that has oversight over furniture and art collections.