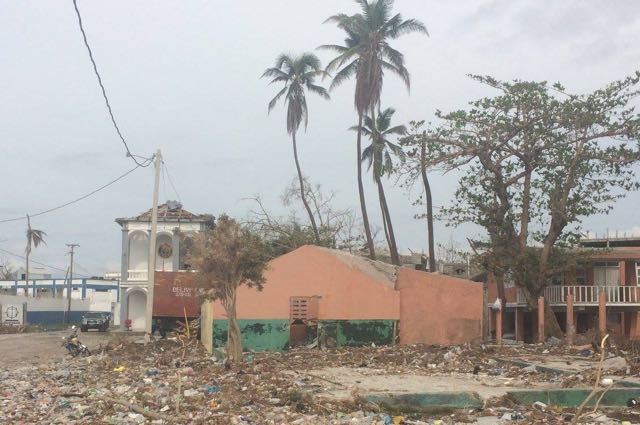 When St. Croix resident Mandy Thody arrived in Haiti at the end of September on one of her frequent charitable trips to the country, it wasn't yet clear that her work would include coordinating disaster relief.
Thody's initial mission was to help conduct an emergency swimming program for children on the small Haitian island of Ile a Vache. The island is the site of one of two schools operated by The Good Samaritan Foundation of Haiti, the nonprofit organization that Thody administers. Since residents of the island reach the Haitian mainland by boat, swimming courses can save lives in the event of accidents.
But within the week, a more immediate threat to human life would arrive as Hurricane Matthew, the strongest Atlantic cyclone in almost a decade, tore across Western Haiti.
Thody is no stranger to lending a hand to Haiti after devastating natural disasters. After the catastrophic earthquake of 2010, she and a group of other V.I. residents raised funds to rebuild a school near Petit Goave southwest of Port-au-Prince. With the help of a grant from the Virgin Islands Haitian Relief Fund a few years later, Thody's original charity organization, 100 Percent for Haiti, was able to continue to fund and expand the school.
In 2014, 100 Percent for Haiti merged with the Good Samaritan Foundation, whose programs were located in Ile a Vache. The foundation's cofounder, Michael Gardner of Virgin Gorda, asked Thody to administer the charity's combined efforts at both schools. Since then Thody has been travelling to Haiti three or four times per year for periods of three to four weeks at a time.
As of this week, Thody said the Good Samaritan Foundation's two schools are the only ones in their areas to have reopened after Matthew's destruction. More than 275 cooked lunches are being served at each school every day, plus extra for elderly neighbors, she said.
On Ile a Vache, which lay directly in Matthew's path, there has been substantial damage, although miraculously, Thody said, no loss of life. The island and its neighboring islets have a population of approximately 14,000.
"We have about 30 percent houses roofless and many more partially roofless, around 10 percent collapsed walls," she said. "This means up to 70 percent of the population is sharing housing with relatives and neighbours, which is boosting the likelihood of contagion, not only cholera but also skin diseases, TB, dengue and flu, which affects malnourished people severely."
The Good Samaritan Foundation has already raised close to $23,000 to assist the communities its programs serve. And $1,000 of that has gone to Aquatabs to purify water for distribution in the event of a cholera outbreak, as well as painkillers and anti-malarial medication.
Another $2,000 in donations has been used to purchase hand tools for the clearing and repair of three villages with the help of local civil protection units, 1000 sheets of roofing tin, nails and cement for repairs, which will be undertaken by volunteers while the foundation attends to those most in need such as children, elderly and the disabled.
"The first $10,000 of donations is already in people's hands," Thody said, "including extra food at the school, food for those sheltering in Soulette church when many houses fell down, and distribution of rice and staples in sacks to the elderly and homeless."
She said the next $10,000 will be used to help supplement food for up to half of Ile a Vache's population for up to six months. Much of the islands' crops were destroyed in the storm, and fish and conch are also in short supply. The Good Samaritan Foundation is also working to repair and restock its own agriculture program to help feed the community.
"The biggest problem in all of Western Haiti is the immense loss of trees and ruined crops. In the case of Ile a Vache, all the southern half of the island's fields are salted by the sea or spray and must be cleaned by rain for a few weeks before replanting," said Thody.
In the area of the Good Samaritan Foundation's second school, there was less damage to buildings, she said, but total loss of livestock and poultry.
Those who want to support the Good Samaritan Foundation's work in Haiti can make a donation to the organization through its website: http://www.goodsamaritanofhaiti.com/.
The website states, "From our small support base in the Virgin Islands, we reach out to friends all over the world to enable us to continue this vital assistance – successful over more than a decade through some of Haiti's worst turmoil."