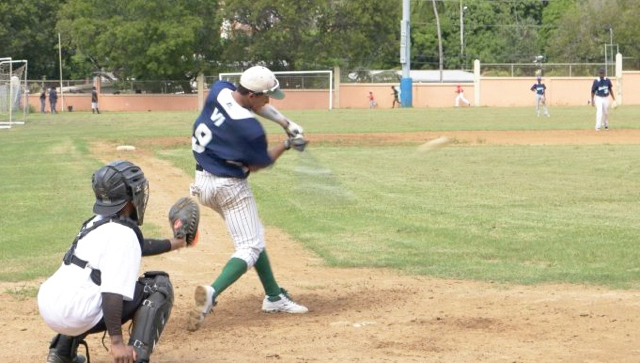 The Future Stars Baseball organization kicked off its Scout Day event 10 years ago with a crop of youngsters who are now making strides in their professional careers. Future Stars founder Darren Canton said Saturday that as the event has evolved, he's been looking for more solid talent that give local players the chance to succeed nationally.
The 10th annual iteration of the event Saturday on St. Thomas brought in seasoned scouts from two Major League franchises – the Oakland A's and the Kansas City Royals – that Canton feels can take advantage of what the territory has to offer. But along with the local athletes, Future Stars has also reached out to players from neighboring islands in need of exposure, and Canton said that's what helps to keep the event fresh and the local players on their toes.
"This weekend's event turned out really great," Canton said after Saturday's exercises wrapped up at Lionel Roberts Stadium. "We were able to bring a lot of young talent in. Even one scout that has been coming here for 10 years said that we had more possible prospects here than any other event in the past."
For years, the Future Stars program has nurtured some of the territory's best "base-ballers" – including big names such as Jabari Blash, Akeel Morris and Jahrel Cotton – and Canton has continued to work behind the scenes to teach his players about the importance of a good education and really learning the fundamentals of the game.
"You know a lot of the kids that come out here are 15 or 16 years old and it's their first time at something like this," he said. "Some of them are nervous, even though they're out there doing their best, so the next step would be giving them the feedback they need from the scouts so they can really turn around and improve for the next time."
The young athletes started the day running drills, then proceeded to outfield, infield and hitting practice. The day wrapped up with a full scrimmage that gave the scouts a better look at what each player brought to the table.
First-time Scout Day participant Fernando Cedano, made the most of his chance to draw some scout interest. An athlete from the British Virgin Islands, Cedano said that he has participated in showcases before, but this weekend's event gave him another opportunity to show what can do.
"I hope that the scouts see that I could be good, even if it takes a little time," Cedano said. "Even if I had a couple of mistakes, they can see the effort I put into the game, and I hope that keeps their eyes on me and what I can do."