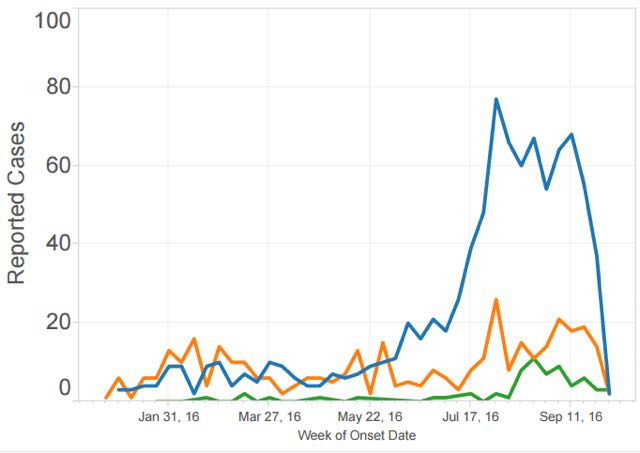 The V.I. Department of Health confirmed 62 new cases of Zika virus in the territory this week, bringing the total number of cases to 524.
While the number of confirmed cases continues to grow, there has been a downward trend in new cases for more than five weeks.
According to territorial epidemiologist Esther Ellis, the epidemiological curve graphs reported cases on one axis and the onset of symptoms on the other axis.
"We may have a surge of results one week, but that doesn't mean that's when the illness happened, since some results take longer to get back and some people are waiting longer to get tested after they first get sick," Ellis explained.
That means the number of new cases that are confirmed each week isn't reflective of the current situation and that the onset of symptoms has to be taken into account to see when the virus was likely first contracted.
"We've seen five consecutive weeks of a downward trend, so we do think it has peaked, but it's always good to have more data," Ellis said, adding that the downward trend started around July 17.
Despite the fact that the worst of the outbreak is likely over, Health Commissioner Michelle Davis said, "All residents of the U.S. Virgin Islands need to take precautions to prevent mosquito bites."
"They can do so by dressing in long sleeved and long pants, draining any standing water in and around their homes and wearing mosquito repellent, in addition to premethrin," Davis said. "Everything we can do as a community will help protect our pregnant women, which are our most vulnerable population," Davis continued.
Since early July the bulk of new cases have been reported on St. Thomas, a result of the island's higher population density, which eases the spread of transmission.
St. Thomas now has 417 confirmed cases, which is 48 more than last week. St. Croix added 11 cases in the last week and has a total of 78, while St. John reported three more cases, bringing its total to 29.
To deliver results, Health is calling all patients that were tested either at its offices or one of the clinical labs listed below that are offering free testing. All other results get sent to the provider who is then supposed to inform patients of their test results.
Those who have been waiting longer than three weeks for their results can call Health's emergency operations center and ask to speak with the territorial epidemiologist: 340-712-6205.
No new cases of dengue have been reported for the past several weeks. To date this year, there have been 16 cases of dengue on St. Thomas, 14 on St. Croix and two on St. John.
Health has not reported any hospitalizations or deaths as a result of Zika so far. There have also been no cases of Guillain-Barre` Syndrome (GBS), a disorder that's been linked to Zika that can result in paralysis as the body's immune system attacks part of the peripheral nervous system.
Zika's most common symptoms are headache, fever, rash, joint pain, red eyes (conjunctivitis) and pain behind the eyes, which can make it difficult to distinguish from dengue.
The most common symptoms experienced by people in territory who test positive are rash and joint pain.
According to the CDC, the rash usually looks like small blotchy red patches or bumps and doesn't always itch. The rash reportedly starts most often on the face and then spreads to the rest of the body over the course of a couple days.
It's also common for people to report experiencing joint pain in the hands and feet as the infection progresses.
Health is urging anyone experiencing these symptoms to get tested at one of the 12 free testing centers listed below. Once someone contracts Zika, it clears from the blood in one to two weeks and it's believed that he or she is immune to getting it again though it's not certain how long the protection could last.
Despite the growing number of cases around the world, there's no medicine or vaccine for Zika yet. For now people who come down with the virus are encouraged to rest and drink plenty of fluids.
More women are being tested for Zika than men because of the developmental issues that Zika can cause to unborn babies. Health has been proactively testing pregnant women for the virus since the outbreak began and more than 1,500 Zika prevention kits have been given to local pregnant women.
According to this week's surveillance report, the number of pregnant women affected by Zika remains the same. A total of 35 pregnant women have been confirmed positive with an additional 13 probable cases that are awaiting confirmatory testing results.
In late July, the CDC reported that both women and men can sexually transmit Zika. The Virgin Islands has not reported any sexually transmitted cases, as it's difficult to tell whether a case was transmitted through sexual contact or through the bite of a mosquito when the disease is circulating locally in the mosquito population like it is here.
According to Health, people can protect themselves and their families from mosquito bites by following these three cautionary measures that start with a D:
– Dress: Wear protective clothing such as long sleeves, long pants and light colors;
– Drain: Get rid of water containers in and around your home;
– Defend: Use repellant on exposed skin and treat clothes with one of several EPA-approved repellants.
Free Zika testing is available for pregnant women regardless of if they are showing symptoms or not and educational materials are being distributed in English and Spanish. Prevention tools like mosquito nets, insect repellent and condoms are being given away free of charge to pregnant women at the following locations:
On St. Croix
– Department of Health MCH Clinic
– Department of Health WIC Clinic
– Juan F. Luis Hospital and Medical Center
– Frederiksted Health Center
On St. John
– Health Care Connection
– Myrah Keating Smith Community Health Center
On St. Thomas
– Department of Health MCH Clinic (Pediatric)
– Department of Health Community Health Clinic (Prenatal)
– Roy Lester Schneider Hospital
– East End Medical Center
For local information about Zika virus, call the Department of Health Emergency Operations Center at 340-712-6205. For more general information about the Zika virus, call toll free: 1-800-CDC-INFO.
Health is also partnering with several labs and clinics throughout the territory to provide free virus testing for anyone who is showing symptoms. The department said that if you are turned away from testing or are told to pay for testing then to call Health, since it has agreements in place with several facilities. These places should not be charging for Zika testing:
On St. Croix:
– Acute Alternative Medical Group, 772-2883.
– Beeston Hill Clinical Lab, 773-4990.
– Clinical Laboratory Inc. (Sunny Isle), 778-5369.
– Frederiksted Health Care, Inc., 772-0260.
– Gov. Juan F. Luis Hospital & Medical Center, 778-6311.
– Primary Care PLLC, 718-7788.
On St. John:
– Myrah Keating Smith Community Health Center, 693-8900.
On St. Thomas:
– Community Medical Laboratory, 776-7444.
– Cranston/Dottin Biomedical Lab, 774-6256.
– Doctors Clinical Laboratory, 774-2760.
– Havensight Medical Laboratory, 774-5515.
– Roy Lester Schneider Hospital, 776-8311.