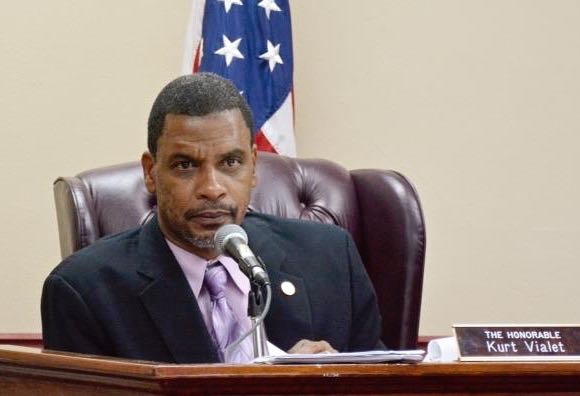 The Department of Education will have an unfunded mandate to develop a gifted and talented program for low-income students in every public school, as well as a tracking and accountability system for all students, if a bill approved in committee Wednesday becomes law. [Bill 31-0314] If approved, it will join at least 10 other unfunded mandates, most of which are currently not being fulfilled due to the lack of funding.
"We have spent so much time focusing on students who are underperforming. We need to create programs for students who are doing exceptionally well," said Sen. Kurt Vialet, the bill's sponsor. "Every school has bright students and these students should be identified and placed into programs that will help them to move to the next level."
Vialet said the bill is patterned after similar legislation "offered throughout the mainland," where many states are developing legislation to ensure all schools have gifted and talented programs, especially those with large low-income populations.
"To have classes as a one-size-fits-all without being able to identify the bright and smart children in the Virgin Islands and put them in appropriate classes is a disservice. … All the studies have found that when you have smart male students and you fail to engage them, they get bored and become disengaged," Vialet said.
Education Department and Board of Education officials endorsed the concept of gifted and talented programs but emphasized it would take more money.
Anthony Thomas, the Education Department's chief of staff, said the schools do offer gifted and talented programs and advanced level courses that they are working to expand.
"Unfortunately the Department of Education has experienced setbacks, including but not limited to a loss of experienced teachers who have been trained to instruct gifted and talented students and advanced placements courses," Thomas said.
"With limited personnel and funds, it is not feasible to have such offerings at all the schools. More teachers will have to be hired and they will need resources and training," he said.
Instead the department believes "a more prudent and responsible posture would be to provide programs as specific sites and (allow) parent choice/demand to guide student enrollment," Thomas said.
He also said high achieving students are tracked through in-class performance and standardized testing. "VIDOE offers advanced placement courses to high school students. This means that high achieving students can skip grades and have dual enrollment at the University of the Virgin Islands," he said.
"We all can agree we need a more robust program. But you cannot build that without the required resources," Thomas said.
Board of Education Chairwoman Mary Moorhead said the board supports the concept but felt the Department of Education should do it "without the need for legislative action."
She also said it will "require additional financial resources and personnel."
"As such, the board wholeheartedly supports funding by the Legislature to allow the Department of Education" to expand its gifted student offerings, Moorhead said.
Later she told the committee she personally supported the legislation, saying it "may spur action."
Vialet and Sen. Myron Jackson both argued there should not be much need for additional money.
"This particular issue does not require, maybe, the funding … that you are suggesting," Jackson said to Moorhead.
"It does not involve a tremendous amount of money. In fact it could literally involve no money," Vialet said, citing his experience as a teacher.
Sen. Jean Forde asked how the school system recognized gifted and talented students from elementary school.
Thomas said that is determined based on parent and teacher referrals as well as high scores from standardized testing.
Voting to send the bill on for consideration in the Rules and Judiciary Committee were Vialet, Forde, Jackson, Sens. Positive Nelson and Kenneth Gittens. Sens. Tregenza Roach and Justin Harrigan were absent at the time of the vote, although both attended part of the hearing.
Without funding, the goal of the legislation may not come to pass. Currently, the V.I. Government is facing a $110 million deficit for the upcoming fiscal year that it hopes to fill with new borrowing. At a recent hearing on an unfunded mandate for a structured civics class, Moorhead testified there are already nine mandated courses, from Caribbean history to real estate appraisal to swimming, "that do not exist because they are not funded." (See: Senate Considering 'Structured Civics Class' Mandate in Related Links below)
The unfunded civics class mandate was approved in committee in August and is awaiting consideration by the Rules and Judiciary Committee.
In May, the Senate passed and Gov. Kenneth Mapp signed an unfunded mandate for grief counseling for students and teachers. (See: Senate Passes Two Unfunded Mandates in Related Links below)
In 2012, the Senate approved an unfunded mandate to start the school year earlier, in part so St. Croix students could finish classes before the Christmas Carnival. Former Gov. John deJongh vetoed the bill, saying there was no funding for the extra pay needed for teachers. The Senate voted to override the veto. Then deJongh called a special session asking the Senate to reconsider, again emphasizing that the funding was not there. Senators voted down deJongh's request in March 2014. Then, in June of 2014, faced with the fiscal reality and potential for chaos in the schools, the Senate voted to repeal the change. (See Related Links below)
The committee separately heard from the Board of Education on its status.
"How long does it does it take for the certification applications for teachers to be processed?" Sen. Novelle Francis asked.
"One of the major challenges is the lengthy process of the certification applications for teachers. Currently it takes a total of 45 days before that application is completed," Moorhead said.
One of the board's duties is awarding scholarships. So far this year, the board prepared 906 award notices, processed 889 awards and will process another 70 by the end of September, Moorhead said.