In the third and final article of this series on tree care, St. John-based horticulturist Eleanor Gibney explains why it's important to encourage the growth of native trees, and shares a list of important species.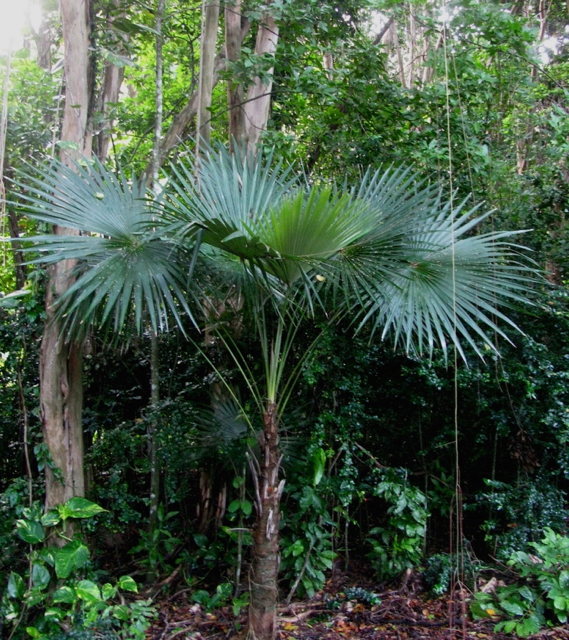 When certified arboriculturist Clay Jones spoke with the Source in July about tree care and responsible landscaping, he suggested that planting and maintaining native trees is almost always preferable to importing species from outside the territory.
Not only are native species well adapted to the region's climate and resistant to local pests, but many are also crucial elements of the V.I.'s natural and cultural heritage.
When it comes to identifying and maintaining native tree species, Jones said he often relies on his business's consultant, St. John-based horticulturist Eleanor Gibney, who has spent a lifetime studying the flora of the Virgin Islands.
Gibney is the author of "A Field Guide to the Native Trees and Shrubs of East End, St John" (2004.) She was the chief horticulturist at Caneel Bay resort until 1995, has been involved in many native plant surveys and consulting projects, and is a longtime member of the V.I. Urban and Community Forestry Council.
For Gibney, who describes herself as a "strong proponent of preservation of V.I. nature and culture," one good reason to care for our native trees is that they can be considered a valuable, and endangered, resource.
"A number of our native trees are exceedingly rare, and are native only to this corner of the eastern Caribbean," Gibney said. "A handful of species are native only to the V.I."
But with so many different human influences on the territory's landscape over the course of our history, it can be difficult for the layman to determine which plant species are indigenous and which ones have been imported more recently.
It's commonly known, for instance, that mango and tamarind trees, though their fruit may be staples of any good V.I. diet, are not native to the Virgin Islands, but to Asia and Africa respectively. But many residents might be surprised to learn how many other well-established species commonly associated with the territory, such as the calabash and the flamboyant tree, are not technically natives either.
So what plants do V.I. horticulturists consider native species?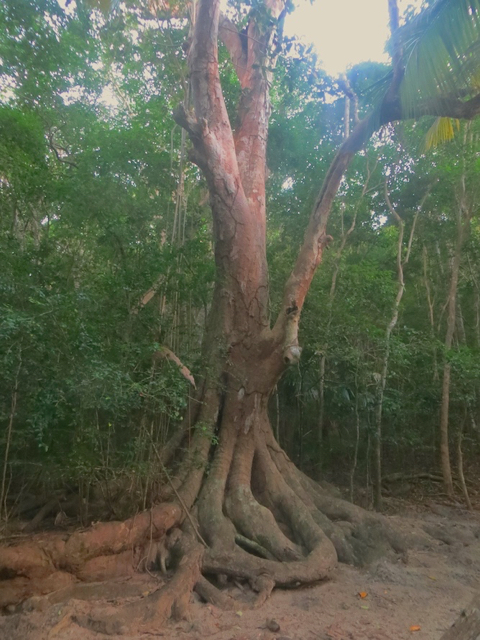 According to Gibney native flowering trees include lignum vitae, pink cedar, wattapama, pitch apple, wild frangipani, pigtud, orange manjack, black caper, and princewood.
In the category of fruit trees, natives include the guavaberry, seagrape, hogplum, mamey apple, birchberry, locust, guama berry, and breadapple.
Other native trees known for their aesthetic value, hardwood or useful foilage include the West Indian bay, pepper cinnamon, torchwood, turpentine, wild cinnamon, locust, gregre, amarat, mastic, bulletwood, coccoloba, silk cotton, wild fig, and the royal palm.
Many property owners will recognize the usefulness of keeping these species healthy and thriving.
The West Indian bay tree, once harvested in the V.I. for the production of bay rum aftershave and balm, gives off a pleasant aroma. The guavaberry tree produces a fruit used in the territory's traditional Christmas drink. The silk-cotton, with its large buttressed roots, is one of the territory's most aesthetically striking native trees.
As in all densely-populated, forested areas, the V.I. has seen many of its native trees effected over the centuries by human uses of the landscape.
In the first half of the 20th century, a large amount of land in the territory was clear-cut for livestock grazing. In the place of many native forests, non-native weed trees like wild tamarind, and aggressive spiny species that were intentionally planted as living fences, such as catch-and-keep and pinguin, have taken over.
Many other hardwood forests that have grown back after being cleared for plantation agriculture or lumber harvesting are populated by smaller trees due the slow growth rate of many native species.
Today, responsible development practices should allow us to encourage these species to thrive, Gibney said.
"The first thing one should think of in construction on undisturbed land is what tree species are there before the bulldozers come in," said Gibney. "Selective clearing to open up views and make room for ornamental plants is best done once you are actually living on the land. The existing trees have value in providing cooling shade, storm protection, and soil stabilization to the homeowner."
They also provide the perfect habitat and food for native birds, insects and other animals.
When creating man-made landscapes it's important to buy locally propagated plants, such as those in the list above, whenever possible, Gibney said.
"Unfortunately, because the Virgin Islands do not have an agricultural economy, there is little regulation or oversight; pests and diseases are constantly arriving in the territory with nursery stock from Florida. Many of these pests have been devastating to native species," she said.
And the obvious advantage to landscaping with native trees is that they need less maintenance than most imported species, and are likely to survive extreme climate conditions such as drought.
"Native trees are naturally suited to our conditions and require far less care once they are established," she said.