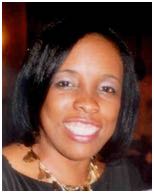 Jewels of the Virgin Isles is a monthly feature series profiling Virgin Islanders in the diaspora who are excelling in their respective fields and/or positively representing the USVI abroad.
In the true fashion of a marketing and advertising professional, Kimberly Industrious-Ayala has worn many hats and juggled numerous projects throughout her career. Today she is in her biggest role yet, helping to run her family's retail and auto repair business with two locations on St. Thomas.
As a managing partner for Industrious Auto, Industrious-Ayala now puts her marketing and business acumen to use to shape the future of the company that her father, Julian Industrious Sr., founded in 1979.
"Growing up in an entrepreneurial family, I knew about inventory, assets and management before I knew how to drive," Industrious-Ayala says.
Born and raised on St. Thomas, Indstrious-Ayala attended Weslyan Academy through junior high school, transitioning to Charlotte Amalie High School, from which she graduated in 1993. Her studies would land her in College Park Maryland at the University of Maryland, where she earned her bachelor's degree in journalism in 1997.
She resided in the Washington, D.C., metropolitan region for 14 years working in advertising and marketing and obtained her master's of science in marketing from Johns Hopkins University in 2006.
"I chose to work in advertising because it is the perfect blend of creativity and business. In high school and college, I took art and journalism classes alongside business classes, so combining the two always came naturally to me," Industrious-Ayala states.
Industrious-Ayala is a self-described Type A personality who always strives to do and be the best. She attributes this to being the first-born of parents who themselves were the first of their siblings, having to assume to responsibility of leadership at young ages. "My parents are my biggest inspiration and continue to motivate me to this day."
"My dad started with a one-bay mechanic shop and grew the business out of a need for parts. My mom, Felice, always surrounded herself with knowledge and exploring, which carried over into her job as the registrar at Ivanna Eudora Kean High School," Industrious-Ayala says.
Her parents' strong work ethic, love of knowledge and spirits of excellence led to her desire personal achievement and involvement in extracurricular activities including the Girl Scouts, competitive tennis, Graffiti Street, and the Virgin Islands Daily News Teen Editorial Board.
"I always joke that being the first child of two Type A parents who were also first children was a setup. Thank God it was a setup for great things."
In 2007, Industrious-Ayala returned to St. Thomas to help manage the family business alongside her younger brother Julian Industrious Jr. and to raise her children Gianni and Elyse along with her husband and fellow Virgin Islander, Angel Ayala. The transition took some getting used to for Industrious-Ayala because she noticed a difference in the community that had helped to shape who she has become.
For Industrious-Ayala, the ability to grow up in a tight-knight community where character mattered, children respected their elders and people of color could fulfill their dreams is something she no longer takes for granted. "We always had people from the custodian, to the police chief, to the governor who looked like me. Race wasn't really a factor in how far you could go, which was different when I went to the mainland," she states. "I had a sense of cultural identity growing up in the islands and always felt I could accomplish anything."
Now back in the Virgin Islands for almost a decade, Industrious-Ayala is trying to redefine her appreciation for island living. She has always loved the culture and community-mindedness of saying good morning when you enter a room or having conversations with strangers like they are long lost friends. However, she realizes that what she loves most about the Virgin Islands is no longer as present.
"It just isn't the same. Young people used to revere their elders. It wasn't acceptable to curse or be rude if an older person walked in the room. You couldn't go down the road without someone calling your parents if you did something wrong. Now that lack of respect has trickled down into how we view people in authority," she says. "I miss the village mentality. It took the whole village to raise a child, and that village is not functioning. It's just not what it used to be."
Despite the drawbacks, Industrious-Ayala creating her own "village" for her children to experience and quietly helping to improve the community in which she lives. In addition to being an entrepreneur, she is currently the business development team lead for the organization Women Striving for Success, tapping into her passion for helping others with career development. "As an entrepreneur you have to be self-motivated because there is no one to tell you what to do and when to do it. There's a fine line between getting things done and getting things done well. In business, your character, is who you are, not your job title, therefore, it's always important to do your best, regardless of the situation."
Nugget for V.I. Youth: "I would like all V.I. youth to know they are valuable and that they have something to contribute. The only thing holding them back is themselves. I believe we have very talented people in the Virgin Islands, but somewhere along the way, someone told them they couldn't and they believed them…I am here to tell them that they believed the wrong person. Believe in yourself."
Little Known/Fun Fact(s): "One of the most adventurous things I've done is gone skiing in Aspen, Colorado, but I'm not sure if I would do it again."
__
Loán Sewer is a marketing and tourism branding consultant and proud Virgin Islander who resides in Charlotte, North Carolina. Follow her on Twitter @LoAnSewer or e-mail her at info@gobiconsulting.com.